How 'bout them Alabama-Huntsville Chargers?
Paying attention, CCHA?
UAH is off to a 3-1 start. Yes, you read that correctly. Three wins and just one loss.
Granted, we're only two weeks into the season, but to put this into perspective, the Chargers won just five games all of last year.
What makes the CCHA cringe is the fact one of their top schools, Notre Dame, was the victim of one of those wins. Then last weekend, UAH swept three-time defending Atlantic Hockey champion Air Force.
Yet the Chargers are no good for the CCHA. For the sake of college hockey, this needs to change. The CCHA will play with 11 teams next year and on paper, that just looks funky.
Why not bring the southern boys aboard? Travel too much? Sure, just ask Alaska and Nebraska-Omaha.
It appears the Chargers are on a mission this year. If they're forced to go the independent route next year (and that seems likely), if UAH finishes with a winning record and some big wins this year, will that be enough to entice some decent talent to Alabama?
Maybe; and it should, but who knows? Without a championship to play for, most players may shy away. But ask current and past players, and one of the selling points is the lack of a normal winter.
Where else can you mosey to the rink in cargo shorts, flip-flops and a golf shirt? Where else are the car windows down (and if you're lucky, you'll hear a Bowx tune emanating from said car; Google it, people) 365 days a year?
Just in Huntsville. Oh, sorry. Just in Huntsville — home to a 3-1 hockey team.
Cowan A Quiet Leader For RMU
When Dave Cowan was named Robert Morris' captain this season, head coach Derek Schooley said it was the typical "no-brainer."
Cowan is one of those players that when he doesn't get noticed, that's usually a good thing, especially for defensemen. After all, Cowan has just 18 points after his first three seasons over 82 games.
"Dave's our captain and our leader," Schooley said. "He's a stabilizing force back there and anchors our blue line. He's very good, solid player and plays a good stay-at-home game for us."
Cowan, the younger brother of ex-RMU captain Rob Cowan, a 2008 RMU graduate, came to the Colonials from the Olds Grizzlys of the Alberta Junior Hockey League, near his Calgary home.
He was named the Grizzlys' Rookie of the Year in 2003-04 and was an AJHL All-Rookie Team selection, in addition to earning a spot on the AJHL South Prospects Team in both 2003-04 and 2004-05.
Now a senior, Cowan wants to finish out his career with a bang, but even if championship glory evades the class of 2010, Cowan has had a blast in Pittsburgh.
"Our guys are probably the tightest-knit group of guys I've been a part of in my hockey career," Cowan said to RMUColonials.com. "It's quite a special thing how close everybody is in our program. That's kind of been a theme since I've been here. That's kind of how Robert Morris is as a school."
Niagara Nipped By Clarkson, St. Lawrence
It was a rough weekend for Niagara, as the Purple Eagles dropped a pair of in-state non-conference games on the road to Clarkson and St. Lawrence
Friday night, NU lost in overtime, 4-3, to Clarkson.
Sophomore goalie Chris Noonan made his NCAA debut at the start of the third period and kept Niagara in the game.
"For Noonan to come off the bench and give us a chance to win the game was great," NU head coach Dave Burkholder said. "In his first collegiate minutes in net, he made several huge saves."
Tyler Gotto, Paul Zanette, and Sam Goodwin, whose tying goal came with 5:51 left in the third period, scored Niagara's goals.
Burkholder felt a different outcome was due for his squad, as they lost their third OT game in a row dating back to last season.
"The momentum swings were unbelivable," Burkholder said. "We took control of the game in the second period, but breakdowns towards the end of the period hurt us. I thought we deserved better in the end."
Noonan finished with 16 saves, only allowing Matt Beca's OT winner with at 4:17 of the extra session. Adam Avramenko started and stopped 14 of 17 for Niagara.
The next night at St. Lawrence, NU was unable to hold a 3-0 lead and gave up four unanswered goals to drop a 4-3 decision.
C.J. Chartrain and Jeff Hannan registered their first collegiate goals to go along with one from Gotto and Noonan kicked out 28 in the loss.
UAH Blasts Air Force
In a renewal of one of the oldest rivalries in the 30 years of Alabama-Huntsville hockey, UAH swept away Air Force in Colorado Springs last weekend.
The Chargers took 4-2 wins each night.
Chris Fairbanks, Justin Cseter, Neil Ruffini and Andrew Coburn lit the lamp to back Cameron Talbot and his 40 saves.
"Our defense doesn't handle pressure real well," Air Force coach Frank Serratore said after the game. "We can't drop bombs like we did tonight and give them easy scoring chances. College hockey games are so tight that it comes down to who makes the most mistakes. The team that usually makes the most mistakes is the one that usually loses. We worked hard and our energy was good, but they capitalized on their chances and we didn't."
Scoring three unanswered goals, the Chargers rallied past the Falcons Saturday night.
Coburn, Fairbanks, Tom Train and Cody Campbell were the UAH goal scorers.
Freshmen Matti Järvinen and Curtis deBruyn each picked up their first collegiate points as both assisted on Train's goal.
Talbot made 34 saves as he improved to 3-1-0 on the year.
Colonials Split With Alaskan Squads
Robert Morris kicked off their regular season last weekend with a trip to Alaska for the Brice Alaska Goal Rush against both teams from the state.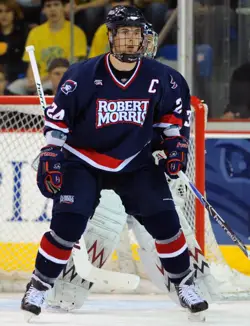 Friday night, RMU ran into penalty trouble and fell to Alaska, 4-2.
One positive, though, was goalie Brooks Ostergard, who turned in a 45-save outing. That number ranks as one of the top five save performances by a Colonials' goalie in a single game.
Cody Crichton and Denny Urban picked up RMU's goals.
On the second day, Robert Morris University fired on all cylinders as they took advantage of power-play opportunities and downed Alaska-Anchorage, 5-3 in a fast-paced and penalty-filled contest.
Scott Kobialko, Trevor Lewis, Brandon Blandina, Denny Urban and Nick Chiavetta scored for the Colonials. Chiavetta's was his first career goal and Tom Brooks picked up his first career point with the secondary assist.
Ostergard tallied 24 saves in the first Robert Morris victory of the 2009-2010 season.
Huntsville To Groh With Goaltender In '10-11
Springfield Jr. Blues goaltender C.J. Groh committed over the summer to Alabama-Huntsville for the 2010-11 season.
"CJ proved he's capable of being an elite goaltender at this level and he's worked very hard for this opportunity," said Jr. Blues head coach Andy Maher. "I expect him to have a very successful career at Alabama-Huntsville."
A 19-year-old from Cincinnati, Groh posted a 15-15-3 record in 34 regular-season appearances in 2008-09 to compliment a 2.62 goals-against average and a .917 save percentage. He also recorded four shutouts in NAHL play.
This season, Groh is 5-3-2 with one shutout, a 2.86 goals-against average and a .918 save percentage.
He Said It
"Everyone who plays in the NAHL dreams of going to a strong college hockey program and for me that dream is coming true." — Robert Morris freshman forward Joe Harcharik.