Jim: Well, first off Todd, welcome aboard. For a couple of years, I've had the always witty Scott Brown to debate and I know that won't change with you behind the keyboard. Salutations aside, let's get down to business. With a couple of weekends of college hockey in the books, we've seen a few things that should grab our attention thus far. I'll start out east where the defending national champions didn't get off on the best foot, losing to a Massachusetts team on Friday night that was picked by the coaches in Hockey East to finish seventh. Obviously, not the start coach Jack Parker wanted. The Terriers peppered the UMass goal with 41 shots but scored only twice. On the flip side, Kieran Millan, easily the best rookie on the team last year, gave up three goals including the game-winner in a third period in which he saw just four shots. Though the season isn't based on a single game, this was certainly an eye opener to many who thought BU has a legitimate chance to repeat.
Todd: Thanks, Jim, for the welcome. I can only hope to be as witty a debater as Scott is. The BU result was a surprise at first, but then in the context of what we've seen over the first two weeks of the season, it fits the rest of the landscape. We've seen Denver, a team that is very well thought of around the WCHA, get off to only a 2-2 start with series splits against Vermont and Ohio State. We've seen Notre Dame, another preseason favorite, post the same record with home splits against Alabama-Huntsville and Providence. Michigan lost to Alaska in a non-conference tournament game. This is one of the things that I like so much about college hockey's schedule — the top teams get tested right away. There's no such thing as a preseason, for better or worse. That way, you get a much quicker understanding of which teams are making their way toward the top.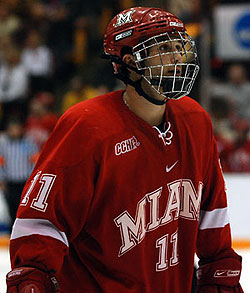 Jim: Yeah, there certainly have been a few shockers over the first few weeks. That has also allowed a few teams to emerge right away. Miami showed that it's ready to do business with a fast start. The RedHawks held serve at home against St. Cloud State and then went into New Hampshire and did what few teams do: take three of four points. They got No. 1 on my ballot this week, that's for sure. Vermont also caught my eye last week with a win at home at Boston College after upsetting Denver on the road the week prior. And we can't forget Alabama-Huntsville, which took full advantage of its "statement game," walking into Notre Dame and handing the CCHA powerhouse a loss on opening night, just a few months after the CCHA rejected its membership bid. Vermont and Miami are coming off trips to the Frozen Four so I think it was really important for them to make early statements. Huntsville just needs to make statements — doesn't matter if they're early or late.
Todd: Alabama-Huntsville followed up its split at Notre Dame by sweeping at Air Force last weekend, so the Chargers are well into their statement already. I understand the idea behind people thinking UAH needs to make a statement, but to whom are they stating? The CCHA has already turned the Chargers down and appears to be moving forward with an 11-team format. UAH is in a tough spot. They're going to make a run at the last CHA championship, but, in a show of how truly perplexing things can be sometimes, winning games might not help them get a lot of non-conference dates in future seasons.
Jim: You make a good point. Though right now, I think UAH really just wants to show that they're a desirable team to any conference that will look. And I wouldn't write off the CCHA just yet. No conference wants to be 11 and if things change financially and UAH shows it's a competitive team, they might just be on the radar at some point down the line. I hope so for college hockey's sake, and of course for the school.How about this week? What do you have your eye on, Todd?
Todd: A couple things to keep an eye on from my perspective. I'll be interested in the Boston College-Notre Dame game on Friday. I wasn't tremendously impressed with BC from what I saw in its game against Vermont on Sunday, and we'll see how the Irish respond after shutting out BU in Boston on Tuesday. The headliner in the WCHA is Minnesota hosting Denver for a pair. But keep an eye on the Wisconsin-Minnesota State series in Mankato. The Badgers have never played well at the Mankato Civic … er, Midwest Wireless … er, Alltel … er, Verizon Wireless Center, and they can't afford to start 0-3-1. A similar start is what killed their NCAA hopes last season. What's on your radar, Jim?
Jim: Well, my eyes will be on what happens at those games this weekend as well, but I'll personally be watching a few interesting Hockey East storylines develop. On Friday night, I'll see Merrimack and Vermont face off. We've talked about Vermont's hot start and it's tough to ignore Merrimack's freshman Stephane DeCosta, who put up a five-spot against Army on Saturday. It will be interesting to see him with my own eyes. On Saturday, I'll also see an interesting battleground game in Hockey East when Mass.-Lowell hosts Northeastern in a rematch of last year's conference semifinal. Lowell is looking to becoming a major player in the league while Northeastern is trying to sustain the season it had last year. That should be interesting.
Todd: I'm really interested to see how Lowell gets going this season. There are a lot of eyes on the River Hawks after they got picked for second in Hockey East, and I'm one of those who still needs to be sold on the idea that they're going to make the jump to the upper reaches of an awfully tough conference. Plenty to watch this weekend.