First Big Upset
It didn't take long for the first big upset involving a SUNYAC team. Morrisville, playing their first game of the season, stunned Elmira, playing their third game, 2-1, in the Thunderdomes.
"A great win for our program," Morrisville coach Brian Grady said. "A great confidence boost. I think it's huge. I told my team afterwards, 'You beat a nationally ranked opponent on the road on their ice. This is a team that has a lot of speed, All American type players, and made the national playoffs last year.' The confidence from that will hopefully carry over."
The Mustangs took a 2-0 lead scoring a goal in each of the first two periods. Rob Sgarbossa got the first at 15:26 while Adam Hercules scored in the second at 7:01. Elmira got one back in the third at 4:44. At that point, Morrisville hung on despite taking two penalties. They blocked a couple of shots in the last minute when the Soaring Eagles pulled their goalie.
"We took advantage of our opportunities, and they didn't take advantage of theirs," Grady said. "Our goaltender played very well. Made the saves he had to, and also made the saves he shouldn't have."
No surprise Caylin Relkoff was the star of the game. Out shot 58-27, Relkoff stopped 57 — which was just enough.
But just how did Morrisville beat Elmira?
"I talked to [Oswego coach] Ed [Gosek], watched a lot of film, and tried to approach them the same way Oswego did [the week before]," Grady said. "We tried to slow them down as much as possible. We obviously don't have their speed. We tried to get physical with them, tried to stay in front of the puck."
Elmira did come back the next night to win 6-2. However, when the game was even strength, it was a 2-2 score. Elmira scored three power-play goals and one with the teams skating four aside. Plus, Morrisville gave up a lot less shots in the game at 35. True, a loss, but still parts of the game you can use as positives.
Now Morrisville begins their conference schedule traveling to Brockport and Geneseo. How will they try to keep the momentum?
"Consistency, effort, and execution," Grady said. "If we do all the little things right every time you go over the boards, you get the big things like wins in the end. Effort and execution will win games for us, and we have a great goaltender."
As everyone knows.
Geneseo has experience from last year with Morrisville's capabilities when they play at the top of their game.
"We learned it the hard way last year," Geneseo coach Chris Schultz said. "They came into our rink in January and went up 5-0. I remember it like it was yesterday. We made it 5-4, but they eventually got the win.
"They are going to knock some teams off this year. Our players know that. Their players know their roles. They are very well coached. Plus, they got a stud goaltender. He's a big body who knows how to make the big save."
Boyd Jones (1953-2009)
The SUNYAC community received shocking news this week. Potsdam's Sports Information Director, Boyd Jones, died suddenly at his home in Canton, N.Y. this past Sunday. He was 56. Jones, who got a B.A. and Masters from Potsdam, worked there since 2000. Prior to that, he was employed at SUNY Canton in various positions.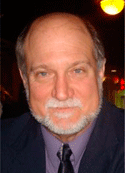 USCHO extends condolences to the family and friends of Boyd Jones as well as the Potsdam community.
"Obviously, this is a somber time within our department," Potsdam Athletic Director James Zalacca said. "A sad and tragic loss. Boyd was an extremely loyal, extremely dedicated, extremely personable employee. His presence will be greatly, greatly missed."
Indeed.
SUNYAC Short Shots
Cortland opened up a 7-2 lead thanks to two tallies and two assists by Patrick Palmisano and held on to beat Fredonia, 7-5 … Oswego scored a pair of goals in each of the first two periods to defeat Buffalo State, 4-1 … Six different players scored as Potsdam came back twice to defeat Brockport, 6-3 … Plattsburgh scored twice within 16 seconds late in the third period to beat Geneseo, 4-2.
In the last six minutes of the game, Oswego scored twice within 20 seconds and twice within 36 seconds to turn a 4-3 deficit into a 7-4 victory over Fredonia … Buffalo State's Joel Sheppard and D'Arcy Thomas each scored a pair in beating Cortland, 6-5 … Plattsburgh needed three third period goals to put away Brockport, 4-1 … Adrian Rubeniuk made 30 saves to help Geneseo notch their first win of they year, 3-2, over Potsdam.
Chris Cannizzaro scored with 48 seconds left in regulation and Alan Fritch made 42 saves as Buffalo State tied Hobart, 2-2 … Chris Laganiere scored twice as Oswego defeated Elmira, 7-2 … James Muscatello notched two goals in Fredonia's 7-0 win over Lebanon Valley with Pat Street earning the shutout on 23 saves … The next day, Mat Hehr had a pair of goals as Fredonia beat Lebanon Valley again, 6-1.
Game of the Week
When I selected the Mark Your Calendar Game for each team in my season preview, two of those games happen to face off this weekend. Thus, I have no choice but to select them both for the Game(s) of the Week.
There's not much more that can be said about an Oswego-Plattsburgh game that hasn't already been written about one of the top rivalries in Division III hockey. Fittingly, even though it is very early in the season, these teams are tied for first and both undefeated in league play. This game in Plattsburgh will be the first round of a season long battle.
Meanwhile, on the complete opposite side of the state, the relatively recent heating up of the Fredonia-Buffalo State rivalry begins another chapter. The statistics show how close, yet how one-sided this rivalry has been lately.
In the past 14 meetings, 12 have either been ties (three) or one goal games including one empty-net verdict. The last two conference matchups ended in a tie. However, Buffalo State has won just one of those 14 previous games.
"My players know there's some history there," Buffalo State coach Nick Carriere said. "They see any of the SUNYAC contests as important. But they see these games from last year that went back and forth and wound up in ties. We're sick of ties. It's time we separate ourselves from that. Hopefully, if we do the things that we are in control of, we can come out on top."
"You're up for all the SUNYAC games," Fredonia coach Jeff Meredith said. "You don't play enough not to be. The urgency of how important Friday night is that it's a playoff game for us. That's a team we'll be battling all season for a playoff spot. We need to come out and get a quick start and play a full 60 minutes."
No matter the outcome, the fans at Buffalo State are sure to be entertained. They may even get to see an extra five minutes of action.
On The Periphery
This past weekend my wife and I took a long weekend vacation in Philadelphia. This trip was planned a few weeks ago, so it was purely a coincidence that we were in the City of Brotherly Love when the Phillies were in the World Series and hosting the middle three games.
On Friday, we were downtown and came upon the local TV station holding a pep rally on a closed off street. A number of local restaurants set up booths giving away free items to show off their delicacies. When I noticed a few people walking around with some great looking hot, soft pretzels, I could barely contain myself.
I immediately searched out the booth. I was horrified to find they had just run out.
At least that's what they claimed. Perhaps they knew by looking at me that I am a diehard Yankees fan.
That's okay. By Wednesday, I had the last laugh.