MIAC Showcase
The inaugural MIAC Showcase was held at the Bloomington Ice Gardens this last weekend. From Friday through Sunday, all nine teams from the MIAC got to go out and face off against each other.
It wasn't a tournament format: there were no playoffs or seedings, no champion declared or trophy won, nor was there an all-showcase team. What there was though, were nine games of fast paced, end-to-end hockey.
Attendance for the showcase broke the 2,000 mark, even though the event was not at any team's home rink. With day passes costing $5 and giving access to all three games, it's easy to see why the event was still able to draw so many fans.
While on the surface it seems like it'd be difficult to fairly schedule nine teams each playing twice over three days, the system in place minimized the work for each team.
Teams were divided into pods of three, with each school playing the other two in their pod. When there was a game going on, the third team in the pod administered the game, being responsible for scorekeeping, ticket collecting, and any other necessary tasks. This spread the workload around evenly. On a game day, teams only had to worry about playing their game, and only had to deal with the other work on the day they weren't playing.
The format of the event also reduced the costs for every team. Normally a weekend away from home means paying for travel expenses without getting anything in return. By splitting the income, each team would only have to put in a small amount of money for the event to break even, and if enough tickets were sold, each team would actually profit on the weekend.
From an administrative standpoint, the event was a huge win. Every team in the conference got to play two games at little to no cost, no teams had to put in more administrative work than any other team, and no one had to spend time trying to schedule games to start the season.
Oh yeah, there was some excellent hockey too.
The second day of games alone saw three shorthanded goals, a natural hat trick, and a shutout. It may have been the first games of the season for the MIAC, but every team came out playing hard and flying up and down the ice for the whole weekend.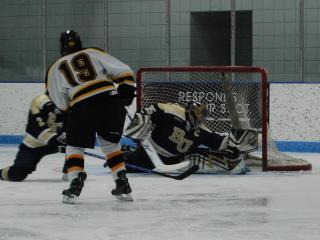 St. Olaf and Augsburg were the only two teams to come out of the weekend 2-0, although St. John's and St. Thomas both came out undefeated (1-0-1) after tying in the final game on Sunday. Augsburg defeated Bethel and last year's MIAC playoff champion Gustavus Adolphus. St. Olaf beat Concordia MN and Hamline. The Oles probably had a little extra motivation after last season's playoff loss to Hamline.
Bethel, Concordia (MN), and St. Mary's were the only schools to finish the weekend without a win, but all three showed they can compete with the rest of the league. Concordia was leading for much of the game until two quick third period goals put Hamline ahead for good.
Bethel stormed out to a 3-1 lead over Gustavus Adolphus on Saturday, but a shorthanded goal drew the Gusties within one, a power-play goal tied it, and Gustavus would go on to win after scoring the game winner with less than seven minutes to play in the third period. Despite giving up two goals within 1:13 of each other, St. Mary's hung with St. Thomas right until the end of their game, with a third period goal putting the Tommies up 4-2.
While this was the first showcase the MIAC has put on, several coaches hoped that it would continue next year as well, with some possible changes including a different venue and all-tournament team, but still keeping the format used this year.
All in all it was a great weekend of hockey any way you look at it. It allowed the conference to highlight their talent and put on a show for potential recruits. It allowed the teams to schedule a hassle-free weekend of games. And of course, it was great for the fans to be able to easily and inexpensively see so many games, with some great fast paced hockey being played.
Augsburg Auggies
Augsburg finished last season with mixed results. On one hand they were the league's highest scoring team, scoring over 4.50 goals per game. They finished out the regular season on a 6-1-1 tear, and even though they finished in the fifth and final playoff spot, they had their sights set on making some noise in the playoffs.
On the other hand, they had the league's third worst scoring defense, giving up exactly four goals per game, giving up only one tally less than the last place MIAC team (in conference games). As confident as they were in their offense, they had to be just as concerned about their defense.
In the playoffs, Augsburg faced Hamline, and despite holding 2-1 and 3-2 leads, the Auggies weren't able to hold on, and eventually lost 5-4 in what had to be a disappointing end to their campaign.
Flash forward to this season, and the Auggies are once again excited and looking forward to making some noise. They have every reason to be as confident (if not more) about their offense to start this year. They brought back virtually every scoring threat from last season, including their top two lines.
When asked about some of the benefits of bringing back so many players, coach Chris Brown said "Experience is the biggest thing, last year on the penalty kill we were somewhat passive, because we didn't have enough experience. This year we'll be able to try new things and be more aggressive."
Despite being on the power play for over 10 full minutes, Gustavus Adolphus never really seemed to look comfortable against Augsburg, who constantly applied pressure and possibly forced the Gusties to make quicker decisions with the puck than they would've liked. This pressure helped Augsburg to kill off three early penalties before finally giving up a power play goal during a five minute power play following a checking from behind major.
Their only question mark to start the season was their biggest question mark last year as well: their defense. While only graduating one blueliner last year, the Auggies also graduated their starting goalie. If the Auggies were on the ice, the odds were pretty good that so was Andrew Kent — of the 1,568 minutes Augsburg played hockey last year, Kent was on the ice for all but 52 of them.
Losing their workhorse meant that coming into opening weekend, Augsburg had two sophomore goalies and two freshmen netminders on their team . . . and none of them had ever started a college game.
"You can never really be sure what you're going to get from someone making their first start," Brown said of his young goalies. "Sure, you see them in practice and warm-ups, but once the game starts, they could be lights out or they could give up 10 goals, you just never know until you're out there."
He ended up starting each freshman goalie in one game this weekend, and they did not disappoint. In Augsburg's first game of the season, Justin Lochner got the nod. He faced 34 shots from Bethel and stopped them all, recording a shutout in his first collegiate game. Against defending conference champion Gustavus Adolphus, Brown started Nate Pellegrino, who allowed three goals on 32 shots while getting the first win of his career.
After the games, Brown specifically pointed to the defense, especially the freshmen.
"David Hines, Kristof Reinthaler (both freshmen), and Nikki Holt did a great job," he said. "Two of them were playing their first college games and really played well. As for the goaltenders, I think the games speak for themselves out there. We still haven't given up a goal 5-on-5."
While it's definitely early in the season, as a group, these two goalies have a .955 save percentage and 1.50 goals against average. If they can keep up anything close to these numbers for the rest of conference play, these Auggies are going to be a terror for their opponents.
Their offense has shown no signs of letting up, scoring nine goals (including three on the power play), over the weekend. And if their goaltending and team defense can build off of this weekend, this is a team that may be challenging for the conference title all season long.
MIAC-NCHA Crossover
After the opening weekend of games, the MIAC goes head to head with the NCHA before both leagues jump into conference play full tilt.
There are many interesting matchups this weekend. Gustavus Adolphus and Augsburg head to UW-River Falls, who's fresh off a road sweep of UW-Superior, while St. Thomas heads to UW-Stout in a clash of the Tommies' defensive style vs. the wide open attack of the Blue Devils.
In the last few years, the NCHA has dominated these crossover games, including going 46-16-2 against the MIAC last season. It will be interesting to see how this season goes, with both leagues starting at the same time. In the past, the NCHA tended to start before the MIAC, so by the time they faced each other, the MIAC was playing its first games of the season while the NCHA had already shaken off some rust and gotten some games under their belts.
Even with that lopsided record last season, when the two leagues faced off a second time in January last season, the results weren't quite as skewed, with the MIAC going 6-9-1 in the final weekend of the crossover. With everyone playing two games before they clash again, maybe things will be more even this time around.
Even with both leagues starting at the same time, this weekend still favors the NCHA heavily. Not only are all the NCHA teams at home, four of them are nationally ranked in the USCHO.com Division III poll, while among the MIAC, only Gustavus Adolphus garnered national recognition.
Regardless of the outcomes, these games should give teams from both leagues a gauge on where they stand and what they need to improve on. It should be a good week of hockey no matter who comes out on top.