Carl Hagelin didn't exactly stand out from the crowd when he attended Red Berenson's Michigan Hockey Camp as a youngster almost a decade ago, even though he traveled all the way from Sodertalje, Sweden, to skate in Ann Arbor and in Berenson's graces.
"No I don't [remember him]; I remember his older brother, Bobbie, was a really good prospect," Berenson, Michigan's 26-year hockey coach said. "Carl was really young then but his brother was noticeably good."
Berenson might not recall the younger Hagelin attending his camp, but Berenson and his camp left an awfully large imprint on the impressionable mind of the younger Hagelin. About seven years after attending camp in Ann Arbor for the first time, Hagelin was drafted in the sixth round (No. 168 overall) by the New York Rangers in the 2007 NHL Entry Draft but chose instead to play for the Wolverines.
"I was always the tiniest kid on the team. I was a late bloomer on and off the ice," said the junior left winger, who didn't start playing hockey until he was about 8 years old. "When I was 16 or 17 I grew and put some weight on."
But even though his brother went pro (currently playing in Denmark) straight away, Hagelin turned down opportunities to take the same track. Instead the 6-foot, 181-pounder decided to follow in the footsteps of his father by attending school in Michigan. While his father went to Western Michigan, Hagelin turned down Ferris State and Northern Michigan to become a Wolverine.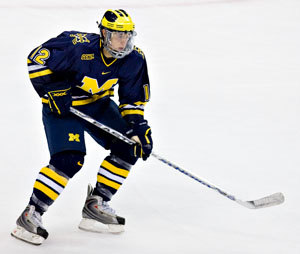 The 21-year-old left-hander, however, didn't finally make a name for himself in Ann Arbor until his sophomore season when he set single-season highs for points (31), assists (18), goals (13), game-winners (four) and multi-point games (8).
Through eight games this season, Hagelin was the Wolverines' second-highest point scorer with seven (three goals, four assists).
"I think Carl can have a better year offensively," Berenson said. "He's emerging as a top college player. If he can put the puck in the net he'll go a long way with his game and he won't surprise anyone.
"From my understanding he was not a high-end playing coming up. He was a late bloomer. Now he's an elite skater. Something must've switched on in his body because he put it all together. There's no question some humility comes along with [being a late bloomer]. Carl is a terrific individual. He's humble and he works so hard. He earned the respect of the players before he ever stepped on the ice in the offseason workouts with his work ethic."
This season Hagelin was added to the power play and going into a late-October, two-game sweep at Lake Superior State, Berenson said he would try using the Swede on two different lines simultaneously to try to spark the then 2-2 Wolverines. On Oct. 30 Hagelin registered the game-winning goal and an assist against Lake Superior State for his 13th career multi-point game and second of the season.
Being on the power play also means Hagelin is expected to produce around the net, an area of his game with which he has struggled. In a 3-2 loss against defending national champion Boston University on Oct. 24, Michigan scored twice in the final period to tie the game before losing. Hagelin missed several opportunities around the net during the game but said the loss was a good gauge of where the team was at.
"It's always good," he said of playing top teams. "We like playing all the good teams. Last year we lost to BU 7-2. We had a bad attitude and it decreased our self confidence. This year we showed we have a lot of character in that third period. By coming back we showed what team we can be, a hard-working team in the third period."
And if Michigan continues that hard work it could make it all the way to the Frozen Four, which this year is 45 miles down the road from Ann Arbor in Detroit. Hagelin would be in good company among the Swede-heavy Detroit Red Wings, some of whom Hagelin has skated with during the summers.
"Before I came here I wasn't that big of a [Red Wings] fan," said Hagelin, adding that he only makes the trip from Ann Arbor to Joe Louis Arena about four or five times a season because it is too time consuming.
That wouldn't be an issue come April, when the Frozen Four makes its way to Detroit's Ford Field.
"Obviously that's one of our goals this year to win the NCAA championship," he said, "but we can't look that far ahead."