With the final two Division III conferences kicking off their campaigns, already there are some surprises. Some teams have already surpassed expectations, others who have fallen short. But there is the holiday break coming and then the grind of January and February that will determine where everyone lines up for the playoffs.
So if your team is off to that quick start you dreamed about, enjoy it and hope it can carry over into the new year. If your team is off to a bad start, take solace in the knowledge that there is a lot of hockey yet to be played and most teams improve when all of the parts get put together and players grow more comfortable with their systems and teammates.
Thanksgiving Tournament Play
For those of you who overdosed on turkey with all of the trimmings or even that other sport played with a pigskin, there were several great tournaments held over Thanksgiving weekend. Reference the sidebar for a quick summary of the winners and participants in the annual events.
Polar Bears Show Early Bite
The Bowdoin College Polar Bears spent most of last season in search of an offense to support what was anticipated to be a better defensive team with solid goaltending. For much of the year, goals were hard to come by so this season head coach Terry Meagher made it clear to several players that they needed to step things up offensively and so far the results have been pretty good.
"We really needed a few guys who didn't not have comparable numbers last year to the prior season, to find their touch and become more effective offensive players," said Meagher. "We knew we had the talent to be a good offensive team and seeing players like [senior Ryan] Sisson and [sophomore Graham] Blossom get off to good starts on the opening weekend was great to see."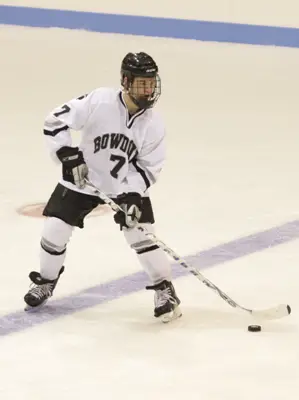 The Bowdoin team opened on the road at the University of Massachusetts-Boston and historic rival Babson where points are not easy to come by. The Friday night game saw the Polar Bears jump out to a quick 4-0 lead as they cruised to a 5-3 win led by Sisson, Blossom and strong offensive play from Kyle Shearer-Hardy. On Saturday, Bowdoin trailed Babson 2-0 after the first period but fought back to win the game 3-2 and take four road points on the opening weekend.
"We always think about trying to be around .500 on the road," said Meagher. "It's very tough to go on the road, play two games in 24 hours and come out with wins on both ends. I was very pleased with the effort the kids put out and anytime you can come out of playing those two teams with four points you feel like you stole a couple."
Another positive sign for the polar Bears was the strong play of newcomers Daniel Weininger (four goals, one assist, five points) and Robert Tocsylowski (0-3-3).
"I was really pleased with what the kids did to open the season," said Meagher. "I thought both kids made strong contributions in the games and looked comfortable out there playing at this level."
One of the key areas of focus for Bowdoin in positioning the team for success is the concept of "winning the fifth period." In any two game set — but particularly on the road — the second game becomes a challenge due to fatigue, potential injury and focus. Meagher has introduced the concept of the fifth period and for Bowdoin, winning it has led to pretty good results in the back-end matchups on Saturdays.
"The kids have really picked up on focusing on really winning that fifth period (second period in game two of the weekend) and the Saturday afternoon at Babson was a great example of the effort in that period as we fell behind 2-0 in the first period and had some in-game injuries that shuffled some of our players around. We went out and won the next period and set ourselves up to be in a good position to win the final period where now the pressure goes back on the home team to try and steal back momentum while our guys are building on the momentum."
Following the Bowdoin Face-Off last weekend, the team is back to league play hosting Skidmore and Castleton in Brunswick at the new Sid Watson Arena. The Polar Bears head into the semester break with the traditional home-and-home matchup with cross-state rival Colby with the first game counting in the league standings. The rivalry is always a good one and this year should be no different.
Jumbos Jump Out Early
With only one point garnered in league play — and that on a last minute extra attacker goal against Middlebury on opening night to salvage a 3-3 tie — you might not think that Tufts is really doing anything special just yet.
After last weekend and their surprising win at the tournament, head coach Brian Murphy likes what he is seeing particularly from a young group of players forced into more ice-time due to some early injuries.
"We have three freshman defensemen playing a lot right now," said Murphy. "Obviously it helps to have Scotty [Barchard] back there in goal to make up for some mistakes but they have played pretty well so far. While we hope we will get some of the other kids back, it's good to know we can go with this group and be competitive no matter who we play in or out of the league."
Leading the way for the Jumbos is forward Tom DeRosa. A transfer from Merrimack College last year, DeRosa (1-5-6) is off to a fast start this season and has caught more than just his coach's attention in the process.
"DeRosa is really a guy you have to watch out there offensively," said Curry College assistant coach Tom MacDonald. "He is a very talented player but really plays well in all areas of the ice including the defensive end. You really see him going hard every shift and he makes the other players around him better."
Murphy notes that DeRosa is the ultimate rink-rat.
"He goes from ice hockey to indoor roller hockey to outdoor roller hockey and back to ice — he's always playing and working on his game. He is a real student of the game and brings some interesting ideas and questions to me about situational play and things we can do based on what he sees on the ice."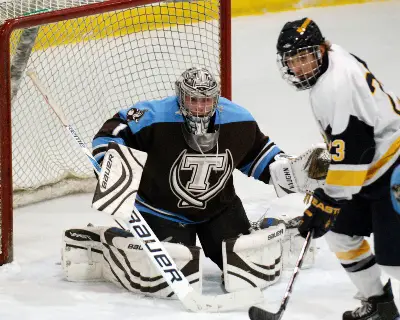 Another student of the game is goaltender Scott Barchard, who played a key role in Tufts success in the Rutland Herald Tournament last weekend, including saving 48 in the opening round game against defending national champion Neumann. Barchard, who hangs out in the Wilmington area has been a fixture at Boston Bruins practices, is not bashful about seeking insight from NHL goaltenders to help him improve his overall game.
"Scott may be off to a little better start than even the coaching staff thought was possible," noted Murphy. "He is a big kid who is playing his angles really well right now. When he is on, like last weekend, he can definitely steal a game for us."
The Jumbos are back in league play this weekend and finish the first half with a game against travel partner Connecticut College.
"We obviously want to get a few more points in the league," Murphy said. "While we have played well, we don't have a lot to show where it counts the most and we have three games to get some points coming up before exams."
Cadets Showoff Defensive Maneuvers
The Primelink Tournament usually provides a pretty good benchmark for several traditionally ranked teams as the event shifts between hosts Norwich,
Middlebury and Plattsburgh with a fourth team invited from the West. This year that squad was the University of Wisconsin-Stout, last year's national runner-up.
Norwich made quick work of the out-of-towners beating UW-Stout by a 9-1 score on opening night and then faced-off against second ranked Plattsburgh in the final. The game ended in a 1-1 tie following overtime and a shootout was held to determine the tournament winner with Norwich defeating the Cardinals in 10 rounds, 4-3.
"This was a really excited game," said head coach Mike McShane. "The whole weekend was great but the crowd was really into the shootout. Maybe we should be eliminating the ties by implementing the shootout in league contests since it brings a lot of excitement to the fans. It is definitely something to consider."
This upcoming weekend is a big weekend at Norwich and not just because Amherst and Hamilton are playing at Kreitzberg on Friday and Saturday night.
It is also the 100th anniversary of ice hockey at Norwich. Events will include two alumni games and a luncheon for returning players and alumni of the program which will feature a movie that chronicles the program from its origins with an outdoor rink on the site of the current football field (see photo) through the present day, including the championship teams from 2000 and 2003.
"It's going to be a great weekend," said McShane. "We have a ton of players coming back and even managed to get former coach Bob Priestly off the Cape to come up for this. We have the women's team playing, two alumni games and of course two tough opponents for our team all scheduled around some other events — it should be a great weekend."
Enjoy some good December hockey; and for those of you who utilize Twitter, check out my game tweets on the weekends. Log on and follow "d3pucks" to get in-game updates and thoughts on action around the league.
We are back to league play this weekend. Drop the puck!