With most teams playing around 24 games this season, for many they are at the one third mark of the season. Or, as coach Jim Ward from Connecticut College, describes it: "It's the end of the first period."
The Camels break up their season into three periods of eight games each which seems apropos for the sport. In looking at the first period across the leagues there are some teams that hope their roll continues on through the break and into the proverbial second and third periods.
Likewise, there are teams that are headed to the locker room after the first period looking to regroup and come out more focused on producing solid results and changing momentum for the balance of the season following the semester break.
No doubt everyone is still optimistic about their team's chances to succeed and play well through the remainder of the season; for now, however, it is time to benchmark the start of the season and make adjustments and improvements based on the sample of the first six to nine games that everyone has played to date.
Camels Looking to Get Over the Hump
The season began with great promise for the Conn. College Camels who returned a solid group of performers from the previous seasons. Each year, Jim Ward's club has exceeded the performance of the prior season and this campaign appeared to be no different starting in November. With one game remaining this weekend against travel partner Tufts, the Camels are off to a 1-6 start that has their coach concerned but not in any way panicked.
"We see a lot of good things out there," said Ward. "It really is not about the level of commitment or effort on the ice. We really haven't played a full 60 minute game so far this season. The closest to that was probably our game against St. Anselm which coincidentally is our only win right now. This group has been here before so I am confident that we will figure it out and play better and create more scoring opportunities."
The Camels have definitely had problems scoring so far this season having netted only 15 goals through their first seven games. Nearly half of the goals have come from senior forward Trevor Bradley (three goals, two assists, five points) and sophomore Julien Boutet (4-0-4) so there is a need for some of the other talented forwards to contribute on the scoresheet.
"We don't need a bunch of goals," said Ward. "Just a half dozen or so right now would make a big difference and probably would have swung a few games in our favor. If we can get more opportunities to score I am confident we will get our fair share of pucks to go in the net — more chances and few good bounces our way would surely help."
One big beneficiary of a more potent offense would be senior goalie Greg Parker. Parker so far this season has played in six of the first seven games posting a 3.01 goals against average and .916 save percentage. In a league where goaltending is at a premium level for many teams, Parker has continued his strong play this season and will need to continue while the offense finds itself.
"Greg has been very good," said Ward. "That's why I say it's not a lot of goals we need to turn this around. He is very solid and gives us a chance to win every night so we need to go find a few more goals and we will be fine."
The semester break arrives following the game against a high-flying Tufts team on Saturday afternoon. The Jumbos have a hot goalie of their own in Scott Barchard who has been spectacular in the early going — not something a struggling offense wants to see.
"We have one more chance to finish the first 'period' or part of the season on a positive note," said Ward. "Regardless of the outcome, we are focused on being better when we come back from the break and play Oswego to kickoff the new year.
"These guys have all been through this before and we have gotten through the rough patches and improved to play our best hockey when you want to be through the back-half of the season. I am sure they will all be staying in shape over the break and looking in the mirror as to how to get it done so we can meet our own expectations for the season."
The pieces are all there for the Camels so it's just a matter of putting them together and having them all aligned for 60 minutes — Saturday against Tufts will be a good barometer of how far this team needs to go to start strong in the second part of the season.
Ephs Getting A's to Start the Season
For Williams College, the beginning of the 2009-10 campaign has gone extremely well. The Ephs are a perfect 4-0-0 in the conference and 5-0-1 overall with two games remaining before exams.
"It's a good start," said head coach Bill Kangas. "The kids are playing well together and we are getting solid performances from everyone including the younger players who have fit in very well so far."
While averaging almost four goals per game offensively, Williams has received outstanding play from netminders Ryan Purdy and senior Marc Pulde. Both goaltenders have miniscule goals against averages to start the season, along with save percentages .950 or higher.
"We like both of our goalies," said Kangas. "Today you really need two good ones to be successful as it becomes very difficult to expect one guy to carry the burden for all 24 or so games. Even when we had some All-American goalies here it was a challenge so it is nice to have two guys that are playing well and push each other to be successful."
Ironically, the area where the Ephs are most inexperienced is at defense where playing time is largely shared by freshmen and sophomores. Junior Brian Malchoff (2-3-5) is the veteran presence on the blueline and he is supported by sophomore Justin Troiani (1-4-5) who was the leading scorer among defensemen last season as a freshman.
"The defense is coming together," said Kangas. "This team has done a nice job of bringing the younger players up to speed and getting them comfortable with the program on and off the ice. Right now we are just focused on continuing to improve our game and get better balanced upfront. Last season I felt like we had a couple of lines that were very productive but right now I would say we have three lines that are producing and a fourth line ready to add to that overall balance offensively."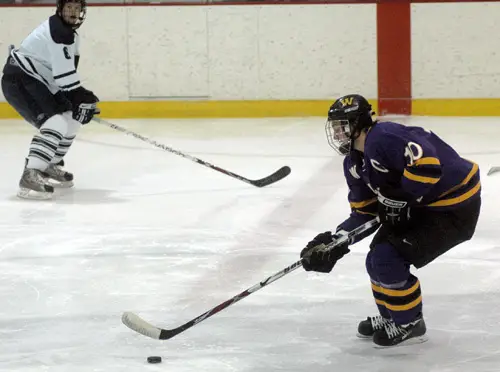 Leading the Ephs is senior Alex Smigelski (5-4-9) who has returned this season from a shoulder injury that limited his playing to just 17 games last season. He looks like he can be that goal-per-game player that every coach wants in the lineup. There is also the element of family bragging rights in the standings and point total categories as Alex's brother Michael is a freshman forward for Colby who has gotten off to quick start like his older brother posting four points in his first six games.
The Ephs finish the first semester with an exhibition game against the USA U-18 team on Saturday and a non-conference game with Salve Regina on Sunday.
"We are really looking forward to finishing the first half on a strong note," said Kangas. "We know the U-18 team is a very talented bunch this year so it should be a lot of fun to give our kids the chance to play a game against strong competition where we get the opportunity to work on some things and see how we measure up overall.
"There is a long way to go so getting off to a good start is nice but we have a lot of hockey to play and I hope we are playing better in January and February that we are even now."
There aren't many teams without a loss on their record so far this season and certainly Williams would like to finish the first half on a high-note by keeping their record that way. Look for the Ephs to be a strong contender at the top of the NESCAC standings and validate their ranking in the polls.
Not much left this weekend but some interesting travel partner matchups that may provide some tiebreaker stats for playoff position down the road. They all count so coaches are trying to keep the focus on the ice in advance of exams for most schools next week. Still a few good games to take in before the holidays so enjoy some hockey "cheering" before the New Year and maybe Santa will bring exactly what your team needs for a great second-half.
Almost done — drop the puck!