On Friday evening, 42 young men will play before a packed Fenway Park and an international TV audience in the hopes of wresting two points in the standings.
On Monday afternoon — on the same ice in front of three dozen friends and family members — 54 somewhat older guys dropped the puck for a much greater cause.
The Boston University-Boston College Alumni Game flew under the regional sports radar, but will mean the world to those it supported. Each player ponied up $300 for the hour of ice time, with proceeds benefiting the Travis Roy Foundation and the Educational and Health Fund for Christopher J. Cleary.
Monday's game wasn't orchestrated by Hockey East, nor was it televised or open to the public. It was, in effect, just another private group paying for the ephemeral ice time at Fenway Rink … er, Park. Each bench overflowed with players, some having played for their alma maters as recently as spring 2008, while others recalled their playing days in the early '80s. And like the other private organizations that have enjoyed skating in the shadow of the Green Monster this winter, these players paid a premium for the experience. Nobody batted an eye at the price tag.
"First and foremost, that's the reason the guys are here," BU's Doug Friedman said of the charities. "They're great causes. To be able to have fun and do something like that — to be able to support foundations like that — it's tremendous.
"It's an unbelievable day. I've come here for baseball games, but to be able to actually skate here … and on top of that, being with your old teammates and alumni that you've known over the years, and it's for a great cause too. All around, it's a great day."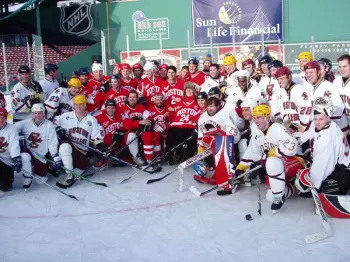 "Today was about a lot of guys coming together for a couple of awesome causes," said the Eagles' Joe Pearce, who organized the Boston College team. "It was really easy with this group of guys; everyone just jumped on board. Fenway Park, the Red Sox, the Bruins gave us a great deal on the ice, and we've been able to raise quite a bit of money for the two foundations. It's good to catch up with a lot of old faces here, a lot of guys are excited about that."
All the Eagles sported their home BC whites; the Terriers, their scarlet BU sweaters. Nobody wore an unaffiliated jersey — pride and loyalty are not taken lightly at these programs. While the snarls and ferocity of bygone NCAA contests were missing, the passion still runs deep.
"Talk about a win-win. It's funny, I'd been asked to play a couple men's league games, where they'd rented the ice and stuff, but I just didn't feel like I really wanted to do it," said BU's Scott Shaunessy. "But when I found out about this, I was the first guy to sign up; I just couldn't believe there was a chance to play with old classmates and teammates, and then a whole bunch of guys from different eras. Then there's seeing the guys from BC across the way, that's kinda fun, too."
Not all the ex-collegiates were on the ice; some chose to support from the stands.
"I think it's outstanding, the opportunity to play at Fenway Park, and two more important reasons in the Travis Roy Foundation and the Cleary Fund," said Miracle on Ice legend Mike Eruzione. "BU-BC, as much as they dislike each other, there's still the [mutual] respect that they have, and it's great to see these guys playing. It's great to see some of the BC kids who you haven't seen in years, and obviously the BU group is pretty close itself."
Roy himself was in attendance, getting about as close to the ice as he could manage at the Zamboni door.
"The BU community — as well as the BC community — have been extremely generous, not only to myself but to the foundation. Early on there was the Travis Roy Fund that helped raise a lot of money, and has made my life a lot easier. [Now] 14 years later, to have an event like this, to have the guys come out to support the foundation, it will help out other people with other spinal cord injuries as well as raise money for research … so hopefully one of these days I'll get out of this wheelchair and walk again. It's taken longer than I hoped, but events like these help raise some money and get us that much closer. One day less in this wheelchair is priceless to me.
"Raising money isn't easy, it's not fun. It's a challenge. There are so many great charities out there. To have an event like this where guys look forward to it, and are glad to take two or three hundred bucks out of their pocket — these are the kind of events that it's fun to be a part of."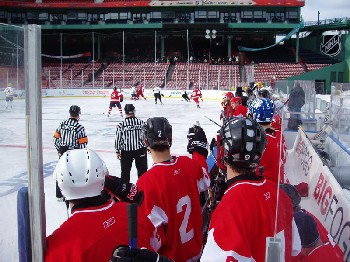 "They're both great causes," said BC goalie Andrew McLaughlin. "It was actually Travis' idea to include the Cleary Foundation, and I think you can see from the turnout that both groups really care."
Supporting the family of former BC star Joe Cleary in the wake of his passing, the Educational and Health Fund specifically aims to help put his son Christopher through college.
"Joey was a staple of BC Hockey. A former senior leader, a four-year letterman, just a great player, a great teammate. To help his son, his family, is great. You get guys out here 15, 20, 25 years later, and we're all still pretty close," said Joe Harney, whose BC class matriculated the fall after Cleary's senior year.
"There's a lot of binds that still tie us," he said.