Just five weeks and 10 games remain for most teams in the league and already the races are tightening up. In the NESCAC, first through eighth are separated by just four points and only two points lay between first and sixth place.
Over in the ECAC East, Norwich is comfortably atop the standings. Further down, however, the teams bunched up between second and seventh are only separated by four points. So a good or bad weekend can have a major impact on your team's playoff prospects.
If there is a key word from the coach's handbook on clichés right now, it's consistency. The teams that have it want to keep it and continue to improve while other teams still looking for it know that now is the time to find their game. The sense of urgency is becoming palpable. Here is a snapshot of a host of teams in the ECAC East — and Trinity from NESCAC — striving to get their respective games fine-tuned for the end of season run that will lead into the conference tournament in February.
Huskies on the Prowl
When you start the year with a strong group of returning players mixed in with 15 new freshmen on the roster, the likelihood is you are going to take a little bit of time to figure out all of the moving pieces in getting the team to play cohesively and consistently.
For Southern Maine the process has helped to add some needed depth and mature some of the younger players quickly in support of proven players who have met expectations and in most cases exceeded them by their coach's standards.
"We are playing well despite our losses," noted Huskies head coach Jeff Beaney. "Sometimes I forget how young we really were when we started the season. We probably could have shortened the bench earlier in the season and maybe benefited from a couple of more wins as a result but giving these players a chance to develop has really added to our overall depth as we have searched for the right combinations in the line-up."
Right now the Huskies are skating two freshman lines that have been effective on the ice despite not necessarily showing up on the scoresheet.
"In our game last week against Colby, it's a 1-1 tie in overtime and obviously a tight game," said Beaney. "I look out on the ice and I have four freshmen and a sophomore out there against a very strong team and really had no issues about putting them out there in that situation."
The freshmen have been able to develop this season largely because of the supporting cast of upperclassmen that lead the team in scoring and continue to show the way for Southern Maine. Sophomore Dan Rautenberg (six goals, 10 assists, 16 points), junior Chris Travis (5-10-15) and junior Paul Conter (5-9-14) are part of a core of players leading the offensive part of the game along with goal scoring leader Zach Joy.
Joy (17-2-19) is a power forward by any definition of the position. He leads his team in goals, hits, finished checks and finds a way to position himself to make the most of his chances. His goal against Colby tied the game and was typical of his drive to the net and commitment to battling for loose pucks and finding a way to score.
"It's interesting that when I speak to other coaches, they will more often ask about Travis and Rautenberg," said Beaney. "Those guys can absolutely fly and shoot the heck out of the puck. Zach skates very well too and can also score outside the circles but his game is less flashy so he probably gets less attention because of it. What is really special about Zach is that he is a great kid and good student but his conditioning as a hockey player goes way beyond any player I have seen here in my tenure.
"He never gets tired and goes 100% every time on the ice in any situation. He is obviously not a playmaker with just two assists this season but is really a throwback player in terms of his physical play and doing the difficult things in tough parts of the ice to get his scoring chances."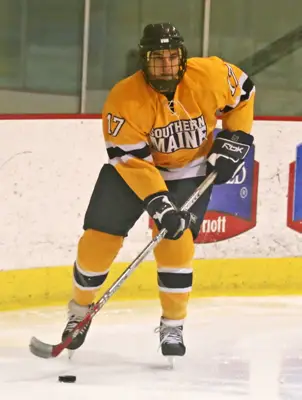 With the offense taken care of, the Huskies will rely on the play of sophomore Mason St. Hillaire (2.99 goals against average, .919 save percentage) in goal as the early season starter, Koray Celik, will miss the remainder of the season with an undisclosed injury.
"Other than the game against St. Anselm where they seemed to score from everywhere and anywhere," Beaney said. "Mason has been solid and the team has confidence in their ability to win with him in goal. We have two league opponents this weekend at home that are big games. All points are valuable now so we need everyone to start playing their best hockey."
The second half has always been the strong part of the season for the Huskies. If that trend holds true, Southern Maine should be playing for a home-ice berth in the conference tournament.
Thoroughbreds Running Wild in the League
If you just look at the record, you might be missing a lot about the Skidmore Thoroughbreds, who have showcased a classic hockey case of multiple personality disorder when comparing their conference and non-conference records so far this season.
Out of the league against a very difficult non-league schedule, the team is just 1-5 with a minus-17 goal differential. In the conference, also against very difficult competition, the team is 6-3-0 and has scored 11 more goals than their opponents. They are currently in second place in the ECAC East.
"We play a tough non-league schedule so we can get better," said head coach Neil Sinclair. "What I would really like to build on is the success we have had in the conference and gain the consistency we are going to need every night to compete in this league at a high level.
"There are still parts of our game that we need to continually work on including some goal scoring but if we continue to play as we have in our conference games this team will be fine coming into the last few weekends of the season."
Leading the Thoroughbreds are juniors Alex Mykolenko (12-16-28) and Hunter Thayer (6-7-13) who have been consistent scorers all season for coach Sinclair's team. A key to the second half has been the resurgence of senior Matt Czerkowicz (4-7-11) who has regained his scoring touch at the right time of the year for Skidmore.
"We moved Matt around a lot early," said Sinclair. "We were trying to find the right combinations and add some depth to our scoring across our lines and it took awhile to get him in the right situation. Matt is very skilled and works hard so I am not at all surprised to see him showing up on the scoresheet more which is good for our offense."
In his last five games, Czerkowicz has scored two goals and added three assists for five points in helping the Thoroughbreds improve to 6-3 in the conference following last weekend's road wins over Babson and the University of Massachusetts-Boston.
Another key piece of the puzzle for Skidmore is sophomore goaltender Colin Bessey.
Like his team, Bessey has struggled somewhat outside of conference play while playing with the form that earned him post-season honors last season as a freshman. With a 2.55 GAA and .916 save pct., Bessey can give the team a chance to win on any night and has provided timely saves to a very effective penalty killing unit for Skidmore.
Skidmore plays six of its final 10 games at home with another pair of tough games this weekend against Amherst and Hamilton from the NESCAC conference. If the Thoroughbreds can keep of their consistent league play, they certainly have a good chance at keeping other ECAC East teams chasing them down the homestretch.
Bantam Road Warriors
For Dave Cataruzolo's Trinity Bantams, the season has been bookends on a schedule that has seen a lot of miles and bus time. The team played eight of its first 11 games on the road and for the season has an unbalanced schedule that sees them play only nine home games versus 15 contests on the road.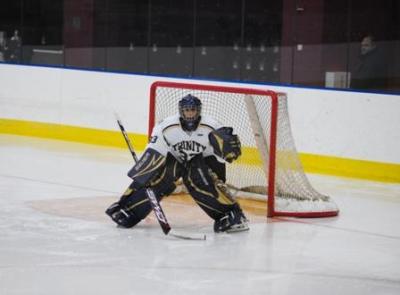 "It's a little bit unusual," admitted Cataruzolo. "I think I need to talk to the guy that makes up the schedule and let him know we might want to build a rink here on campus so we can play at home more. Seriously, I don't think it really has fazed us as the younger players don't seem too phased by either the travel or the game situations they find themselves in."
Like many other teams, consistency is what Trinity is looking for and they need some goals to help their cause. One area that would help is an improved power play where Trinity is connecting at under 15% efficiency with the man advantage.
"We definitely need to improve on the power play which would help our offensive output for sure," said Cataruzolo. "Other than Wes [Vesprini] in goal, we really need to be more consistent in all facets of our game and build on some strong results. We took three of four points last weekend against two very good teams in Middlebury and Williams and didn't make up any ground in the standings so we have our work cut out for us these last few weeks."
Two guys that will be looked to for increased scoring beyond their solid overall play this season are sophomores Paul Jaskot (1-3-4) and defenseman Mike DeMayo (0-4-4). Last season was a 20 point player with 10 goals and 10 assists while DeMayo chipped in with 15 points on seven goals and eight assists. While there are high expectations for both to contribute more offensively, their coach is pleased with the overall level of play that his players have provided to date.
"We asked Mike to really be a leader for a core group of young defensemen," said Cataruzolo. "We wanted him to focus on the defensive zone first while we matured as a group on the blueline and he has more than exceeded those expectations on the ice and in the locker room.
"Paul is battling through the point scoring issue but has contributed solid overall performances in his game doing a lot of other things to help us be successful. Certainly we need his points, especially at this point of the season and will be looking more to him to add some numbers like he did last season."
Starting out the season as a fairly young team, Cataruzolo is pleased with the development of his young players and hopes that they will now find their stride at the right time of year.
Freshmen brothers Jeff Menard and Chris Menard from Burlington, Mass. and Governor's Academy typify the maturation process and have set greater expectations for their play in the second half.
"I think that after the first-half the freshmen have adjusted to the schedule, academic requirements, school life and the demands of playing two games a week in less than 24 hours," noted Cataruzolo. "I don't think they are really freshmen anymore after the break based on their playing time and overall adjustment to league play which creates greater accountability for their game as their confidence builds and they find their role on the team."
This weekend finds the Bantams once again on the road. Matchups with St. Michaels and an unbeaten Norwich team will go a long way in forecasting the level of consistency Trinity to can attain over the last month of the season.
"We have had real problems with St. Mike's over the past few years and there are no gimmes in this league so this weekend will be a good challenge for our team and hopefully a chance to build on what we accomplished last weekend," Cataruzolo said.
The season is more than half over and already the races and individual matchups are beginning to have implications in the league standings.
Consistency is what everyone wants over the final five weeks of the season and those teams that can keep grinding it out or find that "on" switch will be setting themselves up for some important hockey in late February and early March.
Drop the puck!