At USCHO, we strive to cover the sport of college hockey from soup-to-nuts, end-to-end and top-to-bottom. This week we take a closer look at the teams in both conferences currently residing at the top and bottom and what their focus is coming down to the last remaining weekends in the regular season.
While one might think that there can't be a lot in common for teams at opposite ends of the standings, there seem to be more common points among the teams than differing attitudes and areas of focus as each game has more significance and the teams fight for valuable points, looking to maintain or improve their position in the conference.
Lords of their Domain
A quick look at the NESCAC standings shows a familiar team sitting atop the conference. Last year's regular season and tournament champions, the Amherst Lord Jeffs, have leveraged a 9-0-2 run since Dec. 5 to move into first place.
"The formula this year is similar to last year," said head coach Jack Arena. "A lot of it is about the special teams, good defense and balanced scoring but our success still centers on Cole [Anderson] in goal. He has had no problems into shifting from last year's goalie rotation to playing both games on the weekend and probably has been asked to do a little more this year based on the changes in our defensive unit this season.
"We graduated a strong group of seniors and knew we would be finding our way as the blue line group came together. They have played well but Cole has been asked to stop more difficult chances from the opponents and cover for mistakes. Obviously he has been very, very good."
Anderson, who has switched uniform numbers from 28 to his more familiar 29, is still putting up great statistics. He has a 1.83 goals against average (good for seventh nationally) and .927 save percentage. During their 11 game unbeaten streak, Amherst has surrendered just 15 goals, largely due to Anderson's prowess between the pipes.
"Cole is such a competitor," said Arena. "In our matchup with Tufts and their terrific goalie [Scott] Barchard, I am sure that the head-to-head battle with another goalie at the top of his game and really gaudy stats was definitely in his mind or a motivation for him. He would never say anything about it but you know he is aware of situations and uses things to be at his best. That was his first and only shutout of the season so far with our 2-0 win."
A lot of Amherst's success can be found in their extraordinary special teams play. Currently they lead the nation in both power-play efficiency (31.8%) and penalty killing effectiveness (92.8%) which makes things very difficult for their opponents.
"There are really two guys who kind of exemplify our special teams play," said Arena. "On the power play we have watched Matthew Rhone just get better and better each year here. This year it's been great to see him get his chances and really start to bury them. On the penalty kill as well as on his regular shift, sophomore Mike Baran has been dominant on the ice as a physical player who can take over games.
"He is a very talented kid who is showing parts of his game that weren't on display with last year's team and senior dominated defensive corps. He has been a big part of the group on defense coming together and playing well."
Last year's run into the NCAA tournament has not been forgotten by this team that continues to leverage their experience from a year ago in the present. There is a mindset about winning — evidenced by their current streak — that clearly has carried over from last year.
"Winning can be contagious," stated Arena. "It becomes a habit and in a positive way, this team feels that if they get up by a goal, they expect to win. It's not over-confident or feeling that they just need to show up and it will happen. Their experience and success continues to foster the desire for more winning and success and it just grows as the season has progressed."
This week the Lord Jeffs host Southern Maine and University of New England as they look to extend their unbeaten streak and improve on their 5-1-1 home record. If they keep the formula intact, Amherst will be looking down on the rest of the teams in the league.
Cardinals Looking to Fly North
At the other end of the NESCAC standings, the Wesleyan Cardinals are still hoping to find their game and make a late season push to get into a playoff position. The sense of urgency is real for head coach Chris Potter's team coming off a difficult loss against Trinity on Tuesday night by a 6-4 score.
"I really was proud of the team," said Potter. "We were down 2-0 early and cut it in half and then got down 4-1. The kids didn't quit and fought back to tie the game at four apiece. Trinity scored to go up 5-4 and added an empty net goal but I thought we had some chances and really competed hard."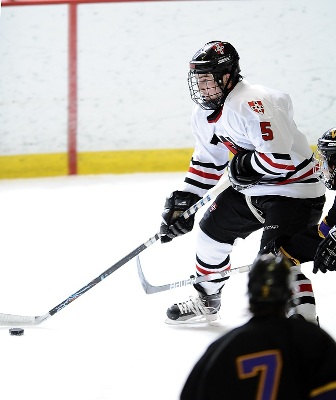 One of the keys to success for Wesleyan is the play of the line that brings together sophomore Tom Salah (10 goals, seven assists, 17 points), freshman John Guay (9-9-18) and freshman Adam Kaiser (2-9-11). Salah has been a key player for Wesleyan from his arrival on campus last season and has continued to have a positive impact on the ice and off the ice with the Cardinals young team.
"Tommy is a great example for the rest of the team," said Potter. "He leads by example and has really inspired others including his linemates to improve and become better hockey players. He has developed and matured quickly and certainly has exceeded expectations as a player."
While the overall effort has been there and the drive to compete continues to be important for all of the Wesleyan players, the results have been tough in the month of January with the team winning only one of its seven league games played so far. A common theme for the outcomes can be found in the difficult time Wesleyan has playing with the power play and killing penalties.
"Wow!" said coach Potter. "It really is a bad situation for us on the special team units. The numbers if they were reversed would be great and we probably would have some more points as a result of getting better in those areas. I would be really happy if we could be successful on the kill or a man up if we had those things happen at key parts of the game when we really need a stop or to get one on the board.
"That is probably the most frustrating part of it all is that we don't seem to get the timely kill or big goal when the team needs it most. It's not for a lack of trying different things or effort. We have a young squad and we are still learning to compete and have success at the big moments that arise in games."
While the Cardinals are at the bottom of the standings, they don't have to move too much to catch a couple of teams in front of them. Connecticut College and Tufts are just ahead of Wesleyan in the standings and the teams get together for pivotal matchups in two weeks that could go a long way in determining who gets in and who is out of the NESCAC tournament.
"The next two weeks are key for us," said Potter. "We have Saint Anselm and New England College here this weekend and then go on the road for Tufts and Conn. College. We have not been successful on the road at all this season (0-6-0) outside of the Nichols tournament so we are going to need to really play solidly in our remaining games if we are going to play hockey after the regular season.
"It's not time to panic yet but need to make some things happen on the ice — compete hard, better special teams and some good goaltending will all give us a chance to get in the race."
No time like the present for the Cardinals who know the clock is ticking and that every point is very valuable heading into the final month of the season.
Cadets Playing With Precision
At 14-0-3 there is no question about the level of play that the second ranked Norwich Cadets have brought each and every night since the first game of the season. As the nation's sole remaining unbeaten team in D-III, the Cadets know that their opponents are gunning for them every game so the effort has been consistently strong to produce the wins and solid games both at home and on the road.
"We have a lot more balance in this year's team than in the past," said head coach Mike McShane. "Last season I thought we had one or maybe 1.5 lines that really could produce some solid offense for us. This year we have four lines that are scoring consistently and that puts a lot of pressure on the other team and makes for some difficult matchups."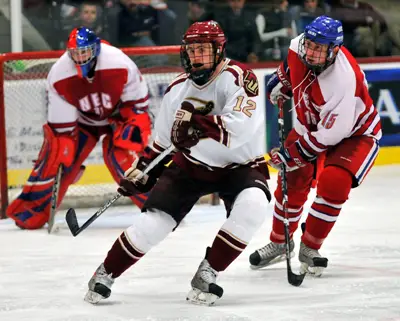 Two freshmen are leading the Cadets in goals so far this season and have been a big factor in the balanced scoring Norwich has enjoyed in their first 17 games. Blake Forkey (12-12-24) and Kyle Thomas (12-5-17) have jumped right in to their roles on the team and have found a knack for scoring goals in all on-ice situations and more importantly, the big goals, as they have combined for four game-winning goals this season.
While the offense is clicking, Norwich also has enjoyed the anticipated solid play of the defensive unit as well as strong goaltending which were McShane's perceived strengths coming into the season.
"We have a solid group of defensemen who have definitely played at the level we expected," said McShane. "All of the guys have played very well and Ryan [Kligensmith] has been really solid in goal so we feel pretty good about where we are right now. We have had a bunch of injuries that we would like to get guys back from quickly. Luckily we haven't had any injuries on the defense or goaltending but we would like to get healthy and focus on improving in the remaining weeks of the season."
Playing much better would be a scary proposition for any Cadet opponent coming up in the next five weeks but their coach knows his team won't get complacent over their current position in the league.
"I think that the level of competitiveness and intensity is really driven by your upperclassmen and the maturity level of your kids," said McShane. While we have some young kids this season playing for us, they are all pretty mature kids and bring that desire to compete every night. I also think we are getting great leadership from our seniors like captain Tyler Stitt and Eric Tallent.
"They really are a confident group, not cocky, but definitely confident and they bring that to the ice. If you really look at the tied games on our schedule there is just one actual tie. The game with Plattsburgh ended with a shootout win which didn't feel like a tie and the game with Potsdam ended with a shootout loss which definitely didn't feel like a tie. Our kids understand both sides of the coin and really work hard to keep the outcomes in the win column."
This week the Cadets travel to UMass-Boston and Babson for two key ECAC East matchups. Both opponents are looking to move up in the standings and focus on the consistent play needed to compete with the league's best.
Friday night's matchup at the Clark Center on the UMB campus will be the first meeting since the Beacons upset the number one seeded Cadets in Northfield in the first round of the ECAC East playoffs last spring. As if staying unbeaten wasn't enough motivation for the Cadets.
"We have a pretty young team," said McShane. "There are guys that I am sure remember the feeling and know the need to play a complete game. I hope they haven't forgotten that game. Every little bit of motivation helps."
It's hard to imagine this team playing much better but they are on a roll and have no intention of slowing down the assault on the rest of the teams remaining on the schedule and right into the postseason.
Nor'easters Weathering the Storm
For a club team making the leap into varsity status, the jump is a big one. Brad Holt's University of New England team has entered its first season in the ECAC East and is battling every night against some of the country's best D-III teams.
"Our record is obviously not great," said head coach Brad Holt. "We are still learning how to compete at the college level and understand the energy level and intensity that you need to bring every night to be successful. It is very different for a lot of these kids coming out of juniors to recognize how short the season is when you start on Nov. 1.
"Then you only see teams once so you can't come out of the game thinking we will get them next time. Lastly, the playing of the two games in less than 24 hours is more of an adjustment for kids at this level. You need to be able to play hard on Friday and then bring it again on Saturday afternoon without thinking or lingering on what happened the night before. It's just a different mindset for most of these kids."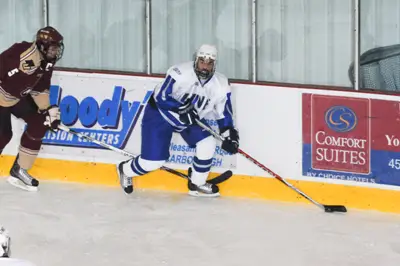 The most difficult part of the game for the Nor'easters has been scoring goals. This is a pretty consistent point of distinction for the teams at the top versus those at the bottom of the standings. Despite the continued effort and desire to compete, UNE has struggled to score goals and last week's 5-4 loss to UMass-Boston was the first game in which the team scored more than two goals in a game this season.
"We knew scoring would be one of our challenges in this first year," said Holt. "We really don't have that sniper who is going to get 10, 15, or 20 goals in a season. We have had to work very hard for our chances and we have some guys that clearly are making the adjustments and getting confidence in their game which should improve the offensive production."
One area of the ice where coach Holt has no concerns has been in the crease where freshman Dallas Ungurian has been a solid and consistent presence on a team that has consistently been outshot each game this season.
Ungurian (4.22 GAA, .893 save pct.) has faced over 400 shots this season or about an average of 36 per game in his 11 starts. In the team's sole win against Plymouth State, he made 41 saves to back stop their inaugural victory by a 2-1 score.
"I have no question that Dallas is the real deal," said Holt. "He has been terrific for us and has kept us close in some games where we have really been outplayed. The key for us moving forward will be to continue to improve in all facets of the game and develop players to play at this level consistently. We certainly understood it wasn't going to happen in just our first season but we don't only look at the wins and losses.
"We have different criteria for determining success focused on parts of the game and things we can focus on and see results. Winning shifts, winning periods, successfully killing penalties, limiting the number of shots on goal are all benchmarks that we strive to improve and assess our performance beyond the scope of just the outcome of the game. Overall I am really pleased with how we have progressed as a team and I know that these kids are committed to becoming better players and a better team. We need to add some pieces in terms of players and continue to teach and learn from our experiences — good, bad and otherwise."
The next two weeks finds the Nor'easters on the road before finishing the season with two home weekends. Six of their final eight games are against NESCAC opponents including a difficult road trip to Amherst and Hamilton this weekend. There is still a lot of hockey to be played and coach Holt, like his team is going to keep on battling right into the conference tournament.
Just one month remains in the regular season and every team at the top or bottom wants to find the winning formula, keep it going and drive to the playoffs playing their best hockey. If you are at the top you want to stay there and if you are at the other end of the spectrum you can't make a move fast enough. Top to bottom the action is going to heat up so get out and root for your team this weekend.
Drop the puck.