If anyone asks Jeff Carr to describe what he saw Saturday night at Camp Randall Stadium, he has a good, simple reply ready.
"It's football madness with ice," he said.
They put a hockey rink in the middle of the football field at Camp Randall Stadium and packed in 55,031 fans for a doubleheader that left the home fans happy on both ends. Wisconsin beat Bemidji State 6-1 in a women's game and came from behind late for a 3-2 victory over Michigan in a men's game to close out the day.
Other than what was on the field and the empty upper deck, the atmosphere was much the same as a Wisconsin football Saturday, from the rows of tailgates outside to the boisterous-yet-late-arriving student section in the north end of the stadium.
"You have the same kind of atmosphere and the same kind of joviality of the crowd of a football game, but you're going to get to watch a hockey game," said Carr, from Green Bay, Wis.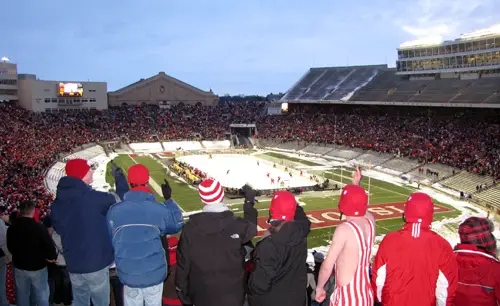 The attendance fell well short of the original goal of breaking the record of 74,544 set at Spartan Stadium in East Lansing, Mich., in 2001. Camp Randall holds more than 80,000, and sections of the upper deck were shoveled out in anticipation of a large walk-up crowd.
Temperatures were in the low 20s at the start of the men's game just after 5 p.m. Central.
Emily and Barry Johnson of La Crosse, Wis., were in a suite four years ago when the Wisconsin men played Ohio State outdoors at Lambeau Field in Green Bay, but their seats were out in the elements Saturday.
They were in agreement that the Camp Randall Hockey Classic was more about the event than watching hockey.
"The games are standard hockey games, but doing it outside and having 50,000 people here and coming down with a whole bunch of your friends is definitely an event," Barry Johnson said.
Joe Zalewski and Erik Larson drove more than six hours from the Detroit suburb of Wyandotte, Mich., and got some good-natured ribbing outside the stadium and in the seating bowl for wearing their bright-yellow Michigan jerseys.
While they posed for a picture in the south end zone seats, using the ice as a backdrop, a Wisconsin fan climbed between them before being pushed away with a laugh.
"They've been pretty nice so far," Larson said. "A little rowdy out by the tailgating, but it's expected. We'd give them the same in Ann Arbor if they came to Michigan."
Zalewski said the long drive was worth it.
"I love hockey, and this is a huge deal," he said. "We're outdoors in the roots of hockey, so we had to come see it and represent our school."
Thoughts turned to the future of outdoor hockey, especially as it pertains to Wisconsin.
The foam base on which the rink was built was custom-made for Camp Randall's crowned field and can be reused.
"I think every four years or so is great," Emily Johnson said.
Said Carr: "Inside is nice for a hockey game, but you just don't get the same atmosphere and the same feel and the same pump from the crowd as you do outside with this many people. It's an outdoor game. It's played on ice, and it's just a lot of fun to be outside."
Zalewski and Larson have the Big Chill at the Big House in their neck of the woods next season. Michigan will host Michigan State on Dec. 11 at 106,201-seat Michigan Stadium.
"That's going to be huge," Larson said. "It'll be a bigger scale than this, and a lot more maize and blue."
Carr sat at the game with his son, Ben, a Wisconsin student. That scene — father and son walking through the Camp Randall concourses — was played out countless times Saturday, with lifelong memories being built.
"I coached him in hockey all those years, and now we're coming out here and seeing this," Jeff Carr said. "It's just great."