If anyone had any doubt about the parity in the MIAC after the regular season, this weekend's playoff games put that to rest — in a hurry. On Wednesday, St. Thomas heads down to St. Peter to face off against Gustavus Adolphus for the MIAC Championship.
Let's first take a step back and look at the events that brought us to this point.
Three games were played this past weekend, combining for an eye popping seven overtime periods. Two Division III NCAA records were set: saves and longest game ever. It's also possible there was a record set for most shots in a game, but more on that later.
The first game of the weekend seemingly set the tone for the other two. In the play-in game, fourth seeded Augsburg hosted fifth seeded St. Olaf on Friday. Both teams traded goals in the first period, in what seemed like the start of a regular playoff game.
Augsburg and St. Olaf Set the Tone
St. Olaf took a 2-1 lead just 12 seconds into the second period, and there the score would stay until there was less than a minute remaining in regulation. That's when the drama started — and it didn't end for over 30 minutes later.
With Augsburg's net empty, Mario Mjelleli scored his second goal of the game to knot the score at 2-2 and send things to overtime. Both teams would get chances in the extra time, but both goalies were up to the task, sending the game to a second overtime.
St. Olaf's Ben Leis was tremendous in net, turning away 47 shots by the time all was said and done, including several game-saving ones. Augsburg's Justin Lochner was also up to the task, eventually stopped 39 shots, including 18 in overtime alone.
With the clock ticking past midnight, it seemed like this game might go on and on. About nine minutes into the second overtime, a rare penalty was called against St. Olaf, putting Augsburg on the power play. Thirty seconds later, the game was over, as Nick Guran knocked in a rebound past a sprawling Leis, and Augsburg began their celebration.
This was one of those games where no matter who you were rooting for, you felt bad for the team that lost. Both teams proved they were up to the task, and it was almost a shame that someone had to come out on the short end. Both teams played hard for the entire game in a tense playoff atmosphere, and in the end the Auggies came out on top in the third longest NCAA Division III game ever. Their celebration wouldn't last long though, as they would face Gustavus Adolphus in a semifinal game in less than 19 hours.
Tommies Gun Down the Pipers
The other seminal game on Saturday pitted second ranked Hamline against third seeded St. Thomas. Coming into the game, Hamline had the better season and better overall numbers, but had split their two games against St. Thomas, with each team winning in a blowout.
In front of a raucous split crowd at Drake Arena, Hamline opened the scoring just 30 seconds into the game, sending their fans into a frenzy. Halfway through the period, though, St. Thomas would score two quick goals and take a 2-1 lead into the second.
Throughout the game, Hamline got their best offensive looks when they were able to hold the zone, cycle the puck, and apply steady pressure. St. Thomas, meanwhile, got several chances through transition, and did a tremendous job clogging up passing lanes and forcing the Pipers to make quick decisions with the puck or risk turning it over.
The second period saw both teams get several chances, but the score remained 2-1 in favor of St. Thomas as time dwindled down. A late power-play opportunity for St. Thomas was quickly cashed in for a 3-1 lead with just over one minute left, and that was the score as the team's headed to their locker rooms in preparation for the third period.
Both teams played somewhat tentatively to start the third, with St. Thomas playing defensively, and Hamline appearing to focus more on avoiding mistakes than in generating offense. A little less than seven minutes into the third, St. Thomas' Steve Murphy broke free alone to the Hamline net, but was slashed and wasn't able to get a shot away.
The split crowd murmured anxiously, then roared in both excitement and dismay as the referee raised his arms above his head to signal a penalty shot. Murphy brought the puck in slowly, made his move, then slipped the puck in on a backhand to give the Tommies a 4-1 lead with less than 15 minutes remaining.
After that point though, the game turned decidedly in Hamline's favor. Less than a minute later, the Pipers were given a chance on the power play, and scored 15 seconds later, cutting the lead to 4-2. Five minutes later, Hamline was controlling play, generating chances, and drew another penalty from St. Thomas. Hamline wasn't able to score while on the power play, but a scramble in front of the net resulted in a goal just after the penalty expired, before the fifth St. Thomas skater could join into the play.
Hamline continued to apply pressure, desperately trying to tie the score to keep their season alive, and with under three minutes to go, Spencer Anderson knotted it at 4-4, silencing the St. Thomas portion of the crowd and sending the Piper fans into a frenzy.
Neither team was able to score in the dying minutes of the third, and yet another MIAC playoff game was headed to overtime.
The extra session started off much more evenly than the third period ended, with both teams trying to generate chances without sacrificing on defense. St. Thomas looked very dangerous in transition, even on 2-on-2 and 3-on-3 rushes. Hamline continued to try and hold the puck in the Tommie zone, and got several good looks, but weren't able to beat St. Thomas goaltender Joe Shraeder, having several shots blocked by St. Thomas defenders or just missing wide of the net.
Hamline's best chance came just past 10 minutes into the overtime period. Shraeder made the initial save, but was down and had left a rebound to the left of the net. A Piper forward skated in, with a mostly empty net staring him in the face.
The puck bounced over his stick, though, was picked up by St. Thomas, and quickly brought down the right wing. After bringing the puck into the faceoff circle to the left of Hamline goaltender Beau Christian, Andrew Kappers fired a shot to the far post that beat Christian, sending the Tommies streaming off their bench to celebrate the 5-4 win and move them into the MIAC championship game.
Even though this game started after the other semifinal game, the Tommies didn't yet know whether they'd be traveling to face Gustavus or staying home to play Augsburg. Even though St. Thomas won over 10 into overtime, word had trickled into Drake Arena that the other semifinal game was still going on… .
One for the Ages
I could devote an entire column summarizing the Augsburg-Gustavus game, and it still wouldn't do it justice. The Gusties' rink has a tremendous atmosphere for any game, but when packed full of fans, in a do-or-die playoff game, it goes to another level. After attending the Hamline-St. Thomas game, I tuned in online to watch the second overtime of the Gustavus-Augsburg game.
Before I did so, however, I missed out on a lot of scoring. Augsburg tallied first, but then were forced to come back from 2-1 and 3-2 deficits, before roaring back to a 5-3 lead. Gustavus scored near the end of the second period to make it 5-4, and then finally tied things up with under four minutes to go in regulation. It would be over 80 minutes before someone scored again.
Less than 24 hours after winning the third longest D-III game in history, the Auggies were headed back to overtime. The wear of all those minutes finally began to show, and the Gusties began to take control of the game. The Gusties held a 44-33 shot advantage through the first three periods, which isn't a huge margin, but through overtime Gustavus outshot the Auggies 60-24.
Freshman Justin Lochner was in net for Augsburg, and for over 60 minutes in overtime, turned away every shot he saw. For most of the third and fourth overtimes, Gustavus would control play in the Augsburg zone, the Auggies would eventually gain control, bring it down the ice, go off for a line change, and the Gusties would bring the puck right back to put the pressure on again. Time and time again, Lochner would be there to end the threat.
Eventually, though, the Gustavus pressure would become too much, and at 18:38 of the fourth overtime period, Eric Bigham knocked in a loose puck in a scramble of bodies to win the game for the Gusties, triumphantly putting them into the MIAC title tilt.
In the end, Lochner made 98 saves on 104 shots — an NCAA D-III record — in a game that lasted 138:38, also a record. Over the entire weekend, Lochner played over 228 minutes, nearly four games worth of ice time, and made an astounding 137 saves. In comparison, Gustavus's Josh Swartout did not make that many saves in his last seven games combined. And he is one of the league's top goaltenders.
There have been at least two other college games that were longer, with a Division I men's game between Yale and Union and a D-I women's game between RPI and Quinnipiac both going into a fifth overtime. This game saw over two full games' worth of action, with 11 total goals, 161 total shots, and only seven penalties for 14 minutes.
This weekend was an example of college and playoff hockey at its best, and the MIAC showed how even a field it truly is, with each game pushing both teams to their limits.
MIAC Championship
St. Thomas at Gustavus Adolphus, Wednesday March 3, 2010
With the incredible way the games unfolded this past weekend, it almost seems shocking that the biggest game is yet to come. On Wednesday, St. Thomas will travel down to Don Roberts Ice Arena to play Gustavus Adolphus for the conference championship, with a bid to the NCAA tournament on the line.
This is the final game of the MIAC season, and it's the only game I'm not going to make a prediction for. With the parity that's been obvious all season long, and only growing stronger in the playoffs, I'd rather just flip a coin or pick a name out of a hat than try and figure out who has the edge in this game.
Last season, Gustavus Adolphus entered the tournament as the second seed, and ended up making a run that didn't end until they lost in the national championship game. This year, they added a regular season championship banner to go with their MIAC playoff and NCAA banners. They've had a tremendous season so far, and even if they falter in the title game, still have a chance to be selected as an at-large team for the NCAA tournament.
St. Thomas, on the other hand, has had a down year, finishing the regular season just one game over .500. The conference playoffs are a chance for them to redeem an otherwise so-so season for them and add another championship banner to their MIAC-leading collection. The playoffs reward teams who peak at the right time, and the Tommies are certainly playing their best hockey of the season right now. They need to win this game if they don't want to see their season end.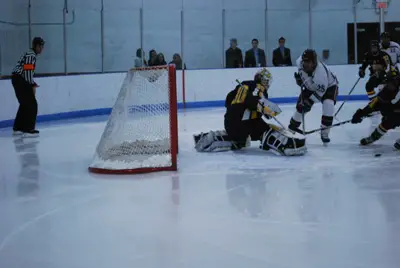 By the numbers, this matchup favors Gustavus heavily. The Gusties finished the season 12-2-2 in the MIAC and 18-5-2 overall. Their junior net minder, Josh Swartout, leads the league in goals against average, giving up a miniscule 2.13 goals per game to go along with his save percentage of .910.
While St. Thomas's Joe Shraeder has posted a 3.37 GAA and .878 save pct. over the course of the season, he's shown that he can elevate his game to the level the playoffs demand. Against Hamline, Shraeder faced 45 shots, turning away 41 of them. St. Thomas has now won six of their last seven games, and are definitely playing at the level they need to if they want to extend their season.
The special teams numbers nearly all favor Gustavus
Then again, when St. Thomas played Hamline, the numbers nearly all favored the Pipers too. St. Thomas's penalty kill checks in at 80.2%, while their power play clicking at a rate of 14.9%. While that is not a very good power play percentage, something that may worry the Tommies even more is that they've given up seven shorthanded goals this season, tied for fourth most in the nation.
The reason this may be important is that Gustavus has scored nine shorthanded goals of their own this season, tied for the most across the country.
For the Gusties, their power play is rolling at 20.3%, while their penalty kill is at 82.3%. Neither of those are statistically amazing, but they're definitely solid, and the nine shorties add a whole other dimension to their special teams.
For Gustavus, the bulk of their offense comes from David Martinson, whose 29 goals lead the nation, and Ross Ring-Jarvi, who is 18th in the nation in points per game. While those two provide the biggest punches, the rest of this team is dangerous as well.
This team is deadly in transition, but can also get a cycle going, throw their bodies around, and muck in the corners. One of their biggest assets is how they can dominate a game. Gustavus outshoots their opponents close to 40-to-25 on average. That keeps a lot of pressure off their own defense, instead focusing it onto their opponents.
St. Thomas's game tends to involve disrupting the flow of their opponents, creating chances through transition, and quick passing to either break out of their own zone, or catch an opponent off guard defensively. They play hard, and aren't afraid to throw checks or dig the puck out of the corner.
It sounds cliché to say that this game will come down to goaltending, special teams, and execution, but it's true. Whoever executes their game plan the most effectively will most likely be raising a new banner at their rink. Whoever takes the fewest penalties, capitalizes on their chances, and doesn't sacrifice on defense, will obviously hold the advantage.
You can say that about virtually any game, but in the playoffs, with the teams so close together in their level of play, subtle differences can pay large dividends when the game is over. Despite any disparities in numbers, the playoffs are called the second season for good reason. These two teams will come out fired up to claim the tournament championship, bragging rights, a chance at a national title, and to keep their season alive.
This Wednesday, St. Thomas and Gustavus Adolphus will lay it out there on the ice, with one of them emerging the champion.
Short Shots
It's going to be one heck of a finish to the season, and if the atmosphere is anything like last year's championship game, it will be a great night for hockey. Gustavus's Web page offered a video feed to watch the semifinal game online. If you can't make it to St. Peter this Wednesday at 7:05, be sure to check there to see if it's available for the championship as well.
The NCAA does not keep track of team shot records. It's quite possible that Gustavus Adolphus' 104 shots were an all-time record. The former saves leader was ex-Northland goalie Daniel McIntosh who stopped 95 of 99 shots against Adrian in 2009. The former second place number was 77 saves by Nichols goaltender John Herud, set in 1973. Now, the record for most goals scored in a game was 26, so even without box scores we can tell that the most shots Herud could have faced was 103, and we have the box score from the Adrian-Northland game, and know Adrian had 99 shots.
So while neither of those games could have had more shots in them, why isn't this definitely a record for shots in a game? The problem with the save records is that it's only for one goalie. If a goalie gives up six goals and makes 30 saves in the first period and is replaced, and the second goalie gives up six goals and makes 30 saves in the second period, and the third string goalie comes in and gives up six goals and makes 30 saves in the third period, their opponent has scored 18 goals on 108 shots. That would break Gustavus' total from this past weekend, but wouldn't show up anywhere in the NCAA record book
It's highly unlikely that something like that has occurred in the past, and 104 is definitely the highest shot total I can ever remember seeing in my years of following D-III, but unfortunately it still can't be definitively called a record.