St. Norbert (22-3-3 Overall, 14-2-2 in NCHA)
Faced with its first weeknight NCAA tournament game in school history, St. Norbert relied on its typical stingy defense and big-game experience to down Adrian 4-3 in an opening round contest on Wednesday. The win advances the Green Knights to the NCAA quarterfinals on Saturday where they will host Gustavus Adolphus, who advanced with a 3-1 win over St. Thomas.
"They are a very impressive team, they really are" said St. Norbert head coach Tim Coghlin of Adrian. "You could tell they are a group that's been together three years. They really know where each other are on the ice and certainly have a high octane offense. I think they are as advertised, are a very good team and are certainly a tournament-worthy team."
A Chris Stansik goal midway through the opening frame put the Green Knights down 1-0, which is somewhat uncharted territory as of late.
"We have been scoring first regularly," Coghlin said, "but this is the tournament and we told the guys anything could happen. When they scored the first goal I don't think were terribly phased and we really started to pick it up in the second half of the period."
The Knights evened things up at 17:52 of the period on a laser from Cody Keefer.
"[He's] a sniper," Coghlin said. "He can score from just about anywhere on the ice and he labeled that puck. The goaltender was going to have to make a big save, but that was a great shot and really propelled us into the second period."
Keefer's goal set the stage for a nearly 20 minute stretch in which the ice was clearly tilted in the Green Knights' favor and they took advantage of it as Dustin Walz, Matt Boyd and Brandon Longley all struck in the opening nine minutes of the second period to make it 4-1 St. Norbert.
Adrian cut it to 4-2 on a Mike Dahlinger power-play goal at 10:47 of the period and the score held into the second intermission.
Adrian was awarded a golden opportunity with a 5-on-3 power play near the midpoint of the third period, but a stellar penalty kill — especially the effort of Johan Ryd — kept the Bulldogs off the board and the two goal lead intact.
"That kill was the turning point," Coghlin said. "Getting the sticks on pucks and the job Johan did, along with Scott Pulak and Jason Nopper on the back end was a great effort and a great PK from us."
Each team only registered three shots in the final period, and an Adrian goal by Mike Towns with under four minutes to go was enough to make things interesting, but it wasn't enough as the Green Knights' defense did its part and the 4-3 score held up until the final horn.
"We were able to do what we needed to do," Coghlin said. "I don't really think there was too much pressure being applied on either end in the [third] period. They got the goaltender out but our guys were poised and made all the right plays and we were able to get out of there with the win."
Enter a showdown with Gustavus Adolphus to determine who will be the West Region representative in Lake Placid. St. Norbert is 12-11 all-time against the Gusties but 12-1 under Coghlin. Interestingly, the one loss came at the Cornerstone in the fall of 2007. It was the only loss of the season for the eventual national champions. The two also met last year with the visiting Green Knights scoring a wild 7-5 win.
"They last time they were here they won," said Coghlin. "The game we were in down there last year really looked like one of those where you thought whoever had the puck last was going to win."
The two did not meet this season which adds to the intrigue as both have been highly ranked all season. Coghlin knows full well the threats the Gusties pose, especially after making it all the way to Lake Placid, and the national championship game, a year ago.
"They made a heck of a run a year ago," Coghlin said. "They beat Superior on the road, beat Stout in Lake Placid and so on. They are a really aggressive team that really gets up and down the ice. They use each other well, they pass well … they are just a very complete team."
One new experience for St. Norbert will be the short three day turnaround from the Adrian game, but Coghlin is confident it's not an issue as the Gusties are in the same boat.
"Everybody understands that all four teams out here were facing the same thing so there is no advantage or disadvantage for anybody. The big thing is that we are going to have to take advantage of the fact we are at home."
While the Gusties offer a high flying offense led by David Martinson, the leading goal scorer in the nation, they have also shown the ability to win defensive battles and are battle tested after three tough postseason game so far — including a marathon four overtime win over Augsburg in the MIAC semifinals.
As such, Coghlin isn't quite sure how this meeting might break down stylistically.
"I think it will be a different type of game this time, though," he said. "Both teams know what sort of defense it takes at this point in the year so one of those 2-1 or 3-1 games wouldn't surprise me, but the possibility is always going to be there for a track meet as both teams can get up and down and are good skating teams."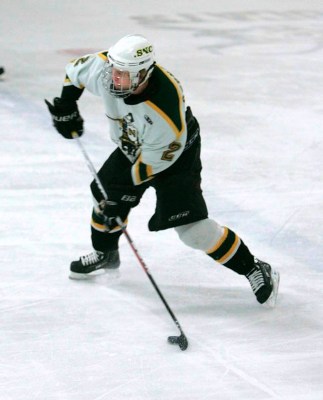 As far as how the Green Knights are approaching things, it will be no different than it has been for over a decade:
"Everyone knows the style of game we play here. We like to finish our checks, play hard down in the paint and make people work hard for their scoring chances."
If St. Norbert is able to execute the way it wants to and punch another ticket to Lake Placid, you won't be hearing too many complaints emanating from the Green Knight's camp. After all, it worked out pretty well the last time around. Win and they're in.
Gustavus Adolphus (20-6-2 overall, 12-2-2 in MIAC)
This game marks the fourth time in the past six years that the MIAC representative in the NCAA tournament has had to travel to St. Norbert in order to keep their season alive. Of the previous three games, only once was the MIAC team able to overcome the Green Knights and advance.
While Gustavus has not met St. Norbert in the playoffs, the two teams have met in each of the previous two regular seasons. Last year, Gustavus lost 7-5 at home, while the previous season the Gusties prevailed 4-2 at St. Norbert, giving the Green Knights their only loss of the season en route to a national championship.
This Gustavus team has 11 seniors on its roster, so they will have a good idea what to expect from St Norbert.
"We're expecting it to be a tough game," said Gustavus head coach Brett Petersen. "St. Norbert is extremely talented with great depth, and they are awfully tough at home."
Gustavus is no slouch away from home though, as the Gusties posted an 8-2-1 record on the road this season.
"You have to have a somewhat different mindset on the road," said Petersen. "I think the beginning of the game will be more important than usual, as we try to weather the storm early."
Staying even early on is even more important against this opponent, as St. Norbert is hardly ever beaten when leading after two periods.
"We're going to have to rely on (junior goaltender Josh) Swartout early on to keep us in the game," said Petersen. "We're going to have to absorb some shots, and then look to counterattack through the rest of the game."
Gustavus has some extremely talented and hardworking players that will need to be at the top of their game to defeat St. Norbert David Martinson leads the nation in scoring with 29 goals, while Ross Ring-Jarvi is 22nd in the nation with 40 points overall. Eric Bigham and Brad Wieck are also threats, while Patrick Dynan's 22 assists are second best on the team.
Against St. Norbert, the offense is going to have to bury their chances. There were several times against St Thomas where 2-on-1s or partial breakaways failed to produce a good scoring chance, and several good looks that weren't put into the net. St. Norbert does not allow their opponents many good looks or even many shots on goal. Goal scoring chances are likely going to be limited in this game, and whichever team is able to convert will be the team that advances.
Defensively, this team can be something of an enigma. Some games see plenty of odd-man rushes both ways and scores escalating into video game like scores. In other games though, the team is focused and plays excellent team defense forcing shots outside, clearing rebounds, punishing players with big hits, and keeping their opponents off the scoreboard for long stretches.
If the Gusties play like they did in their NCAA first round game against St. Thomas, they are very hard to beat. Their forecheck made it very difficult for the Tommies to generate consistent offense, and when they were able to move the puck up the ice, Gustavus defenders made them pay with big hits, forcing the puck into the corners before St. Thomas could generate a scoring chance.
This is easier said than done against St. Norbert, who has a slew of skilled and speedy players. Instead of relying on a top line to generate their scoring, the Green Knights don't have a single player who scored more than 13 goals for them this season. They do, however, have a whopping nine players who scored at least eight goals for them. No matter what line is on the ice, they will be constantly playing hard and trying to score. This relentless approach has worn many teams down this season, and in previous years.
When the Green Knights get their chances, it will be up to Swartout to shut the door. The Gusties goaltender has had a superb season thus far, posting an 18-4-2 record along with a 2.07 goals against average, and a .911 save percentage. While he was not tested often against St. Thomas, the shots he did face tended to be high quality looks, and he was forced to make some tremendous saves throughout the game to keep his team ahead. He'll have to be sharp to give Gustavus their best chance to win.
Last season Gustavus reached the national championship game, falling to Neumann College 4-1.
The returning members of this team know what it takes to win in the playoffs, as well as on the road. While they lost the goaltender that led them on their playoff run last season, this team relies on so much more than just one player. Their forecheck can wreck havoc on opposing teams, they have nine shorthanded goals on the season, and they have players that can are dangerous no matter the situation They have defenders that aren't afraid to sacrifice themselves to block shots or to lay a big hit on an opponent.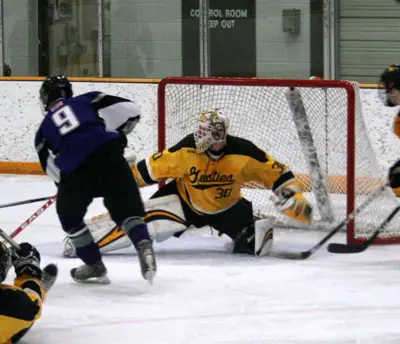 Last Wednesday's win over St. Thomas gave this Gustavus team 20 wins, a number they haven't reached since the '89-90 season.
"I'm extremely proud of this team," said Petersen. "To make the NCAA quarterfinals in consecutive years, to win 20 games, it really takes a special group of guys to do that."
This team fell one game short of their goal last season, and now they have another shot. It certainly won't be an easy test against the NCHA's regular season and playoff champion, but to be the best you have to be able to beat the best.
The best of the west will be determined by this game, with the winner advancing to Lake Placid as one of the last four teams left playing for the national championship. Gustavus is playing their best hockey in the past 20 years, while the Green Knights have been a force to be reckoned with for the past decade.
Will the Gusties be able to shock St. Norbert on the road? Or will St. Norbert continue to be the dominant team in the region? We'll find out this Saturday.