When Maine suspended goaltender Scott Darling indefinitely just days before the Hockey East quarterfinals, the Black Bears turned to senior Dave Wilson — a career backup goaltender — to fill the gaping hole between the pipes.
Maine's hope of postseason glory dimmed with the recollection of Wilson's earlier stints in net. Prior to this postseason, he opened and closed the regular season with losses and posted a 0-4-0 record in nine games for Maine.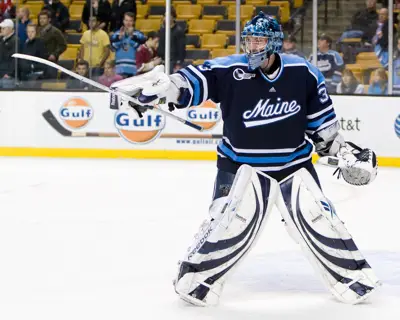 In October, Wilson kicked things off against Union with consecutive losses of 4-1 and 6-3 while filling in for an earlier Darling suspension. He sporadically filled in during four other Maine losses and a 10-1 trouncing of St. Lawrence on Nov. 28 before losing to Massachusetts 4-3 just one week before the Hockey East quarterfinals.
With the news of Darling's punishment, most, if not all, playoff predictions unsurprisingly pegged Maine for an early exit from the Hockey East tournament.
It certainly seemed that way, as the Black Bears fell in heartbreaking fashion to Massachusetts-Lowell in Game 1 of the tournament quarterfinals. Wilson turned in an admirable 19-save effort, but still had not yet backstopped Maine to a key victory.
Once placed in a do-or-die situation, Wilson mounted a dramatic turnaround that carried the Black Bears out of the quarterfinals and into the championship game. Wilson pushed the series to a deciding third game by stopping all 23 shots and stoning the River Hawks on all five power plays in a 2-0 shutout of Lowell in Game 2. Spearheaded by Wilson's 26-save effort, Maine locked up its 17th appearance in the Hockey East semifinals with a 3-2 overtime nail-biter over Lowell in the rubber match.
"Every game was an elimination game for him," said Black Bears coach Tim Whitehead. "You never really know when guys are going to rise up like that in unexpected moments. … I've seen other guys rise up in other situations, which he certainly has done for us this postseason."
Entering tonight's game with a 2-4-0 record, Wilson's statistics were deceptively strong: 2.19 GAA and .903 save percentage in 11 games. Skeptics continued to question Wilson's longevity when the Black Bears drew tournament mainstay Boston University in the semifinals matchup.
His performance against the Terriers in Friday's game, however, will go a long way to silencing the naysayers. Wilson, who never cracked the 30-save mark this season, stymied the Terriers a season-high 37 times in Maine's decisive 5-2 victory over BU.
"Did I expect it? Yes and no," said Whitehead. "It's a pleasant surprise. The one thing about Dave [Wilson] is he really persevered and I'm so proud of his ability to focus when we needed him the most."
Wilson's highlight reel-worthy save came with just under three minutes to play in the final frame. After enduring a nine-minute review granting BU a controversial second goal, Terriers forward Ross Gaudet came in all alone on a breakaway and threatened to knot the game at 3. Wilson stoned Gaudet like a seasoned veteran, and propelled Maine for the 13th time to a spot in the coveted championship game against Boston College.
"As long as I have fun and relax, I can make those saves," Wilson said. "I saw [Gaudet] coming down at me so I tried to get out and challenge him on that breakway. But like I said, I was just trying to relax and have fun out there."
Wilson will have one night to savor the effort — on the night of his 25th birthday — before facing off against the Eagles in the finals Saturday night for the chance to raise a sixth Hockey East championship banner to the rafters.