It took Stephane Da Costa just two games to make a name for himself in college hockey.
In the second game of his freshman season at Merrimack, Da Costa scored five times on 11 shots on goal in a 6-3 victory over Army. He had a natural hat trick in the game's first 13:36.
Related link: Stephane Da Costa, Game by Game
Da Costa continued making believers out of doubters along the way, getting at least one point in 26 of the 34 games he played.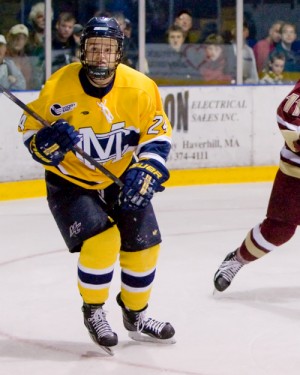 Da Costa has been named the USCHO National Rookie of the Year after leading Merrimack in scoring with 45 points (16 goals, 29 assists) and helping the Warriors to rare heights in the program's Hockey East years.
Merrimack's 16-19-2 record tied the team's most wins since moving to Hockey East in 1989. The Warriors were 8-4-2 in their last 14 games to take sixth place in the league before losing to Boston University in three games in the opening round of the playoffs.
Da Costa ranked eighth nationally in assists per game (0.85) and was seventh overall and led the nation's rookies with an average of 1.32 points per game.
The Paris native led rookies in Hockey East scoring by 18 points. He had 36 points (nine goals, 27 assists) in 26 league games, and was the first five-time Hockey East rookie of the month in league history.
The 2010 USCHO postseason awards were selected by staff writers and editors at the conclusion of the Frozen Four.