Everyone makes mistakes, but only the wise learn from them, and the successful keep moving on.
This is a familiar scenario for Notre Dame rising sophomore forward Riley Sheahan. After a rookie season in which he scored 17 points ended, the 18-year-old potential first-round draft pick was arrested in the early morning hours of April 25 for underage drinking in South Bend, Ind.
According to police reports, Sheahan, a St. Catharines, Ontario, native, was caught with fellow teammate Kyle Palmieri in the back of a moving pickup truck and was charged with public intoxication and minor alcohol consumption.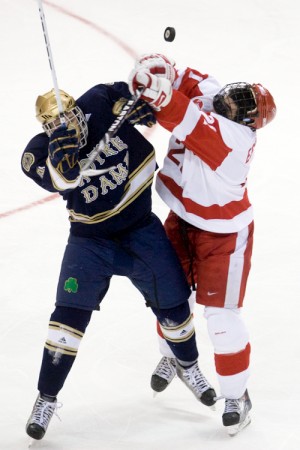 After a while, questions moved from the incident itself to how it would affect his hockey career. The way Sheahan sees it, it won't.
"We just got caught doing the wrong thing at the wrong time," Sheahan said. "We made bad decisions. It was definitely embarrassing at the time, and I felt it was unfair to have all negative stories about me in my local paper and things like that. I just don't feel like that was the proper way to treat us.
"But I think that each team and each person who really knows me knows the truth about who I am. Just talk with previous coaches who really know me and there hasn't been anything bad or inappropriate they would say about me. I had a good attitude as a kid. But I think at the end of the day, you have to be comfortable with who you are despite what people are saying about you."
This wasn't the first time college hockey made headlines regarding underage drinking this year. Back east after the 2010 national championship, three Boston College freshmen were brought up on alcohol charges after the SUV they were in was hit by a trolley while making a U-turn over the tracks.
Down the street at Boston University, brothers Vinny and Victor Saponari were dismissed by coach Jack Parker for repeatedly displaying "conduct unbecoming of a BU hockey player," with one instance known to have involved underage drinking and breaking team rules.
Notre Dame coach Jeff Jackson found out about the incident with his players at a stopover in Atlanta when he was on his way to Florida for the coaches convention.
"First of all, I'm a believer that you do get discipline for situations like this," Jackson said. "But a lot of it is based on their history and different issues. As a coach, I always try to take a deep breath. Obviously, I want to make sure that I deal with the young man first before I deal with him as a hockey player.
"Every situation is different; I can't speak on behalf of the other incidents, but this wasn't acceptable behavior for a Notre Dame athlete. They have to recognize and make sure they understand that what had happened one time would be dealt with a certain way, but if it happens again and there is a history, it goes a long way and then it becomes a bigger factor."
Jackson added: "Riley is a character kid, and he just got caught in the wrong situation at the wrong time. It's never accepted to be arrested, but he got a ticket for underage drinking and he's certainly not the first athlete or student that's gotten into that trouble. It's not that I condone it, but hopefully he'll understand that being at Notre Dame, being a hockey player and being a professional draft pick, you'll have to make some sacrifices because you're in the public eye. You have to make good decisions away from the rink. He comes from a very strong family, quality parents, and I'm sure he's learned his lesson and won't do anything like that again in the future."
When mistakes are made, there will be consequences. Sheahan has to do 20 hours of community service and has already completed 10 of them, teaching kids in his hometown how to skate. Jackson is awaiting the hearing that Notre Dame Residence Life will be holding concerning his two players, and he'll respond to that to determine whether he needs to take any further action next season.
The 2009-10 Fighting Irish season came to a disappointing close in the CCHA tournament when they lost to Ohio State 8-2, ending with a 13-17-8 overall record, the team's worst finish since Jackson's first season in 2005-06.
The tough luck for the Irish affected Sheahan's production in the last few months, and he dropped from fifth in the midterm NHL Central Scouting rankings to the 22nd North American skater in the final list. Two years ago, Sheahan was a leading scorer with 27 goals and 73 points on his Junior B team, the St. Catharines Falcons of the Greater Ontario Junior Hockey League, so his modest rookie totals of six goals and 11 assists may be simply a steppingstone.
"Without question he achieved quite a bit [in his freshman year] for the youngest player in college hockey," Jackson said. "He was 17 years old and was playing up against 20-year-old players on a regular basis in practice and games, and he did extremely well. He was a freshman that came in and played a regular role in both our power play and penalty kill situation, so he was an important part of our team. He's a very responsible player, very smart, and because of that I could use him in almost any situation. He's more than a defensive forward; I know he can do quite a bit more offensively, and we'll be relying on that in the future."
With the NHL Entry Draft coming up June 25-26 in Los Angeles, it is unsure whether Sheahan will return to his college teammates this fall or join a new roster (most likely in the OHL) if gets picked by an NHL club that thinks he's ready.
"I have a lot of big decisions to make coming up," Sheahan said. "But I think I'm almost ready for that next step, so if there comes a time when they think I'm ready then, you know, I'll make the jump. But I don't know. I think I'm going back to school. Obviously, I want to play in the NHL just like every other kid, but I also want a crack at playing at the World Juniors this Christmas, so I want to work really hard toward that, and off the ice in the weight room, and on the ice as well. Just a few things to improve like my skating, getting a little bit bigger and stronger, and then I'll be ready to play at that level and just take that next step to the NHL as quick as I can."
At the NHL Draft Combine in Toronto at the end of May, Sheahan met with 26 teams, all of whom brought up the arrest in their interview. Despite that, he was able to appreciate the whole experience.
"It was great," he said. "There were tons of interviews so my days were jam packed. Most of the questions were pretty similar, mostly about my background and how I was as a person, just kind of how you are off the ice and in the dressing room. The arrest pretty much came up in every interview, but it wasn't that bad. They told me they've all done it, so it's nothing to be worried about.
"Besides that, they try to get you with some weird questions as well. San Jose was asking me about Canadian geography and time zones in Canada, just to catch you off guard. I didn't get them right," Sheahan chuckled. "They asked me what the largest river in Canada was, and I said the St. Lawrence River, and that wasn't right. Then they just looked at me like I was an idiot."
He may not have won the Geography Bee in elementary school, but he's still an intelligent kid who excels at things besides hockey. He's also quite the musician.
"I took lessons when I was little and then I sort of taught myself from there," Sheahan explained. "So while playing guitar I started to teach myself how to play piano a little bit. I'm really into music and I like all types; I like country, John Mayer, and everything up to rap."
Sheahan, known as "Raze" by his Irish teammates (the reasoning behind it remains a secret), would listen to all types of music in the locker room last year to loosen up after hard workouts. Sheahan has fond memories of his rookie season.
"The funnest part about this past year was after pretty tough workouts, especially on Fridays," Sheahan said. "You come into the dressing room after you work out, drenched in sweat, and you can barely stand up because you're so tired. But once the music comes on, everyone gets a little loose, and everyone's dancing and jumping around. Then after everyone left the dressing room, freshmen would always play 21, the basketball game. We used our soccer ball and laundry bin as the basket, and we'd take different shots, hit the ball off the wall, and the next guy would have to copy it. It got pretty challenging, but those little things were always a blast."
Everyone has positive and negative memories; some you want to relive, and some you just want to erase. The arrest is something Sheahan will never forget, but he lived and learned, and is moving forward.
Sheahan is all riled up for the draft and is excited for his future. He has a second chance to prove to the hockey world that the only memories people will have of him are the good ones.