Nicklas Lidström is one of the best defensemen in the NHL, and with 17 years of experience with the Detroit Red Wings, it's no wonder he's captain, has hoisted four Stanley Cups, has garnered six Norris Trophies, and has been named "NHL Player of the Decade" by Sports Illustrated and The Sporting News.
The 10-time all-star is an idol for many young hockey players these days, and 18-year-old incoming Michigan freshman Jon Merrill is one of them.
Merrill is a Brighton, Mich., native who sits 21st in Central Scouting's final rankings among North American skaters. With just days until the NHL Entry Draft, the USA Hockey National Team Development Program alum has big expectations to live up to in his career.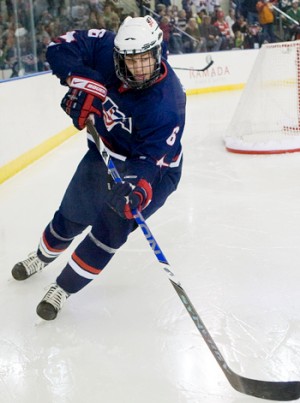 According to Michigan coach Red Berenson, Merrill, his talented new 6-foot-3, 198-pound defenseman, could potentially be the next Americanized version of Lidström.
"If you asked me to compare him to a player in the NHL, I would compare him to Nick Lidström," Berenson explained. "Jon is that type of player. I think he can become that kind of a player in the near future. It's a nice comparison, so if he can ever come close to that, then he'll be quite a player."
Before he gets to play professionally, Merrill is expected to put on a Wolverines jersey this fall. He was the youngest player to commit verbally to an NCAA team, doing so at 14 years, eight months.
"I just figured, there wasn't any other school that can offer what Michigan can," Merrill said. "So why not? I'm extremely excited. I can't wait to go to college. I lived in Ann Arbor when I played for USA, so I've lived there the past few years already."
Merrill has been a local boy playing in Michigan his whole life, starting with the famous Little Caesars AAA organization growing up. It's not a surprise that he was being scouted at such a young age by top hockey schools like Michigan.
"He was a high-profile player growing up and he was getting a lot of attention," Berenson said. "But I think he knew he wanted to come to Michigan and get that behind him so he wouldn't have to worry about that whole process the last couple of years.
"It seems like we're scouting younger and younger players every year. Years ago, we would have never scouted minor midget or minor bantam, but now we are, so we hear about all these kids growing up. And the U.S. Development Program has camps, for instance, Under-15 camps, and at a camp like that, Jon Merrill would show how good he was compared to others his age. I think we already knew about him, but we saw him play and then you know he's for real when he can show he is as good as or better than the kids his age."
One of the players Merrill's age is potential top-10 draft pick and former USA teammate Derek Forbort, who is slated to attend North Dakota in September. The two teens are often compared, but they seem to have distinct differences that will set them apart when teams decide on their draft selections.
Merrill is known for his hockey IQ, his superior understanding of the game and being a strong passer. Forbort, on the other hand, has a natural physical ability, standing 1½ inches taller than Merrill at 6-foot-4½.
"Derek and I are close; we hung out all the time," Merrill said. "But I think he's bigger than me, and probably a better skater. Offensively, I think I'm a lot better than him; that's the biggest difference. I think my strengths pretty much are my hockey smarts. I need to remain reliable, steady, become a better skater, and work on some of the other skills like my shots. It will all work itself out."
Berenson added: "As a player I think Merrill is a smart two-way defenseman. He makes very good outlet passes, reads the plays well, and I think he'll give us that kind of hockey when he gets here. When you're a young defenseman like he is, the toughest part is to come in and play defensively. Then as you gain more confidence you start adding offense as well.
"But I think the way Jon has developed this year, he'll be ready to step in. I can't tell you that he'll be a mistake-free defenseman, but he'll certainly be a responsible player. Usually we try and figure out if players can play on special teams, and if he can, then that's going to help his ice time and his role."
Named "Big Game Player" by his USA teammates this past year, Merrill was an important part of the team's gold-medal finish in the 2010 IIHF World Under-18 Championship in Belarus.
Team USA beat Sweden in April to mark back-to-back world championships for the club. Coincidentally, Merrill's favorite NHLer, Lidström, is a Swede who also owns a gold medal, that coming from the 2006 Olympics.
"Lidström, for sure, has been a player I've looked up to since I was a kid," Merrill said. "Any NHL defender that plays a two-way style, I like to model my game after. It would be unbelievable to play for the Olympic team some day, but winning two gold medals already with the NTDP is awesome. Especially the one this year because all of the hard work over the past two years culminated, and finally it paid off. You have to make a lot of sacrifices when you do the NTDP, so we didn't get much free time here. We were always on the road; not much of a social life, really."
Yet it was something that happened off the ice that carried through to the NHL draft combine.
Merrill was suspended from high school in Ann Arbor and subsequently suspended from the U.S. team.
"The draft combine was intense, and pretty crazy," Merrill explained. "It was a good experience, and I tried to have fun with it, but for me it was a little different than for the other guys. Most of my interviews were about my off-ice trouble."
Regarding the suspension of himself and a few U.S. teammates, Merrill said: "It's a pretty long story. Basically, we got suspended for kind of like hazing girls, like messing with them, I guess, so we got suspended from school and suspended from hockey as well. We definitely did stupid things, and a lot came out. We just made mistakes."
U.S. Under-17 coach Ron Rolston said his former player has some minor changes to make before the name Jon Merrill can dot a pro roster.
"Jon must improve his professionalism, his mental game, and his details in order to play in the NHL," Rolston said.
"But he has very good stick skills and is a puck possession defenseman who can make a good first pass, but also break the team out himself. He has good vision and is a very smart player. He'll be fine at Michigan next year. By the second half, he will be one of their best defensemen, in my opinion."
Berenson shares that enthusiasm. "We're excited about the player that Jon is becoming," he said. "But still, Jon has a long way to go; he's only 18 and just starting to come into his own, so a few years here at Michigan will be huge for his development."
Merrill is a talented, young player with a lot of room for growth, both off the ice, and on. If he could have three wishes come true in the future, Merrill answered without hesitation, "To win a Stanley Cup, marry [teen pop star] Miley Cyrus and own a bar.
"I want to win a Cup because, well, I want to win a Cup, I don't know. I want to marry Miley Cyrus because she's awesome; it would be pretty cool to meet her. As for the bar, I've always wanted to own a little place and work the bar and stuff [like they do in the show "It's Always Sunny in Philadelphia"]. That show is hilarious."
Most draft prospects are politically correct, saying that they'd be happy to be chosen by any team, but Merrill is blunt in saying he wants to belong to his hometown NHL club.
"I'm not really nervous about the draft," he said. "I'm just a little anxious to hear my name called, especially if it was by the Red Wings."
It's not too far fetched for Merrill to imagine wearing his favorite pro jersey, skating next to his favorite pro player in a few years. And if he continues to develop into the star player his coaches compare him to, then maybe some day he'll even become an idol himself.