In one sense, the last 17 NCAA tournaments have produced nothing new, really.
It has been 17 years since a new name entered the champions' club, the relatively exclusive collection of schools that have Division I NCAA championship hardware in their trophy case.
In 1993, Maine became the 17th school to join that group, and ever since, the national champion has been one of those 17 teams.
So, which 18 do we get in the 2010-11 season? An 18th member of the champions' club, or an 18th straight year without an addition?
Forty-one teams have a chance to break the streak, and as the new season approaches, here are five teams that the USCHO staff considers to be at the top of the list of possibilities.
Miami
Third time's the charm? The RedHawks' national title dreams died in spectacular fashion at the Frozen Four in the last two seasons — first, a last-minute lead lost to Boston University in the 2009 final, and then a humbling 7-1 loss to eventual champion Boston College in the 2010 semifinals.
Getting close hasn't been the issue for Miami; finishing the job has been. In 2010-11, the RedHawks will turn to a talented cast of senior forwards that have gone through those tough times and a junior goaltending duo that, despite the forgettable finish to 2010, had two of the top three goals-against averages in the nation last season.
Forwards Andy Miele, Carter Camper and Pat Cannone combined for a near-evenly split 44 goals last season for a team that didn't quite make the national top 10 in offense. Having the nation's top defense was the difference, and it's poised to return.
All six defensemen that played in the national semis last season (Will Weber, Joe Hartman, Cameron Schilling, Matt Tomassoni, Chris Wideman and Steven Spinell) are back this season. With goaltenders Connor Knapp and Cody Reichard behind them, the RedHawks seem to have a solid base for another run at the title.
Vermont
If you hold the belief that, just as the WCHA had its run of national championships, this is Hockey East's era, then the Catamounts might just be the next team to step into the spotlight. They don't have the historical cachet of Boston College and Boston University, but they're not too far removed from the 2008-09 team that was leading halfway through the third period of a national semifinal game.
Goaltender Rob Madore was a freshman that season; now he's a junior with two NCAA tournament experiences under his belt. Pair him with a defensive corps that returns five regulars and you have 464 collegiate games back to put Vermont on track.
The big question mark for the Catamounts is the offense, which has a duo of nine-goal scorers — seniors Jack Downing and Wahsontilo Stacey — leading the returners. The top three scorers from last year, when Vermont was in the bottom half nationally in offense, graduated, leaving a significant hole in a group that already was less than proficient.
But if Vermont overcomes that obstacle — second-round NHL draft pick Connor Brickley could help in that regard by stepping in as a scorer right away — there's a winning mentality building in Burlington that is ready to push upward.
Yale
If there's a way to sum up why the Bulldogs have a chance at big things, it goes back to last season's NCAA regional semifinal against North Dakota. They were energetic and opportunistic, and it didn't appear to matter to them that they were the underdog.
If there's a reason to be skeptical, it goes back to what happened the next day. Yale saw a Frozen Four berth evaporate when its offense, productive as it was, couldn't keep up with defensive shortcomings in a wild, 9-7 loss to Boston College. Up front, the Bulldogs had no match in college hockey last season; in goal, they were sub-par, using four goaltenders through the season with none able to solidify himself as the starter.
If Jeff Malcolm, Nick Maricic or Ryan Rondeau can give the Bulldogs a stable base in goal, they could make the step from being just one of the top 10 teams to being one of the college hockey elites behind 27-goal scorer Broc Little and 45-point scorer Brian O'Neill.
The Bulldogs list 20 letterwinners returning from a team that extended the program's NCAA experience to two straight seasons. It's not a big streak, but coach Keith Allain has put Yale on a rapid incline in his first four seasons that makes a Frozen Four trip the next item on the agenda.
New Hampshire
When their season ended with a stunning 6-2 loss to RIT in last season's regional finals, it was easy to forget how far the Wildcats got after how poorly their season started. After 10 games, they had just two wins and were allowing more than four goals per game. Before March was over, UNH had become Hockey East regular season champions and made the poor start a distant memory.
Still, New Hampshire can be one of those head-scratching programs in that it has been successful at the national level, but just never quite successful enough to win it all. The Wildcats played for the 2003 title in Buffalo but were turned away by Minnesota. They own the second-longest active streak of NCAA tournament appearances with nine, behind only Michigan's 20, but they haven't been back to the Frozen Four since that 2003 trip.
New Hampshire will be playing in front of an inexperienced goaltender this season after the graduation of Brian Foster, so there's a natural concern about that area of the game. That puts extra pressure on this year's defensemen, five of whom were regulars at the end of last season.
Senior Paul Thompson scored 19 times last season and matched departed Hobey Baker Award finalist Bobby Butler with four game-winners, so the cupboard is anything but bare up front. Mike Sislo was a 14-goal scorer a year ago and Phil DeSimone added 10. The Wildcats may be known by some more for what they haven't done in the postseason than for what they have, but it takes only one big moment to change that.
Minnesota-Duluth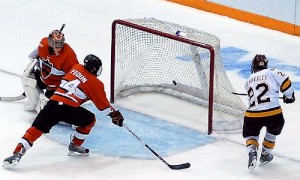 One could be forgiven for forgetting the Bulldogs on a list of programs that haven't won a national title. They have their own how-close-can-we-get moment, that coming in 1984 when they took a two-goal lead with just over eight minutes left in the final against Bowling Green. The Falcons tied it with under two minutes left, then won in the first minute of the fourth overtime.
Minnesota-Duluth is the only school among the five here that didn't make the cut for the NCAA tournament last season, and it was thanks to a wildly inconsistent performance over the course of the season. It wasn't because of a lack of talent, and a more mature Bulldogs team this season could have the goods to make a long postseason run.
They lost forward Rob Bordson to an early departure and two other forwards to graduation, but the trio of Jack Connolly, Mike Connolly and Justin Fontaine has the potential to be quite potent.
As it seems to go with the Bulldogs, the kind of success we're talking about here probably will come down to goaltending. Two years ago, Alex Stalock was the postseason star that UMD rode to within one win of the Frozen Four. When the Bulldogs made the Frozen Four in 2004, Isaac Reichmuth was shining down the stretch. Kenny Reiter got plenty of valuable experience last year to carry into his junior season, one in which a lot is being expected of the Bulldogs.