Is it only me, or has the start date for college hockey gotten a bit out of control?
When a team's first practice is actually an exhibition game, I think teams are playing too early. When a club is 0-2 in the league eight days after it takes the ice, I think teams are playing too early. When coaches are worried about fatigue in the first period of the second game of the season, I think teams are playing too early.
All of these happened in Hockey East in the last two weeks.
Oct. 2 may have been the first official day of practice, but Massachusetts, Boston University, New Hampshire and Northeastern all donned uniforms that evening and faced Canadian teams in exhibitions. (Not too ironic was that only BU earned a win that night … what happened to the days where these exhibitions were automatic victories?)
By 10 p.m. on Saturday, Oct. 9, Northeastern had just 25 league games left and was already 0-2 in Hockey East. Maybe the fact the team has a handful of practices together while sporting 11 rookies in the lineup has something to do with that. Said coach Greg Cronin after Saturday's loss to Boston College: "I looked at the roster and saw 11 new guys, which is really startling. One of the worst teams you want to face with a young team is BC."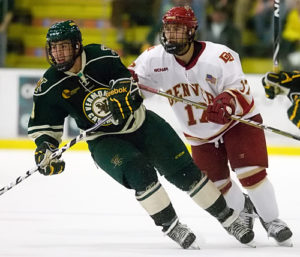 That same evening, Kevin Sneddon's Vermont team faced the threat of falling to 0-2 overall with back-to-back losses to Denver. The Catamounts settled for a 1-1 tie after what Sneddon called a sluggish start. Said Sneddon: "I think the first period we looked a little sluggish. You know for a lot of the players it's their first time playing back to back."
These are just three examples of the pitfalls of the longest college sports season.
College hockey has always been a pretty long season, at least in this writer's memory (which dates back to the early '90s). But teams had a fighting chance to jell a bit prior to donning the pads and facing a real opponent. I long for the day of the first exhibition game coming after Columbus Day, non-league play beginning right before October came to an end and the Hockey East standings page remaining empty until the calendar hit November. Now, unless you're an Ivy, you best be prepared to face a team of 28-year-old Canadian college players running full bore at you the day you begin practice.
Maybe I'm being a bit whiny here. But I think the current landscape really is unfortunate for young teams that don't get to practice together before they have to begin preparing for an opponent.
Teams play on average about 34 regular season games in a 22-week span (save a two-to-four week break in December for exams and the holidays that many schools take). Can't we find a way to give these kids a fighting chance prior to throwing them into the fight?
And on to the positive …
OK, enough gripping about the negative. I'd much prefer to talk about positives, like Boston University's performance last weekend when it won the Ice Breaker tournament.
Winning is always nice and beginning your non-league slate 2-0 like Parker's Terriers did, particularly when those wins were against quality opponents like Wisconsin and Notre Dame, makes it even better.
But while the hardware is nice (you may recall BU took this hardware, and seemingly every other trophy imaginable two years ago when it won the national title), there were certainly some highlights that bode well for the Terriers.
One was the contribution of rookies. In the 4-3 win over Wisconsin, freshman Charlie Coyle recorded a goal and an assist and two other rookies recorded points in their first game. Two days later, the freshman class' contribution was larger thanks mostly to Sahir Gill, who netted a goal and three assists for a five-point opening weekend.
Many were concerned about how Jack Parker's Terriers would replace the offense lost by the departure of guys like Nick Bonino, Vinny Saponari and Zach Cohen. And while the rookies impressed as a whole this past week, Gill's rockstar beginnings for the Terriers raised plenty of eyebrows.
"Sahir Gill had a coming-out party for himself," Parker told The Free Press after the game. "He was playing on the fourth line where he didn't get a lot of ice time, and he gets one goal and three assists [on Saturday]. It was to the point where we had him playing on the power play a couple of times, and he did a good job. We're real proud of him."
Light slate
Besides a weekend in December, this is probably the lightest slate Hockey East teams will see this season. The biggest games on tap for the league will feature two of the CCHA's top powers — Michigan State and Michigan.
New Hampshire will face an early test when it faces Michigan in a single game on Saturday at Durham. Two weeks ago, the Wolverines opened the college hockey season by blowing a three-goal, third-period lead against Mercyhurst having in a 4-4 tie. Dick Umile's Wildcats will need to be ready for a hungry Michigan team that is looking to prove it belongs.
At the same time, this is a New Hampshire club that has plenty of its own to prove. Most pundits are taking a wait-and-see approach to a Wildcats team that lost a Hobey Baker Award finalist forward and an all-league goaltender. Last weekend's series at Miami proved that UNH will score goals (nine goals in two games against a perennially strong defense). Now the question is whether it can keep the puck out of its net.
Maine's offensive juggernaut that posted an eight spot on Massachusetts-Lowell last weekend will head to Michigan State to face a Spartans team that enters the week on the bubble of the USCHO.com Division I Men's Poll (at No. 20) and will fight to maintain that spot.
While these games are important to both Maine and UNH, they're also early-season critical games for the league. Last weekend, Hockey East went a combined 3-4-3 against non-league opponents, not exactly the start you want to give your conference that strong RPI that justifies four or five NCAA tournament bids.
Yes, that's right. I'm talking about the postseason tournament in the second week of play. But with good reason. As we all know, the average Hockey East schedule is front loaded with key non-league games (read back to my point earlier about starting play too early). The league needs solid results early to take advantage of teams that maybe haven't jelled just yet. Thus far, it looks like the exact opposite is happening.