The rookies
Not only is it a shiny new college hockey season, it's a potentially more interesting season for the CCHA than we've had in a long time.
Three new head coaches and one single team with more freshman than returning players, plus the specter of the Big Ten and an 11-team conference with creative scheduling — all I can say is that fans that overlook the regular season in favor of the big prize in St. Paul are going to be missing a great deal, indeed.
Freshman fever
In 1988, the Lake Superior State Lakers won the national championship with a roster that boasted 11 freshmen. In 1992, after those freshmen had graduated, LSSU repeated the task with another big group of rookies.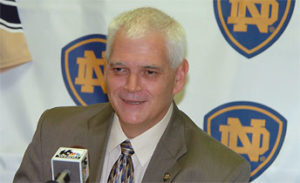 This year, Notre Dame — coached by Jeff Jackson, who coached the Lakers to those two titles — returns just 10 letterwinners. There are a dozen freshmen on the Irish roster, and ND is rebounding from a disappointing season hampered by many, many injuries.
Just how are things going to work in South Bend?
"I think a lot of it depends on your freshmen," Jackson said at the start of the season. "We only have a few freshmen that are actually true freshmen right out of high school. I think there was an intention for us initially to be able to bring in freshmen that were a little bit older.
"Guys like Anders Lee, Geoff Costello, Mike Voran, David Gerths, all have played a couple years of junior hockey and that gives them a little bit of an advantage because they are a little older, a little bit more mature mentally and physically."
The rookies certainly made an impact for Notre Dame in the IceBreaker in St. Louis last weekend. Lee netted ND's first goal of the season at 1:58 in the Irish' 6-4 win over Holy Cross, and he completed a hat trick in the second period for an impressive debut. T.J. Tynan — one of the younger freshmen on the team — also scored his first goal of the season in the win.
In Sunday's 5-4 IceBreaker title game loss to Boston University, Bryan Rust — another rookie born in 1992 and younger brother of Michigan senior Matt Rust — recorded his first collegiate goal, as did classmate defenseman Shayne Taker. Rookie goaltender Steven Summerhays got the loss, making 19 saves and allowing the game-winning goal with 1:07 left in regulation.
All in all, it was a respectable outing for a young team, but you can bet that Jackson wants more than just respectability and moral victories for his program in South Bend.
"I'm not going to use [the young team] as an excuse," Jackson said. "We're going to get experience under fire and that's fine as long as we develop throughout the season and finish the season much stronger than we start."
The Irish will begin CCHA play this weekend with a pair of home games against the school to which Jackson brought those national championships with such young teams, Lake Superior State.
New start, part 1
Experience under fire? Try opening your first season as a head coach against one of the top teams in the country.
Welcome to Bowling Green, Chris Bergeron!
The Falcons dropped two contentious games last weekend to a Michigan team that seems to be starting the season where it left off last season — fast and furious, emphasis on the latter. The flow of Saturday's 4-2 loss was hampered by penalties, with Bowling Green having the advantage in the number of power plays. Still, a choppy game is no friend to a rebuilding team; the effort was there, but the continuity was not.
"We have to find a way to execute better," Bergeron said Friday night. "At 3-1, we had a five-on-three and a couple of five-on-fours, and we couldn't get much done."
Saturday, the coach said that even trailing by three goals after one, he didn't think the team was playing poorly. "I thought that we settled down and all in all we were able to execute," he said.
Bergeron is another coach who won't use inexperience or the team's relative position to Michigan as an excuse.
"By no means are we happy with the results this weekend," Bergeron said. "We just got swept at home. We don't care who we are playing. No one in our league is that untouchable that we should be OK with losing two games at home."
The Falcons scored three goals on the weekend, went 2-for-17 on the power play and were outshot by the Wolverines 53-36.
And speaking of rookies, one of BG's three goals was scored by freshman Chad Sumsion.
New start, parts 2 and 3
Before the start of the season, Western Michigan's new coach, Jeff Blashill, was preaching the Gospel of Hard Work.
"We did not score very many goals last season," Blashill said. "The point we're trying to get across to our guys … is that a lot of time, goal scoring doesn't happen on your first effort and it's going to take a second, and a third, and fourth — learn to be relentless."
Relentless is what the Broncos were in a pair of home games against Canisius to start their season, games in which WMU outshot the Griffs 96-44. The Broncos were rewarded with a single 3-2 overtime win Saturday, the first of Blashill's collegiate career.
Given the intensity he projects and the relentlessness he wants to instill in his team, Blashill sounded pretty even keel after Saturday's win. He told the Kalamazoo Gazette that he was disappointed with Friday's 5-3 loss and that Saturday's win was a victory he thought the Broncos had earned.
"To get that type of game [from players]," Blashill said, "especially after a tough meeting morning with the players [Saturday], I thought they responded very well."
Another rookie head coach who earned his first collegiate win last weekend was Ohio State's Mark Osiecki. The Buckeyes split a pair on the road with Quinnipiac, losing 2-1 Friday and claiming a 4-0 win Saturday.
After Saturday's game, Osiecki sounded a lot like his counterpart in Kalamazoo. "This was a good response from last night's loss," Osiecki told WEWS Channel 5 in Columbus. "It was a lesson learned — you have to take care of the puck to win."
Before the start of the season, Osiecki expressed his disappointment with some of OSU's upperclassmen, saying that they'd reported back to the team in less-than-great shape. Of the Buckeyes' six goals on the weekend, though, only one was registered by a rookie, Chris Crane's game-winning goal at 7:58 in the first period Saturday night.