When Ohio State took a timeout at 13:29 of the third period of their 4-0 loss to Michigan State last Saturday, coach Mark Osiecki said he was "trying to give some guys rests."
Soon after, two Buckeyes got quite a bit of rest: Sergio Somma at 13:44 and Cory Schneider at 14:16. Each earned two minutes in the penalty box.
"Certainly, we didn't draw that up," Osiecki said.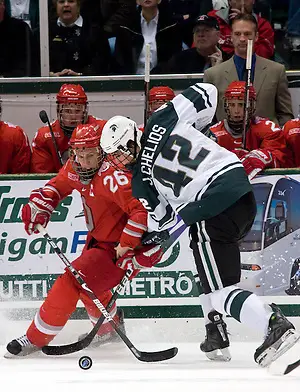 Last week, Chris Bergeron and Jeff Blashill talked about the challenges of rebuilding programs at Bowling Green and Western Michigan. Each talked about what seems to be a very popular concept in sports these days: building a culture.
It should be no surprise, then, that the CCHA's other first-year coach has hockey culture on the brain.
"We're just taking it day by day, taking baby steps, find a way to create our culture and their life away from the rink, even away from on the ice, to improve each day," Osiecki said. "That's what we're trying to create."
A day earlier, the Buckeyes came from behind to beat the Spartans in overtime, 4-3. In that contest, MSU led 2-1 after one, then 3-1 after two. Osiecki attributed the come-from-behind win to a change in attitude.
"It was really us and our mental state after the first period," Osiecki said. "We certainly as a staff and a couple other older guys challenged each other. We needed our go-to guys, our older guys, more experienced guys, to take the ball and run with it."
He wasn't unhappy with the way OSU played Saturday, but the game was emblematic of the Buckeyes' season so far. "We have to find a way to create their habits to be consistent," Osiecki said. "Now it's up and down, up and down."
Osiecki, an assistant at Wisconsin for six years before being hired by Ohio State in April, brings the sort of no-nonsense coaching style that seems typical of WCHA coaches.
He's intense, but it's not the same kind of overtly passionate intensity exhibited by Bergeron and to a lesser extent Blashill, both of whom cut their teeth in the CCHA. It's more the kind of quiet, intense persistence that Dean Blais has brought to former CCHA team Nebraska-Omaha. And look where they are now.
When he arrived at OSU, Osiecki immediately sought the advice of football coach Jim Tressel, who has this building-a-culture thing down to a marketable science. He also consulted with basketball coach Thad Matta, golf coach Donnie Darr and baseball coach Greg Beals. Darr and Beals were recent hires as well.
"There's some great support there," Osiecki said. "Those guys have had to go through having to change the culture, change the habits, and that's exactly where we're at right now.
"Unfortunately in hockey, you can't just bring in three guys and create an all-star team like basketball. For us, it's going to take some time."
In an attempt to create the culture he wants in Columbus, Osiecki released three players from the OSU roster, including NHL draftee Taylor Stefishen. Stefishen, a sophomore forward, was a fifth-round draft pick of the Nashville Predators in the 2008 NHL entry draft.
A pair of defensemen, senior Erick Belanger and junior Mike Folkes, also were told they would no longer be playing.
One guy who has been playing much more than expected is junior goaltender Cal Heeter. Heeter has played every minute of Buckeyes hockey this season while former starter, senior Dustin Carlson, and sophomore Jeff Michael have looked on.
"He outcompeted the other two guys," Osiecki said. "I was told that here's a guy that can't play back to back nights and he's certainly given us opportunities … so hats off to him."
The process of changing culture is undoubtedly a challenging one. As Osiecki said, there are no easy fixes. Western Michigan, Bowling Green and Ohio State are Nos. 9-11 in the CCHA standings. The Buckeyes and Falcons each have six points while the Broncos have seven.
This week, it's bye time for the Buckeyes. Bergeron hosts the team he helped coach to two Frozen Four appearances when Miami comes to Bowling Green this weekend. And it's old home week for Blashill, too; the Broncos spend two nights in Big Rapids playing Ferris State, where Blashill tended the net.
Speaking of those teams near the bottom of the standings …
Michigan State doesn't look like a last-place team to me, not one bit. Yet that's where the Spartans were for a single night after losing to Ohio State Friday night.
What's up with that? Parity. I hate to admit that parity is behind this, especially because it's a concept that coaches have tossed around in the past — in my opinion — to justify the disappointing performances of their own teams.
But after having seen a good number of the league's teams so far this season and just looking at the split results of last weekend, I'd have to say that parity is, in fact, a factor.
Don't believe me? Well, don't take my word for it.
"The league is so well-balanced that there are no easy games," Michigan State coach Rick Comley said after his Spartans beat the Buckeyes 4-0 … a night after losing 4-3 to OSU. "A 4-0 game and you're going, 'Holy cow.'
"Whether you're playing Bowling Green or Notre Dame or Miami or Lake Superior, it doesn't matter. That's hard for people to accept that, but that's the way it is."
I tried to ask Comley if he thought that parity was the culprit, but before I could even finish my question, he interrupted me with a direct answer. "Yes."
Comley said that this has "grown every year" in the CCHA and in college hockey as a whole. "You've got to remember that there aren't as many top players anymore, so we're all kind of competing now for the same kids," Comley said. "How many freshmen come in and just blow the roof off?"
Other than Notre Dame's Anders Lee, that is. And if freshmen do perform well their first year? "They're gone," Comley said.
Check out these two clips of MSU captain Torey Krug, who talks about parity after taking some good-natured ribbing for knowing other scores before he came into the postgame press conference Saturday. The Jamie he mentions is MSU hockey sports information director Jamie Weir Baldwin.
Krug also talks about being in last place, momentarily.