Life in the post-Andrew Volkening world has seen its highs and lows for Air Force. The Falcons been on a roller coaster ride the past three weekends:
• Oct. 22: Lose at home for the first time ever to American International 5-3
• Oct. 23: Bounce back to blast the Yellow Jackets 12-0
• Nov. 5: Play poorly in a 6-2 loss at home to Mercyhurst
• Nov. 6: Allow two goals in the first period, but come from behind to beat Rochester Institute of Technology 4-3
• Nov. 12: Outshoot Colorado College 39-33 but lose 6-4
• Nov. 13: Erase a 3-0 deficit to defeat No. 3 Yale 4-3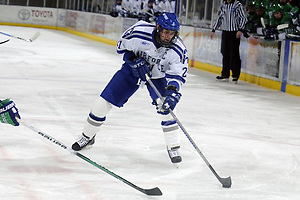 "I think it's growing pains," Air Force coach Frank Serratore said. "We've got a bunch of seniors and we've got a bunch of freshmen. It's kind of a weird mix but we've got real talent in our younger players and they're coming along in a hurry. The line of [Tony] Thomas, [Jason] Fabian and [John] Kruse has been our most productive and they're a pair of freshmen and a sophomore."
With the graduation of mainstay goalie Volkening, it's time for others to step up, Serratore said.
"Life without Andrew Volkening means it's time to turn the page," he said. "We're still sorting out our goaltending."
Freshman Jason Torf and junior Stephen Caple have played 235 and 234 minutes, respectively, with sophomore David Bosner also in the mix.
"We're not platooning so much as going with the guy that gets hot," Serratore said. "The guy that wins gets to play the next game. And Jason Torf won a big game for us against Yale."
Serratore expects more ups and downs down the road, but he says that's not just a factor of a new team coming together. It also says a lot about Atlantic Hockey.
"Credit college hockey and credit Atlantic Hockey," he said. "Anyone can beat anyone. AIC is better than AIC used to be.
"We're the poster child for what college hockey is about. We beat Yale, who would have been No. 1 this week if they had beaten us, and we lose to AIC, which has been perceived as being one of the worst teams over the past few seasons. That's college hockey."
Game(s) of the week
Air Force (3-6, 2-3 AHA) travels to Western New York this weekend for games at Canisius (4-5-3, 3-4-3 AHA) and Niagara (5-3-2, 4-1 AHA).
The game Friday between Canisius and Air Force will feature the last two AHA players of the year. Seniors Jacques Lamoureux (six points this season for the Falcons) and Cory Conacher (13 points to lead the Golden Griffins) will square off in the latest episode in a series that's tied 5-5-2.
Canisius has been in a slump lately, winless in its last six games after a 4-1-1 start. Four of the Griffs' five losses this year have been by a goal.
Expect Dan Morrison to be in net for Canisius. The junior has played in all but one game so far for the Golden Griffins, posting a .921 save percentage and a 2.84 goals-against average. Air Force most likely will start rookie Torf, who is coming off a 34-save win over Yale, his first collegiate win.
On Saturday, Niagara will play host to the Falcons in a reunion of former CHA teams. The Purple Eagles have won four games in a row, outscoring their opposition 19-10 in those games. Niagara leads the all-time series between the two schools 27-11-3. The teams have not met since Air Force left the CHA in 2006.
Senior Paul Zanette is off to a torrid start for Niagara with nine goals in 10 games. He leads the team with 13 points. Two of his goals have been short-handed, including the game winner in overtime at Canisius on Nov. 2.
Air Force is on the road for the first time in six games.
"I think in Atlantic Hockey, with every team being evenly matched, we go into every game knowing if we play well, we can win, and if we don't, we get beat," Serratore said.
"Looking at everybody in the league, we're kind of the same in that we expect every night to be a close game no matter who we're playing and whether we're at home on or the road."
Settle down
Thanks to an unbalanced schedule and some teams playing the majority of their non-league games early in the season, the AHA standings are a jumble right now.
Canisius has already played 10 of its 27 conference games, while Bentley has played only three. Last weekend featured 10 teams in league contests, the most so far this season. This Friday is the first time this season that all 12 AHA teams will be in conference play. Things won't settle down until January, when the majority of non-conference games are over.
USCHO offers standings by winning percentage if you want to see a slightly clearer picture. Go to our standings link and click on "Win %" to sort.
Sticking my nose in
It's not my league to cover, but I can't resist commenting on the ECAC's decision to suspend Rensselaer coach Seth Appert for one game "as a result of his post-game actions after a game at Union" last Friday.
RPI had what would have been the tying goal disallowed with 7.6 seconds to play due to a questionable call of goaltender interference. Appert brought a laptop to the postgame press conference and showed video of the disputed call.
The ECAC was enforcing the rule, which all sports have, of not allowing coaches or players to comment on officiating.
I continue to find this absurd. Coaches and players can render opinions on everything else, from good and bad decisions and performances to ice conditions. But to exclude officiating, which is a key element to any game, is to ignore the 800-pound gorilla in the room.
Officials are not perfect, and to punish participants from pointing that out is lamely trying to cast the illusion that officials do not make mistakes that may affect the outcome of a game. The argument is that criticism of officiating will negatively impact the integrity of the sport. I say that publicly pretending that officiating doesn't matter hurts the game's credibility.