The number of league games played for each Atlantic Hockey team is starting to even out as schools put their non-conference games behind them and begin to focus on the home stretch.
Air Force has been cashing in its games in hand, taking seven points in its last four league contests. After an 0-4 start, the Falcons are 8-3-2 since, including a pair of 3-2 wins at Bentley that required a comeback in the first game and then a 39-save performance by rookie Jason Torf to repel a comeback bid by Bentley on Saturday.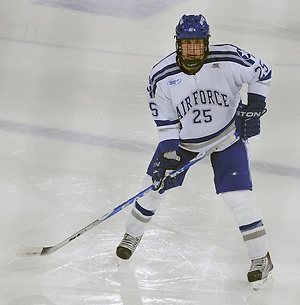 "I can't remember two more character wins on the road than this weekend," coach Frank Serratore said after the game on Saturday. "That's doing it the hard way. You get dealt these situations in hockey and in life and you have to deal with it and overcome it. Then you become stronger. Bentley just wouldn't go away but when it gets right down to it, our guys did a terrific job."
The Falcons have moved from seventh to a three-way tie third in the standings in the past four games and are tied with Niagara for the second-best winning percentage in the league (.636). Air Force still has games in hand on three of the top four teams in the conference.
Tough matchups
If you don't follow Robert Morris coach Derek Schooley on Twitter (@derekschooley), you should. Here's a gem from earlier this week:
"Preparing for the long trip to Grand Forks..HUGE challenge this weekend against NoDak Fighting…whatever they are called now."
It will indeed be a huge challenge for the Colonials, facing off against the No. 2 team in the nation. But Robert Morris is 4-2-1 in its last seven games against teams in the top 10, including a sweep of top-ranked Miami last season.
Another team with its hands full is Canisius, which is coming off a tough 10-2 loss at 11th-ranked Notre Dame last week and faces No. 13 Wisconsin for a pair of games this weekend. But there's also some positives for the Golden Griffins, who had won three straight against ranked teams prior to the game at Notre Dame.
After this weekend, the AHA plays just a total of five non-conference games for the rest of the season. The conference is currently 17-42-8 in non-league games.
"Even though I juggle things with our non-conference [games], I don't want to diminish how much we want to win those games," Rochester Institute of Technology coach Wayne Wilson said after a 5-3 loss to Merrimack. The Tigers went 1-5-1 in non-conference play.
"But we do want to experiment, and knowing that we're a one-bid league and it will come down to conference games and playoffs, this is a good chance to evaluate ourselves and see where we're at.
"You're in first place and everything seems good, and then you get put in your place by another team and see that you have things to work on … lots of things to work on."
Packing them in
It's been a banner year so far attendance-wise for three AHA teams. Robert Morris' game against RIT at the Consol Energy Center in Pittsburgh on Dec. 30 set a record for the largest home crowd to ever see the Colonials: 6.987.
Earlier this season, RIT sold out the Blue Cross Arena in downtown Rochester, N.Y., drawing a school-record 10,556 fans. The Tigers are averaging 1,984 fans per game at on-campus Frank Ritter Arena, capacity 2,100.
Air Force is averaging a sellout of 2,613 fans at Cadet Ice Arena. The place has been sold out for 23 of the Falcons' last 31 games.
Glad to be back
Sacred Heart's defense has struggled this season, allowing more than five goals per game. The Pioneers are bolstered by the return of blueliners Mitchell Stretch and Neil Fachini, who have both been sidelined with injuries. Sacred Heart hosts Air Force this weekend in a rematch of last year's AHA semifinals.
Enough already
Another NHL Winter Classic is in the books, and by most measures it was a success (rain, rain, go away). The same can be said for the Big Chill at the Big House held at Michigan a few weeks ago, which set a record for the most people ever to see a hockey game (although the Guinness people are still sorting out exactly how many).
But can we stop now? It's not like this record will be broken in the future, unless they hold the game in the Grand Canyon. Or maybe to keep up the gimmick appeal, how about a game on the moon next time?
Yes, I know hockey is awesome outdoors. It's called pond hockey and it's great. To play. Not to watch. Hobart had the last semi-enclosed college rink, and "The Cooler" was finally enclosed in 2007.
Stop the insanity that is outdoor games. Like the Glow Puck, here's hoping the fad fades.