As we welcome in the new year, we also welcome the meat of the season: It's pretty much ECAC Hockey from here on out (the Beanpot and a smattering of other non-conference games notwithstanding). We're rounding the bend into the final straightaway (albeit an eight-week straightaway), with our teams starting to show their true selves.
Let's take a look at what's trending here in the Smartest League in Hockey.
Trend-worthy
Brown: Jack Maclellan is riding a seven-game point streak in which he's collected eight goals and 14 points. He's been held scoreless only once all year, in fact, against Cornell. The Antagonizer himself, Harry Zolnierczyk, has scored in six of his last seven as well, and has been held off the score sheet twice so far. The team has scored three or more goals in 11 of its 13 games, but Bruno also has surrendered four or more in eight of those 13 and is 0-3-2 at home.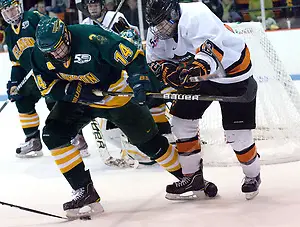 Clarkson: Jake Morley is feeling good these days, scoring in seven of his last nine games. He earned nine of his 12 total points this season during that period. Goalie Paul Karpowich has stopped 90 percent of opponents' shots on goal in 13 of 18 appearances, though that number was 13 of 16 before this weekend's sweep at the hands of Minnesota-Duluth. As a team, 'Tech is an impressive 10-0-1 when leading or tied at the first intermission; the Golden Knights clearly rely on quick starts to generate late-game confidence.
Colgate: Austin Smith and Francois Brisebois are riding high lately, even if the Raiders are not. Smith has at least one point in eight of his last nine contests — holding a 3-8–11 line in that time — while Brisebois boasts four goals and six points in his last five games, scoring in all but one of those tilts. On the other hand, Robbie Bourdon's hot hand is back to tepid at best. He had scored in nine of 10 games earlier this season, but is now on a downhill slide, having scored just once in five appearances. In the net, Alex Evin has given up four goals or more in more than half his starts (seven out of 13), but he has two shutouts this year as well. The Raiders scored eight goals against Boston College and Dartmouth last weekend, which was their best two-game output since October. However, 'Gate is also a dismal 1-2-1 when leading at the second horn.
Cornell: John Esposito is Cornell's threat-du-jour, having scored a goal apiece in four of his last five games. The Big Red have topped the three-goal mark only four times this year, while managing two or fewer six times already. In a true sign of how badly the Ithacans are struggling, the Red are an unheard-of 2-5-1 at Lynah Rink so far.
Dartmouth: Adam Estoclet, Matt Reber, Scott Fleming and Matt Lindblad have shared the Big Green's scoring touch of late. Linemates Estoclet, Reber and Fleming are each enjoying five-game scoring streaks in which each has scored at least nine points: five goals and four helpers for "Esto" (who has also lit the lamp in four straight); two goals, seven assists for Reber; and four goals, six assists for Fleming, who centers the line. Lindblad has made the score sheet in seven of his last nine games, accumulating five goals and 13 of his 14 total points for the season during the run. James Mello is struggling a bit, however, as his string of 90 percent-save games ended at seven. He gave up seven goals on 50 shots last weekend. Overall, the Big Green have played a half-dozen games in a row in which they've scored at least three goals (29 goals overall in that period).
Harvard: Alex Killorn appears to be the Crimson's lone bright spot at this point in time, scoring in seven straight games (with a 4-3–7 line) and notching a point in 10 of 12 this year (all one-point games). Senior goalie Kyle Richter is having a tough go of it, too: after seven straight games in which he saved 90 percent of shots against or better, he's now failed to reach that mark in five of his last six skates. The Crimson have failed to score as many as three goals in nine of its 12 outings; seven of those games ended with a "1" or "0" beneath their name on the scoreboard.
Princeton: Taylor Fedun has four goals and eight points in his last eight games, being held without a point in only one of those contests. Goalie Mike Condon and Sean Bonar are playing superbly as well: Condon has saved at a 90 percent rate or better in six of his last seven games, while Bonar has done the same in five of six. Overall, the Tigers are really rounding into form, especially on offense, where they have scored four or more in five of their last six performances.
Quinnipiac: Perhaps the young and inconsistent Bobcats have finally found their stable leader in Jeremy Langlois. The sophomore forward has scored in six of his last seven outings, notching five goals and nine of his season's 12 points in that stretch. The goaltending situation seems to be working itself out as well, as former No. 1 Dan Clarke has failed to save as many as nine of every 10 shots on net in five straight appearances; Eric Hartzell, on the other hand, has hit that 90 percent mark in nine of 13 opportunities. QU is still quite inconsistent, however. The 'Cats' output has seen a two-or-more goal difference between consecutive games 10 times already (e.g., QU scored one goal Friday, three or more on Saturday); that number rises to 11 times defensively. The bounces appear to be favoring the 'Cats at the same time, as QU is 6-1-2 in one-goal games.
Rensselaer: Surprisingly, RPI's premier player — Chase Polacek — is not its most consistent, at least when it comes to raw numbers. Last year's Hobey Baker Award candidate has eight multi-point games already this year, but he has also been held scoreless five times. Transfer sophomore Nick Bailen has scored in eight of nine, however, and features eight-, four-, and three-game scoring streaks already with the 'Tute. Tyler Helfrich is reading from the same book with seven-, four- and three-game scoring runs as well, while Mike Bergin has tallied in five straight and seven of his last eight outings. Between the pipes, Allen York is one of the rare goalies in the nation who has yet to be replaced mid-game. He has enjoyed the fruits of his defense's labor with nine games in which he was called upon to make 25 saves or fewer (5-3-1 in those games). York has also pitched three consecutive one-goal games. The Engineers have allowed fewer than three goals 13 times already this season, and are a stunning 7-0-1 when the opposition scores first. Houston Field House is becoming a true asset as well, as RPI is a perfect 7-0-0 on friendly ice.
St. Lawrence: Freshman phenom Greg Carey has already notched three multi-goal games, which combined account for seven of his nine goals this year. Classmate Matt Weninger has stopped 90 percent of incoming shots in eight of his 13 appearances. The team is streaky in its results so far, sandwiching a win between losses one time, and a loss between wins only once as well. As a team, the Saints have failed to achieve three goals 10 times this season.
Union: Mat Bodie is Union's go-to guy for the moment, scoring a goal and nine points in his last six games; he was held scoreless only once in that stretch. On the other hand, Kelly Zajac has six multi-point games, but is without a point in seven of his last nine tilts. Adam Presizniuk's injury was a big blow to the Dutchmen, but now that he's back he's still fighting for his first point in five games. Goalie Keith Kinkaid started the season off in style, holding a .944 save percentage in his first 10 appearances, but since then his save rate has fallen dramatically to .881 in his last eight games. The Dutchmen have been held to a single goal in three of their last four contests despite a power play that is still the nation's best, at 33 percent. Fortunately, UC is still unbeaten at home (7-0-1), just like local rival RPI.
Yale: There are no power outages here. Chris Cahill has scored in 10 of 11 games, Brian O'Neill has a goal, assist, or more in five straight, and Andrew Miller has a point in every game this season except for the win over Cornell. Denny Kearney has four three-point-plus games, Broc Little's 11-game scoring streak (dating back to last year) was snapped against Union, and — dare we even dream? — Yale seems to have found its No. 1 goaltender in Ryan Rondeau. The senior has held his foes to two goals or fewer in eight of his 11 games this year, but he doesn't mind a little work: Both of his 30-plus save outings this season (against Union and Vermont) were shutouts. The Bulldogs are outscoring their combined opposition by 10 goals or better each period, and despite giving up the first goal more often than they score it (seven times to six) Yale has trailed at the second intermission only once (and they won that game, too).
Kiddy 'Cats
Quinnipiac is hanging tough despite bearing very little resemblance to its successful teams of recent vintages. Last weekend's sweep of No. 8 Nebraska-Omaha was huge, elevating QU to 3-1-0 versus the WCHA this year and marking its biggest non-conference victory since joining ECAC Hockey … if not even further back than that.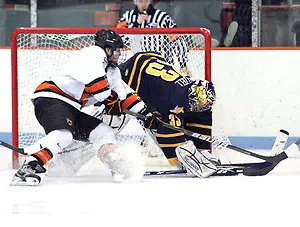 "Nebraska was very good; no question they're a top-10 team," Quinnipiac coach Rand Pecknold said. "We're fortunate to come out of it with two wins."
The youth movement in Hamden makes the victories all the more surprising, as Pecknold hasn't minced words when it comes to his team's reliability from game to game, or minute to minute.
"We've had good streaks this year where we've played well, then we've kinda lost our focus and lost our compete level and struggled, and then we've refocused again," he said. "So I think it's a little early to judge who we are yet.
"We haven't had anybody that's been great every game."
The one facet of the game that has looked sharp for Pecknold and the Bobcats has been their goaltending. Sophomore Eric Hartzell has wrested the starter's spot from junior Dan Clarke, and has done his darnedest to hold onto the status.
"I think the way he's playing now, he's won the job," Pecknold said of Hartzell. "Clarky's looked very good since we've come back from Christmas break; he looks like he's refocused his game … so I think at some point we'll get him back in there, but Hartzell's certainly hot right now. It doesn't take a brain surgeon to figure out that you play the hot goalie."
Goaltending has been — and will be — critical to the Bobcats' success this season. The skaters have been hot and cold, so it's come down to the netminder to keep QU competitive while his support finds itself.
"It's hard to make adjustments in games," the coach explained. "In the first game against UNO, we played very poorly. Hartzell kept us in the game, then we got a couple good bounces and got the lead, and some confidence. The biggest thing for us is, when we're struggling a little bit we need our goaltender to make some saves for us and let us hang in there until we can regroup."
Colgate
The trials and travails of the Colgate Raiders are well-documented, so let's cut to the chase. The team is 3-14-1, 0-5-1 in league play. The Raiders lost seven in a row, which overlapped an eight-game winless streak in November. They're currently slipping down a five-game losing slide, and they have the nation's ninth-worst defense.
"Obviously, we're struggling to find ways to win games. It's been a real challenge, there's no other way to put it," coach Don Vaughan said. "We've come very close — if you look at our scores, if you count empty-net goals, I think 10 of our 14 losses have been by one goal. So we're close, but that doesn't get you much.
Vaughan explained that mental lapses are to blame more than lack of skill, work ethic or even that most holy of all coaches' components to success: confidence.
"Mistakes have been killing us. It seems like every time we make a mistake — and they're not small mistakes, they're bad turnovers, we're not taking care of the puck in critical areas of the rink — and it seems like every time that happens to us, the puck ends up in the back of the net," he lamented.
"We tied Princeton early, and gave up a breakaway goal. We had Cornell down 3-1, and gave up a breakaway goal. We had Boston College the other night, 3-1, and gave up the puck right in front of our own net. Those are momentum changers … and the game is a lot about momentum. We had it, we give it away, and we can't seem to get it back."
Fortunately for the beleaguered bench boss and his charges, conditions seemed to improve last weekend. The results may have been the same, but at least the production was there: Colgate's eight goals (five against Boston College, three at Dartmouth) were the most that the Raiders mustered in back-to-back games all season.
"The focus has to continue being on limiting our mistakes. If we do that, and the production continues to be where it is now, we'll get some wins," Vaughan said. "For us, right now, we have to focus on taking care of the puck, getting it in deep, not turning it over in the gray areas. We've done too much of that."
Those who follow me on Twitter will have known that Minnesota Wild prospect Anthony Hamburg left Colgate to return to Omaha of the USHL after only one semester and seven games. That's not going to be the end of his Colgate story, though, according to Vaughan.
"He just felt he wasn't getting the kind of minutes that he needed for his immediate development. So the plan is for him … to return to Colgate at some point," the coach stated.
As for the players remaining, Vaughan isn't worried about wavering commitment.
"If there's been any kind of silver lining, it's that our guys continue to work," the veteran coach pointed out. "Individually, we work very hard, but for whatever reason we haven't been able to find a W.
"Our focus is probably as good or better than it has been all year now. We're looking at our season as the next 16 games; I think we're as good as we can be in terms of our mind-set and preparation. Teams are going to continue to beat each other up, and if we can string together three or four weekends, we can put ourselves right back in the middle of this."