With five weekends left in the regular season, the Atlantic Hockey standings are shaping up a lot like the coaches expected at the beginning of the season. The six western scheduling "pod" teams hold down the top six spots in the standings. This will make for a very unbalanced playoff bracket if things stay that way.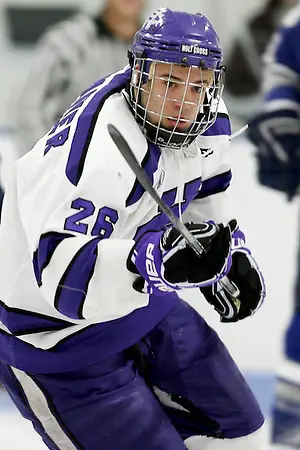 To recap: Beginning this season, a single set of AHA standings are kept, but in the first round of the playoffs, the top two teams in each scheduling pod get byes in the first round of the playoffs. For the quarterfinals, the overall standings are used to seed the teams for a best-of-three series, with the four winners advancing to Rochester as in years past.
With inter-pod play now over, not much will change unless one or two East teams run through the rest of their schedule and the West teams split a lot of their series.
Here's the scenario if the playoffs started this weekend:
• First-place Rochester Institute of Technology — West pod No. 1 bye
• Second-place Niagara — West pod No. 2 bye
• Third-place Robert Morris — Home ice in the first round vs. Mercyhurst
• Fourth-place Air Force — Home ice in the first round vs. Canisius
• Fifth-place Canisius — Road first-round game at Air Force
• Sixth-place Mercyhurst — Road first-round game at Robert Morris
• Seventh-place Connecticut — East pod No. 1 bye
• Eighth-place Holy Cross — East pod No. 2 bye
• Ninth-place Army — Home ice in the first round vs. American International
• 10th-place Bentley — Home ice in the first round vs. Sacred Heart
• 11th-place Sacred Heart — Road first-round game at Bentley
• 12th-place American International — Road first-round game at Army
As it stands now, the fifth- and sixth-place teams will be on the road, while the seventh- and eighth-place teams will get a bye to the quarterfinals and the ninth- and 10th-place teams will get a home-ice playoff game. If the top seeds all win, the quarterfinal pairings would be:
• No. 10 Bentley at No. 1 RIT
• No. 9 Army at No. 2 Niagara
• No. 8 Holy Cross at No. 3 Robert Morris
• No. 7 Connecticut at No. 4 Air Force
So even if the highest seeds possible win, the current fifth and sixth seeds would not get a chance to advance to the quarterfinals.
"We can't worry about it," RIT coach Wayne Wilson told me at the beginning of the season. "Your focus has to be to win your pod, since that's all you can control."
Mr. goal
Canisius senior Cory Conacher scored four goals last week, including the game-winner against American International on Monday. But it was his second of the game on Sunday that put him into the Golden Griffins' record book.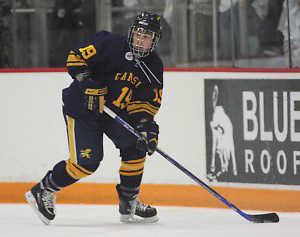 His 51st career goal moved him into first place all-time at Canisius, breaking the record of former teammate Jason Weeks.
"I've had talks with Jason over the phone," said Conacher. "He's been a big supporter. I give the credit to my linemates and my coaches. For sure [linemates] Vince Scarsella and Preston Shupe have been a big part of this. Vince has been hunting down the [career] assists record and most of them have been on my goals. I give him and Preston a lot of credit for working their butts off. They always seem to know where to find me. Our chemistry has been extremely strong."
Conacher, the reigning AHA player of the year, is putting the final touches on a college career that saw him come to Canisius as a 17-year old freshman. The Burlington, Ontario, native chose Canisius because he wanted to stay close to home and he saw a chance to make an immediate impact.
"No regrets at all," said the business management major. "I had a chance to play right away. I had good talks with coach [Dave] Smith and the other coaches and they had faith in me. Maybe waiting [and playing another year or two of juniors] or going to a bigger school, I might not have had the chance to come in right away and play on a top line or on the power play, to have the opportunities that they gave me."
Conacher hopes to help his team improve on last season, where the Griffs made it to the AHA semifinals for the first time since 2004.
"It's crunch time," he said. "We finish with all the top teams in our division and our goal is to finish in the top two and get home ice. We need to really bear down and play our best. If we play selfishly we won't be able to do that. We need to use our systems and play solid hockey. We have a chance to win a championship if we stick to the game plan."
When his college career is over, Conacher says he'd like to give pro hockey a shot.
"[Former teammate] Carl Hudson played in the AHL last season and we've talked about it," he said. "I'm a kid that can work his way up, if given the chance."
Congratulations all around
There have been a couple of causes to celebrate at RIT over the past week or so. Associate head coach Brian Hills was named the 2011 winner of the American College Hockey Coaches Terry Flanagan Award, which recognizes an assistant coach's career body of work. Hills has been at RIT for six seasons. Before that he was a head coach at Division III Geneseo, and prior to that an assistant at Bowling Green, his alma mater.
"Brian is a very deserving recipient of this prestigious award," said Wilson, the 2010 ACHA coach of the year, in a statement. "His hard work and commitment to RIT and our program is evident in our team's success. Brian is a proven winner and would be an excellent Division I head coach."
One of the players Hills recruited to RIT, defenseman Chris Tanev, became the first RIT player to play in an NHL game last week. Tanev was called up by Vancouver from Manitoba of the AHL and has played the last four games for the Canucks, picking up his first point on Jan. 24 in a game against Dallas.
More honors
A record 25 finalists have been announced for the Hockey Humanitarian Award, given annually to "college hockey's finest citizen". Three Atlantic Hockey players were among the list of finalists: seniors Joe Calvi (Bentley) and Paul Zanette (Niagara) and junior Scott Moser (Canisius). The winner will be announced at the Frozen Four in St. Paul, Minn., in April.