When I talked to Holy Cross coach Paul Pearl this week, he took me to task for worrying too much about pods and standings. I've been harping for a while now on my low opinion of the new Atlantic Hockey playoff format, while Pearl's team has been just going out and playing good hockey.
"You've written the same article about seven times," he told me. "We're honestly not looking at the standings and just worried about our next game. At the end of the season we'll worry about stuff like that and go wherever the commissioner tells us to.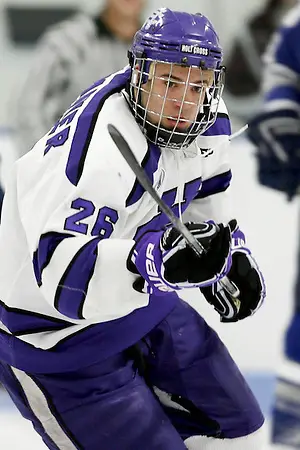 "We're good Catholics and we'll follow orders," he joked. "In the end it will take care of itself."
Holy Cross is well on its way to taking a weekend off to open the playoffs. The Crusaders are tied for fifth place but are also the front runners for a bye in the east scheduling pod. Army, Bentley and Connecticut all trail Holy Cross by five points in the standings with six games to play.
Pearl's team has opened some distance with its eastern rivals by recording two consecutive sweeps. But he said his team has been playing well for quite some time.
"We've been playing consistently well, especially since we figured out our goaltending," he said. "We played great at Mercyhurst but we didn't win. We were brutal in a loss to RIT on [that] Friday, but played much better and tied the next night."
Senior Adam Roy has been the main man in net since the holidays. After playing just once in the first half of the season, Roy has been in net for the past 13 games.
"He came in relief against Bowling Green in the UConn tournament," said Pearl. "He's been our go-to guy."
It helps that Holy Cross' offense has been clicking, too. Senior Everett Sheen (24 points) has had plenty of support this season, especially from sophomores Rob Linsmayer (30 points) and Kyle Fletcher (29 points, including eight last weekend).
"Scoring goals cures a lot of ills," said Pearl. "It loosens everybody up. We've had good goaltending and team defense, which we've had for a couple of years, but scoring goals helps your margin of error."
Pearl says another reason why he's not looking at standings is because upsets are going to be inevitable.
"We're to the part of the schedule now where we've already seen [every team]," he said. "And every team has at least one really good line that can deliver a knockout punch in a close game. And everybody's got goaltending. Sometimes you hear, 'Well, their goalie stole a game' like that team didn't deserve to win. If your goalie was the best player on the ice that night, then you deserved to win."
The Crusaders host Army for a pair of games this weekend. Another sweep will virtually guarantee Holy Cross a first-round bye, but Pearl says there's still some time before he starts to scoreboard watch.
"The last weekend we'll start talking about what happens if we win or lose," he said. "To quote [Mercyhurst coach] Rick Gotkin, 'Standings don't mean anything 'til Valentine's Day.'"
Kudos
Another week, another group of award winners in Atlantic Hockey:
• Ten finalists for the Lowe's Senior CLASS Award have been announced, and Atlantic Hockey is well represented. Cory Conacher (Canisius) and Jacques Lamoureux (Air Force) are both on the list for the award, given annually to a senior with "notable achievements in four areas of excellence — community, classroom, character and competition." Lamoureux (2009) and Conacher (2010) are former AHA players of the year.
• Niagara senior Bryan Haczyk was named the Hockey Commissioners' Association National Division I Player of the Month for January 2011. Haczyk had a whopping 12 goals and three assists last month.He's currently tied for third nationally with 22 goals so far this season.
• AHA commissioner Bob DeGregorio has been chosen to receive Hockey East's Founder's Medal award. Before leading Atlantic Hockey, DiGregorio was Hockey East commissioner from 1993 to 1996 and served as the athletic director at Merrimack for 19 years. DeGregorio will receive his award Friday in a ceremony at Merrimack.
Also receiving the honor are Stu Haskell, another former Hockey East commissioner, along with Brendan Sheehy, who was the league's director of officials for 12 seasons.
The three join the original Founder's Medal winners Irwin Cohen, Bill Flynn, Lou Lamoriello, Andy Mooradian and John Simpson. They comprised the inaugural group to receive the award in March 2009, when the league celebrated its 25th anniversary.
Around the league
And finally, this week's set of miscellaneous factoids from around the AHA:
• Conacher has plowed through Canisius' record book this season, and now holds records for points, goals, hat tricks, game-winning goals and power-play goals. This is all the more impressive because Conacher missed 17 games his freshman season due to injury.
• Canisius attempted 49 shots on goal in a 4-1 loss at Robert Morris last Saturday, the most for the Griffs in well over a year and 13 more than in any other game so far this season. Strangely enough, Canisius is 0-3-1 this season in the four games it has outshot its opposition.
• Without peeking, which team has scored the most conference goals this season? Niagara with its high-scoring first line? RIT or Mercyhurst with their explosive offenses? Nope. It's Air Force, which has lit the lamp 80 times so far in league games. The Falcons have a balanced attack with nine players with five or more goals so far.
• And finally, from the Department of Irony comes this story out of Connecticut. The Huskies will host Sacred Heart on Sunday in an outdoor game played at Rentchler Field in East Hartford. The game, along with a tilt between Army and American International on Feb. 19, are part of Hockeyfest, a two-week slate of amateur and professional games held at the home of UConn football. The Huskies won't have to worry about using their normal rink, Freitas Forum, which was closed last weekend due to a potential safety issue with ice buildup on the rink's roof. UConn had to move its game with Army to the XL Center in Hartford. Because this game is outdoors, there's no concern about too much ice.