There is no mistaking that Meghan Agosta is one of the most decorated athletes in women's college hockey history.
She owns a national scoring title, the NCAA record for most career points with 294, and is tied for the top spot all time with 150 career goals.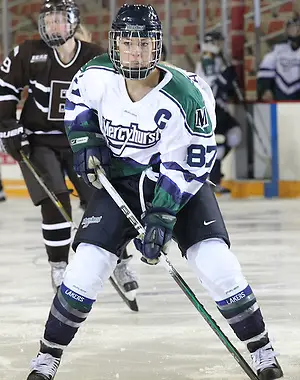 However, there are still two honors missing from the Mercyhurst College senior's trophy case: the Patty Kazmaier Memorial Award as the nation's top player and an NCAA championship. The two-time gold medalist hopes that 2010-11 is the year both finally occur.
"Points and [individual awards] don't really matter for me because I just go out and play," said Agosta, who broke Harvard forward Julie Chu's mark of 285 points with a four-point effort against Wayne State on Feb. 4. "As a team, we are all striving for the same goal — to win our final game for a national championship, but we're trying to not look too far ahead because it's what we do now that is going to put us in that position."
Despite Agosta's gaudy career with the Lakers, the success of Mercyhurst as a program began long before the Ruthven, Ontario, native ever put on the school's blue and green uniform.
Under the guidance of Michael Sisti — the only coach in the program's history — Mercyhurst has finished with 20 or more wins in every season since 2000-01. The Lakers have made the last six NCAA tournaments and competed in the past two Frozen Fours.
"We were fortunate enough to have some character people on our first ever team that had some success and got us on the map quickly," Sisti said. "But the best thing we have going for us is our continued success. That's pretty attractive for recruits and it has helped us land some of the players that we have today."
This season, Sisti earned a remarkable personal honor, becoming just the seventh women's college hockey coach to win at least 300 games.
"Without a doubt it's a source of pride for us to see Coach Sisti reach that mark," Agosta said. "He's brought this program to the next level in a short period of time and recruits who are interested in Mercyhurst certainly take note of his accomplishments."
During the 2009-10 campaign, Mercyhurst competed without Agosta, who took the year off to skate for Team Canada. All the Lakers did in Agosta's absence was win 30 games for the third time in the past four years and have then-junior forward Vicki Bendus win the Patty Kazmaier Award.
"With Mercyhurst being a smaller school, maybe some people write us off," said Bendus, the first Patty Kazmaier winner from Mercyhurst. "But it's a lot of fun playing here and embracing that underdog role as we try to prove everyone else wrong."
Meanwhile, Agosta won her second Olympic gold medal, leading all scorers in Vancouver with nine goals and 15 points.
"Being here at Mercyhurst for three years and having Coach Sisti push me to reach that next level helped me out a lot when I was playing for Canada," Agosta said. "I've become a much better player and person because of him."
This season, Agosta leads a veteran-laden Mercyhurst squad looking to finally win an NCAA championship after several near misses in the past.
Nine of the squad's top 10 scorers are upperclassmen, including seniors Bendus and Agosta. Those nine skaters were all part of the Lakers' closest call, when Mercyhurst dropped a 5-0 decision to Wisconsin in the 2009 national championship game.
"To be honest, we had a pretty young team and I don't think we played our best game," Agosta said. "This year we only have three freshmen and we are a lot more experienced. The nerves got the better of us back then, but I think now we are a lot more mature as team."
This season, Agosta is gunning for her second national scoring title. She leads the race by a narrow margin with 77 points.
"We are behind her 100 percent in trying to help her win those individual awards," Bendus said. "But Meghan like the rest of us is all about winning and that's the only goal she really cares about."
Agosta's nearest pursuers includes two of her American Olympic foes — Meghan Duggan and Hilary Knight of top-ranked Wisconsin. Knight has nothing but respect for her rival scorer.
"We're definitely keeping an eye on Mercyhurst led by Meghan Agosta, who is an amazing player," Knight said. "When we played them a few years ago I remember one my teammates saying, 'Don't worry about me on offense because I will be busy covering Agosta.'"
The nation's leading goal scorer would look forward to the challenge of trying to stop Agosta one last time in the NCAA tournament.
"They have a great team, and with all the players back from the Olympics on both squads, it would be a great matchup between Wisconsin and Mercyhurst," Knight said.
The other factor Mercyhurst has going for it as it pursues a national title this season is a home-ice advantage.
The 2011 Frozen Four will be played in the Lakers' backyard at Tullio Arena in Erie, Pa. The home of the Erie Otters of the Ontario Hockey League, Tullio will seat around 6,000 fans for the tournament, including a large contingent of Mercyhurst's faithful.
"There are a lot of great teams out there and there still is a lot left to be decided this year," Sisti said. "But if we are playing well and do get into the final game with all of our fans here supporting us, I like our chances."
Winning a national championship would put a fitting final stamp on Agosta's impressive career.
"That's one of the biggest reasons why I came back here for one last season, to try to bring a title to Mercyhurst," Agosta said. "It's not going to be easy, just like winning the gold medal on home soil wasn't last year, but we are going to do whatever we can to win a national championship."