Well, we're about to start the "Just got tougher" version of the WCHA Final Five … which has five games and six teams. But hey, no pointless third-place game, right?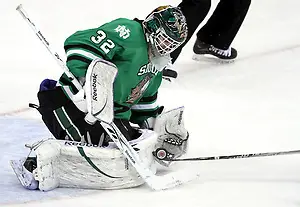 Also: Remember how Denver's George Gwozdecky said a year or two back that the Final Five might be the best tournament in college hockey? Bemidji State's Tom Serratore said essentially the same thing this year … and his team went to the Frozen Four before ever getting to a Final Five.
Now, less blab, more commentary.
North Dakota
Record: 28-8-3 (21-6-1 WCHA).
Last in St. Paul: Beat Minnesota-Duluth, Denver and St. Cloud State last year en route to winning the Broadmoor Trophy.
How the Fighting Sioux got here: Swept Michigan Tech, 8-0, 3-1.
Players to watch: G Aaron Dell, F Matt Frattin, D Chay Genoway.
More detail: UND is arguably the team to beat in this tournament. The Sioux have been consistently good all season and has been swept only once, that being an early season blemish against Maine.
Of course, talk to coach Dave Hakstol and he'll be humble about it.
"It really is a highlight, I think, certainly of our year, getting through our series this last weekend with Michigan Tech," he said on the pre-tournament conference call. "After the game, it's almost very much of a sense of relief and some excitement to be returning to the Final Five.
"We're looking forward to a tough game in a great environment Friday night against either Colorado College or Alaska-Anchorage."
They're two teams that the Sioux won't be looking past, even though UND is one of the few teams locked into the NCAA tournament. In fact, ask Hakstol about being a No. 1 seed and he won't give you a good quote to use — "Right now, we're playing for the Broadmoor Trophy. That's what our focus is on."
Denver
Record: 23-10-5 (17-8-3 WCHA).
Last in St. Paul: Lost to North Dakota and Wisconsin last year.
How the Pioneers got here: Swept Minnesota State, 4-2, 3-2.
Players to watch: G Sam Brittain, F Jason Zucker, F Drew Shore.
More detail: The Pioneers were a bit of a surprise this season. While we didn't figure they'd be fighting for home ice like Gwozdecky seems to think, we thought they'd at least be a lower home seed (like fourth or fifth).
As it was, they were in the race for the MacNaughton Cup until the final few weekends, thanks in part to finding a gem in goal in Brittain, an outstanding freshman in Zucker and getting a career year from Shore.
"I don't think that any of us on our staff expected Jason to come in and provide the type of offensive numbers that he put up," Gwozdecky said of Zucker.
As for Shore, "he came into this year and started out really, right from the very first game and has been a major part of our team and where we're at right now.
"In many ways, how they go, so goes this team."
In any case, the Pioneers are happy to be returning to the Xcel Energy Center after a series that really could have gone either way.
"The Mavericks played very well, both games," said Gwozdecky. "We feel very fortunate to be able to get through, especially on Saturday's game, they had us dead to rights with a one-goal lead. They missed a couple of wide-open nets and we were very fortunate to be able to get a couple of good bounces and advance."
More importantly, they get to wait until Friday to see who they play.
"I think it was critical for us to get that bye and certainly to get through the first round of the playoffs," Gwozdecky said.
Minnesota-Duluth
Record: 22-9-6 (15-8-5 WCHA).
Last in St. Paul: Lost to North Dakota last year.
How the Bulldogs got here: Swept St. Cloud State, 4-2, 3-2.
Players to watch: The whole first line: F Jack Connolly, F Mike Connolly, F Justin Fontaine.
More detail: Like the Sioux, the Bulldogs have been an extremely consistent team all season. They struggled a bit down the stretch, but are notable in the fact that they haven't lost two games in a row all year. That's right; they haven't been swept nor have they lost a Saturday game and an ensuing Friday match, either.
That streak will hold for at least another weekend, since due to the new format of the Final Five, if UMD loses at any point, it's done.
But first, the Bulldogs have to get past their Thursday opponent in Bemidji State, a team they played close way back in October (winning 3-2 and tying 1-1).
"We know that we had a great series earlier in the year with Bemidji and we know that it's going to be a very good game, a battle," said coach Scott Sandelin. "When you think of Tom Serratore-coached teams, they're probably one of the hardest-working teams you'll ever play against and I think that's been the M.O. every time we've played them — even before they entered the league."
Their Thursday matinee game is also the Minnesota game, if you will, as the two squads are the only two from the state that made the tournament.
"We hope that everyone [in Minnesota]'s cheering for us," joked Sandelin. "[But] we know there's going to be some in green and white down there from the same state that aren't going to be."
Colorado College
Record: 21-17-3 (13-13-2 WCHA).
Last in St. Paul: Lost to Minnesota and North Dakota in 2008.
How the Tigers got here: Beat Wisconsin in three games — lost 3-1 before winning 4-3, 2-1.
Players to watch: F Jaden Schwartz, F Tyler Johnson, F Stephen Schultz
More detail: The Tigers went on a 2-1-1 run at the end of the season to get home ice, which ended up being a good thing, as the home-ice advantage may have been the tipping point in their series with Wisconsin — the only one in the league that went to three games.
That series, as well as the fact that their last 10 games have essentially all been one-goal games, makes coach Scott Owens think that they might very well be well prepared coming into this weekend.
"It was a situation where we feel we've earned [the trip to St. Paul]," he said. "We came from behind twice on Saturday and Sunday and I'd like to think we're a little bit battle-tested for this, that we're able to head into this tournament format with a little bit of momentum going."
It's momentum they might very well need, facing a Seawolves team they know is pretty darn good from first-hand experience.
"This will be our sixth time playing them in four different cities and it's kind of interesting this year the way it played out," said Owens. "But I'm sure it'll be close. They've all been close. They're very, very good; they were good before this run that they've gotten on. They swept us up there and we had a lot of trouble splitting with them at Thanksgiving, so they're very strong defensively and I would expect nothing else but a close, hard-fought game."
Alaska-Anchorage
Record: 16-17-3 (12-14-2 WCHA).
Last in St. Paul: Beat Colorado College before losing to North Dakota and Minnesota-Duluth in 2004.
How the Seawolves got here: Swept Minnesota, 4-3, 2-0.
Players to watch: G Chris Kamal, F Tommy Grant, F Jordan Kwas.
More detail: The Seawolves' trip to the Final Five caps off one of the best years for the team in recent memory, and it's a trip well-deserved and one based off a season of hard work.
"We've been fairly consistent on our compete level throughout the year; the guys have bought in — that's a big key for us," said coach Dave Shyiak.
"I think this year, more than any other year, I think the goaltending has stabilized itself and that's helped elevate our game with the rest of our individuals. And to come in here and do well at home I thought was important for our young team this year, and to win some road games was important for our growth and development. When you mix those two together, you're going to have success. But I think our success is based on a good team effort led by a strong leadership group."
In any case, they're excited to play CC on Thursday night … despite the fact they've played them five times already.
"We know what we're up against against a very talented CC team that's playing very well right now," said Shyiak. "It probably won't require a whole lot of video work, but I expect it to be a real tight matchup, just like it was the other five games. But our guys are excited and we're looking forward to Thursday night."
Bemidji State
Record: 14-17-5 (8-15-5 WCHA).
Last in St. Paul: This is BSU's first Final Five.
How the Beavers got here:
Swept Nebraska-Omaha, 4-2, 3-2.
Players to watch: G Dan Bakala, F Matt Read, F Jordan George.
More detail: Our final Final Five team is one of our league newcomers in Bemidji State. The Beavers had kind of a tough go in their introductory stint in the WCHA.
"It's been an interesting year for us guys; it's been a roller coaster and we expected this," said coach Tom Serratore. "It's a league where you can play well and lose. There's a fine line between winning and losing; you find that awful quick in this league, and that was the case this year for us. We had 11 overtime games in our 28 regular season games — it's a league where I don't have much hair left."
Still, off the strong play of goaltender Dan Bakala and their insanely good top line of Matt Read, Jordan George and Ian Lowe (like DU's Zucker and Shore, "as those guys go, we go," Serratore said) as well as having the number of their other rookie league counterpart in Nebraska-Omaha, the Beavers will be in St. Paul this weekend to face Minnesota-Duluth.
"From our standpoint, it's an honor and a privilege to represent Bemidji State at the WCHA Final Five," said Serratore. "People are excited, really excited, very enthused. … The people in Bemidji realize what a big tournament this is."
Those absent
I know we always talk about who made it, because, really, they're the story. But what about the other half of the league, the vast majority of whom have no more hope of playing this season?
I've compiled a list of what are essentially the final words from the other six coaches (except for Dean Blais, who may still get to coach in the regionals … so his words might not be final).
Dean Blais, Nebraska-Omaha: "We wanted to get there so that the underclassmen can have that idea again next year, build on it and get to the NCAAs and win a game or two down there," he told USCHO's Matthew Semisch after Saturday's game. "But now it's right back to, 'OK, we've got another young team coming in next year with seven or eight more kids,' but hopefully we're not done yet. Hopefully, the right teams win and we get an NCAA bid."
Don Lucia, Minnesota: "Being only a few games over .500 isn't successful for us," he told USCHO's Tim Brule on Saturday. "It's a part of this program. I think we had a few guys grow this year.
(Lucia, by the way, much to the possible dismay of many Gophers fans, sounds like he is getting a contract extension.)
Mike Eaves, Wisconsin: "As disappointed as we are, as angry as we are, [the players will] be able to walk out of that locker room with their heads held high. They left everything out there."
Bob Motzko, St. Cloud State: "True to our second half [of the season], our kids battled," he told the St. Cloud Times' Mick Hatten. "We were one shot from making it a series. … It's awful painful. Our guys left everything. … We had a lot of bodies going down at the end."
Troy Jutting, Minnesota State: "Tonight's game probably summarized our whole season," he said after Saturday's game. "Played extremely well against an exceptional hockey team, but left some goals on the table that you can't leave if you're going to win."
Jamie Russell, Michigan Tech: "I was proud of our effort," he told USCHO's Patrick C. Miller after Saturday's game. "It's been a tough year in terms of adversity, and our guys have stuck with it. It's difficult when you've had your teeth kicked in three games in a row. I thought we picked ourselves off the mat and played a pretty good game here tonight against the No. 1 team in the country."
(Russell, meanwhile, announced Wednesday that he's stepping down as the Huskies' coach.)
So long, farewell, auf wiedersehen, good bye
Hockey and I have had a torrid love affair for about 15 years now. Hockey is what made me even decide to go into journalism in the first place. It was my first true love.
As I've grown older, I've found other loves in my life. Triathlon, for example. My fiancé is another good one (a rabid Fighting Sioux fan, I might add. Told you guys there was a reason I may have subconsciously been a bit hard on them … in case anyone knew, I didn't want perceived bias).
Therefore, earlier this season, I made the decision that this would be my final year. After five years, I'm hanging it up … which will come as a wonderful Thursday surprise and treat for some of you, I'm sure. But you don't get it until after the Frozen Four. Sorry.
But hey, it's been fun and I thank Jayson Moy and former editor Scott Brown for bringing me on in the first place and Todd Milewski for keeping me on this year.
(For those of you who may actually miss me? Aw, shucks. Thanks, guys!)
(And I really hope I got that horrible earworm in your head. Mwahahahahaha.)