The temperatures may be balmier than usual this week in southeast Michigan and the first day of Spring arrives Monday, but the only season that matters in Detroit this weekend is hockey season. It's the 30th anniversary of the CCHA championship tournament in Joe Louis Arena, and for the first time since the 2005-06 season, the teams that finished in the top four spots in the league have advanced to the tourney. That should make for some very exciting hockey.
"I think the four best teams in the league have made it to the Joe," Michigan coach Red Berenson said during a conference call with players and coaches Tuesday.
I think he's right.
Feels like the first time
For Western Michigan, that is. The Broncos are making their first appearance in the championship tournament since 1994. That was the season before WMU coach Jeff Blashill became a freshman goaltender at Ferris State. Current Broncos goaltender Jerry Kuhn was 8 years old.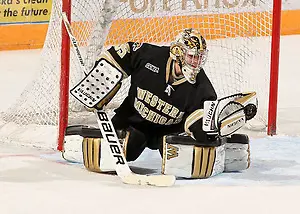 Michigan won its first postseason league title March 20, 1994. That was four days after Tonya Harding pleaded guilty to conspiracy to cover up the knee-capping of Nancy Kerrigan. Three weeks before, Kurt Cobain was found dead. Three months before, O.J. Simpson made his famous white-Bronco run. Thirteen months before, the Oklahoma City bombing.
Bill Clinton was president. The No. 1 song in the U.S. was "The Sign" by Ace of Base. Eight current Broncos weren't old enough to go to kindergarten.
Urgent
Three of the teams in this field have become at least semi-regular participants in the tournament. The Wolverines, though, are making their 22nd consecutive appearance at the Joe, a feat that is made even more remarkable by their seventh-place league finish in 2009-10. They are the defending postseason champions, and goaltender Shawn Hunwick was last year's CCHA tournament MVP.
There is more than just conference glory on the line this weekend. The winner of the Mason Cup also wins an automatic ticket to the NCAA tournament. Michigan and Miami are tied for fourth in the PairWise Rankings and look to be in no danger of missing out on an NCAA berth, but Notre Dame at No. 10 is in a more precarious position, and Western Michigan — tied for No. 11 with New Hampshire — is also on the bubble.
In this week's Bracketology, Jayson Moy explains why far better than I can, but the gist of it is that there are factors outside of the control of the Fighting Irish and the Broncos, like autobids for other conferences and the teams under consideration.
While ND and WMU may be keeping a closer eye on the PWR than UM and Miami, believe that every one of these teams wants this title just as badly as every other team in the field. Michigan wants to defend. Notre Dame wasn't in Detroit last season, and the Irish want their third championship in five years.
The RedHawks have never won the CCHA championship. The Broncos have been down so long that a title would put the exclamation point on a season that was a positive declaration.
No. 1 Michigan
The top-seeded Wolverines come to Detroit after an easy sweep of Bowling Green at home in the second round of the CCHA playoffs, with 5-1 and 4-1 wins. Michigan rides a nine-game win streak into Joe Louis Arena in search of a 10th playoff championship. The Wolverines have given themselves a chance to play for that title 15 times, including in nine of the last 10 years.
• Record: 25-9-4
• Last 10 games: 9-1-0
• Goals scored per game: 3.45, 12th nationally
• Goals allowed per game: 2.24, 7th
• Power play percentage: 17.8, 29th
• Penalty kill percentage: 83.3, 21st
• Top scorer: Carl Hagelin (17-30–47)
• Top goal scorer: Hagelin
• Top goaltender: Shawn Hunwick (2.20 goals-against average, .923 save percentage)
It's hard to think of Michigan as a dark-horse team, but the Wolverines were just that when heading to Detroit last season. Hunwick had seen very little play backing up Bryan Hogan before an injury to Hogan made Hunwick the starter. This season, Hunwick has played 29 games and will be taking no one by surprise.
"I think last year was last year," said Hunwick. "It's in the past. It gives me enough confidence to know I can go into Joe Louis and play well. Last year, I think I was playing my eighth career game down there at The Joe. I feel more confident as a goalie."
In spite of the differences between 2009-10 and this season, the Wolverines are just as hungry for a title. "Last year, we went into this weekend and we had to win the CCHA playoff championship to make the tournament," said the coach himself on The Red Berenson Show this week. "We're in a different situation this year. I want to be talking on Tuesday about the momentum that we got from this weekend and going into the tournament, not the fact that we struggled or didn't do this or didn't do that."
While the Wolverines have won their last nine, all of their opponents in that stretch were teams beneath them in the standings — some far beneath them — and their last losses were to Miami (Feb. 4-5). In that streak, UM outscored opponents 23-14.
Michigan gets senior Louie Caporusso back from injury this week, but junior forward David Wohlberg (15-6–21) is done for the season after suffering a broken collarbone against Bowling Green last weekend.
No. 2 Notre Dame
The Fighting Irish needed three games to get past the tenacious Lake Superior State Lakers and freshman goaltender Kevin Kapalka last weekend. After beating the Lakers 3-2 in overtime to take the first game, ND fell 4-3 Saturday before winning fairly easily on Sunday, 4-2. The Irish are making their fourth JLA appearance in five years and their ninth all-time trip to the league championship tournament. They last won the Mason Cup in 2009.
• Record: 23-11-5
• Last 11 games: 7-2-2
• Goals scored per game: 3.54, 10th
• Goals allowed per game: 2.64, 22nd
• Power play percentage: 16.3, 37th
• Penalty kill percentage: 82.7, 25th
• Top scorer: T.J. Tynan (21-28–49)
• Top goal scorer: Anders Lee (22-19–41)
• Top goaltender: Mike Johnson (2.48 GAA, .907 SV%)
The Irish were one point ahead of the Wolverines going into the final game of the season, having beaten Western Michigan in Kalamazoo Feb. 25. ND lost the last game of the season to WMU, 2-0 at home in South Bend, allowing the regular-season title to slip away. That loss to Western snapped an eight-game unbeaten streak that capped a regular season that was less than consistent.
Part of that inconsistency — especially early on — came from having such a young team. Four freshmen played every game for the Irish this season, 10 total skaters saw significant playing time and 14 players on Notre Dame's roster who played regularly were freshmen and sophomores.
"If our freshman don't contribute, we have problems," said coach Jeff Jackson. "It's a lot about a lot of the players that have been more than just depth players for us."
The Irish are led in scoring by two freshmen, forwards Anders Lee and T.J. Tynan. Jeff Costello is another seasoned rookie who has contributed well on the power play. More than half of the team's 138 goals (76) have been scored by freshmen this season. "Bryan Rust has had a really good year, kind of quietly," said Jackson.
The entire Notre Dame defense is having a good year too, kind of quietly.
"We have several defensemen that have 10 to 15 points," said Jackson. "They've contributed offensively, quietly, but it has given us real good depth from the back end."
Sophomore Sam Calabrese and junior Sean Lorenz have 10 goals and 32 points between them. Lorenz is a finalist for the CCHA best defensive defenseman award.
No. 3 Miami
The RedHawks are red hot, entering the weekend tied with North Dakota for the nation's best unbeaten streak, 8-0-3 in their last 11 games. Last weekend, they swept Alaska in two 4-1 games to get to Detroit, and the outcome of those games was never in question; the RedHawks outshot the Nanooks 72-33 on the weekend and after allowing the first goal in each game, Miami never gave Alaska a sniff.
• Record: 21-9-6
• Last 10 games: 7-0-3
• Goals scored per game: 3.72, 5th
• Goals allowed per game: 2.17, 3rd
• Power play percentage: 24.0, 5th
• Penalty kill percentage: 89.0, 1st
• Top scorer: Andy Miele (21-44–65)
• Top goal scorer: Reilly Smith (26-22–48)
• Top goaltender: Connor Knapp (2.03 GAA, .909 SV%); Cody Reichard (2.07 GAA, .911 SV%)
For a stretch this season, the RedHawks struggled with team defense and consistency in goal, but those days seem to be entirely over. Connor Knapp and Cody Reichard split time in net last weekend and have done so for the past three series, and the duo hasn't given up more than one goal in the last five games. Miami coach Enrico Blasi said that the improved defensive play of the team starts in net.
"Both Connor Knapp and Cody Reichard have been playing extremely well," said Blasi. "With our team defense, there's been a little more of a purpose to what we do. Since the Michigan State series and going into Notre Dame, our guys are starting to play with a lot more purpose and focus, which has helped in all three zones."
The RedHawks lost the opening game of their series against MSU 7-4 on Jan. 21 before Knapp shut out the Spartans the following night. The next weekend, Miami tied Notre Dame twice on the road, 5-5 and 2-2. Since then, it's been consistent hockey with Miami giving up just 10 goals in eight games.
Now that the Miami defense is on board, the RedHawks are truly dangerous. Their ability to score is no secret. Five RedHawks players have 10 or more goals, and Andy Miele and Reilly Smith each has over 20. And they're deep. All but four Miami players have registered a goal this season — sophomore forward Devin Mantha, who has played just eight games, and the three Miami goaltenders. One of those goaltenders, senior Ben Saska, saw four minutes of play this year.
No. 4 Western Michigan
After dropping their opening game against Ferris State last weekend, 3-1, the Broncos won Saturday's contest, 3-1, and Sunday's game in overtime, 5-4, to earn this trip to Joe Louis Arena.
"We are certainly excited to be headed to the CCHA Championship and headed to Joe Louis," said Blashill. "It's exciting for everybody involved in Bronco hockey. Our alums, our fans, everybody at the university, it's been a long time coming."
• Record: 18-11-10
• Last 11 games: 4-5-2
• Goals scored per game: 2.74, 32nd
• Goals allowed per game: 2.41, 11th
• Power play percentage: 16.0, 40th
• Penalty kill percentage: 79.9, 41st
• Top scorer: Max Campbell (18-17–35)
• Top goal scorer: Campbell
• Top goaltender: Jerry Kuhn (2.28 GAA, .915 SV%)
After putting together a 14-game (8-0-6) unbeaten streak Dec. 11-Feb. 11, the Broncos found themselves in tough territory toward the end of the regular season. That's because WMU ended the regular season with games against the three best teams in the league — that is, the three other teams that fill out this field. Against Miami, UM and ND, the Broncos went 1-4-1 in their six games before last weekend.
"It reinforced my belief that we're a pretty resilient team," said Blashill. "We had some tough games and a couple of tough losses, and we came back with a couple of good outings the next time we had a chance to play.
"It was an exciting stretch for us to be able to measure ourselves against three of the best teams in the country. We measured up well enough that we can compete against those teams. It was a positive stretch for us because it really felt like playoff hockey and the playoffs had started three weeks prior to the end of the season."
Through that stretch, Kuhn maintained a high level of play. Kuhn saw just seven games last season but has been the goalie of record for 26 this season, and Kuhn credits Blashill for having "resurrected" his game.
"I created some bad habits over the past three years in practice, not playing as much as I would have liked to," Kuhn said. "From the beginning, he instilled the desire to compete for every puck no matter what situation you're in. Compete for every puck and every rebound. Even if you can't make the save, you just have to go for it. Just that competition, practice and hard work is really paying off."
Another senior, forward Max Campbell, has a five-game point streak on the line going into this weekend. In that stretch, Campbell has four goals and five assists; one of those goals was the game-winner in overtime against Ferris State that punched the Broncos' ticket.
To put Campbell's streak in perspective, he scored just two more goals in 32 games in the entire 2009-10 season.
Lowdown and dirty
I need an excuse to use this heading, although I can't say it's far from the mark. The RedHawks average 16.8 penalty minutes per game — far outpacing the Wolverines (13.5), the Irish (13.2) and those choirboys in Kalamazoo (11.4).
Of course, that's not the only category in which Miami stands far above the rest of this field. The RedHawks have the best penalty kill in the country.
Say you will …
… join us for live blogging from Joe Louis Arena all weekend long.
I want to know what love is
If the immediacy of the feedback below isn't enough for you, there's always Twitter: @paulacweston.