Florida in the winter time is a wonderful place to be. Unless you're former Yale star Christopher Higgins playing for the hapless Florida Panthers.
Such was the case as the trade deadline approached this NHL season for the former Bulldogs forward, who had played most of his career for the Montreal Canadiens before ending up with the New York Rangers, Calgary Flames and then the Panthers — all in a span of two seasons.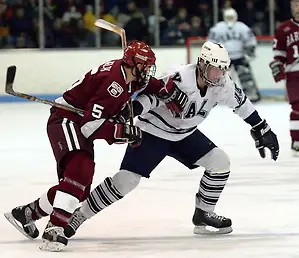 Salvation, though, came at the final minutes before the trade deadline, and now Higgins is two wins away from going from earning the tag of NHL journeyman to winning the Stanley Cup as his newest team, the Vancouver Canucks, have Lord Stanley's trophy within sight.
"The way things were going in Florida, it didn't look like I was going to even make the playoffs before the trade deadline," Higgins said. "Then I come to the first-place team [in the NHL]. You don't get that opportunity too often so you try to make the most of it."
Higgins has certainly made the most of it thus far. When he was acquired by the Canucks, it was expected he'd be a role player on the third or fourth line. In his final 14 regular season games he tallied a couple of goals to go along with three assists.
In the playoffs, though, he increased that total to four goals and four assists in 20 games. His play warranted more time on the ice, even on the power play.
Last Saturday, he anticipated an Andrew Ference pass while on the power play and quickly turned the play around, leading to Vancouver's first goal in a pivotal 3-2 Game 2 overtime win.
And while the playoffs have been a highlight experience for this talented forward, at this point Higgins can't find any solo highlight of his own postseason.
"I'm just taking it all in and enjoying the ride playing with a great team," Higgins said. "I don't think anything would stand out in my mind. The overall experience is something I've always wanted."
Attaining that experience may have been a bit of luck in Higgins' mind given his late arrival in the Pacific Northwest. But there is no doubt to this point he's made the most of it and is enjoying every last minute.
As for the team itself, they're more than happy with their decision to make the trade deadline move.
"When we got Chris at the trade deadline, it was very late in the day," Canucks general manager Mike Gillis said. "He was a player that we were trying to get and we were fortunate enough to have a young defenseman [Evan Oberg] that Florida wanted.
"He's been everything we could ask for and more. He played well for us. He played through an injury. He's 100 percent now. He controls the puck. He can score when he gets his opportunities. He comes to play every night."
Being in Boston for the Stanley Cup final is a bit ironic for Higgins. The 6-foot left winger nearly ended up in Beantown for college, turning down both Harvard and Boston College when he made his decision to choose Yale.
"I always did well in school and narrowed it down to Yale and Harvard," Higgins said. "I just felt the quality of people and environment was better at Yale."
After posting 72 points in 55 games with the Bulldogs from 2001 to 2003, Higgins left before his junior year to join Montreal's farm club, another Bulldogs team in Hamilton, Ontario. He said the transition was a difficult one, but you wouldn't know that by his scoring line — 99 points in 143 games over his first two AHL seasons.
Once promoted to the big club, Higgins had no problem fitting in, and in 2007-08, his third full NHL season, he notched career highs in points (52) and goals (27).
"It was a big jump coming from playing 55 games in two years to playing a pro schedule with the travel and everything," Higgins said. "I was also playing against much better competition. It was something I needed to do and I thought it was the right decision."
When Vancouver called his number at the trade deadline, there could have been transitional problems. Instead, Higgins said the players around him have made everything all the easier.
"It's been a pretty easy team to play with. A lot of skill, a lot of talent," Higgins said of the Canucks, who won the NHL's President's Trophy for the best regular season record. "They're a very competitive group that works real hard so it's been a lot of fun."
Now, two wins away from the ultimate hockey prize — Lord Stanley's Cup — Higgins is certainly walking the party line and remaining focused, not allowing the moment to envelop him.
"We're just worrying about the next game," said Higgins, taking on a statement that has been a constant among hockey teams for decades. "It's the only one you can control. We need our best effort because we're going to see [the Boston Bruins'] best.
Should those two victories come for the Canucks, there would be plenty of celebration in New Haven, Conn. Higgins wouldn't say whether that would be his destination on his one day with the Cup.
Regardless, there is no doubt that a Stanley Cup in Vancouver is one that would be celebrated among the ivy walls of Yale for years to come.