When Casey Jones accepted the position as the Clarkson men's hockey coach, he realized he wasn't taking over a program where the sport was so far under the proverbial radar screen that it was invisible.
Of course, Jones received an "early education" in what hockey was like at Clarkson when he served as an assistant coach to Mark Morris from 1993 to 1995.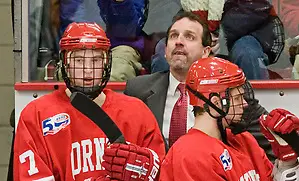 "I think the most important thing I learned at that time is how important hockey is to the fabric of the community," said Jones, who was an associate coach at Cornell for the last three years. "It certainly can help you. A lot of people feel the program is very important.
"I felt that at the time and still feel it's important."
The Golden Knights, who won consecutive ECAC titles in 2007 and 2008, hit a rut over the last three seasons and posted a 34-62-10 record.
Before the consecutive losing seasons, Clarkson had recorded 69 winning seasons, captured 10 ECAC regular-season titles, five ECAC tournament championships and received 20 NCAA tournament bids.
Despite being charged with returning Clarkson to its past glory, Jones wasn't about to back down from the challenge.
"I don't think there will be any more pressure that what I'll put on myself," he said. "You want to be somewhere where you can achieve your goals — at a place that has history and where people are passionate about hockey. You want to take advantage of it.
"I look at it as a positive thing. We want our guys to understand there are positive things here and they should use them to drive themselves. We're going to use them in a positive manner."
That includes off the ice as well as on the Cheel Arena surface — one reason being Jones' father, Bryan, is a retired high school principal and his sister, Tara Brazeau, is a teacher.
And Jones didn't exactly attend East Podunk Tech since he graduated from Cornell in 1990 with a B.S. in business.
"I firmly believe in the college route and what it means to student-athletes," he said. "I have a strong belief that it sets you up in all aspects of life — not only in terms of hockey but what you gain from having a college degree.
"I believe in an environment that emphasizes academics and athletics."
Which brings us to the next question: Considering Jones graduated from an Ivy League school with a business degree, why did he opt for a coaching career instead of one on, oh, Wall Street?
"The opportunity presented itself right out of college," said Jones, referring to the fact that, in addition to being a four-year letterman at Cornell he also served as an assistant coach for two years. "I had an opportunity to go to my alma mater and I never looked back.
"I had a job offer from a company and was trying to make a decision. But I found out I loved the game of hockey and could have a relationship with the guys. I knew that I wanted to do this as long as I could."
What Jones did after that two-year stint at Cornell was join Morris' staff at Clarkson and then move on to Ohio State where for 13 years (1995-2008) he was an assistant coach.
Then, it was back to Cornell for three seasons before he received the call from Clarkson.
"I've had great coaches," said Jones. "I've picked a little bit from all of them — from Mark and John Markell [at Ohio State] — to go with my education background.
"My most recent experience was with [Cornell coach] Mike Schafer. I'll try to mold everything I've learned into what I want to be. I've had great coaches that I've worked with and now I have an opportunity to be a head coach myself."
Being a head coach regardless of sport presents a unique challenge in that the person may, by nature of the position, have to distance himself from the players.
Jones prefers to run a program that proceeds in the opposite direction.
"The program we want to have is open," he said. "We will have an open-door policy so kids can talk to our staff. They might not like what they always want to hear. But I don't want them to be afraid of any discussions that we want to have.
"I think my experience as an assistant coach will help me in this regard as a head coach."
Good point.