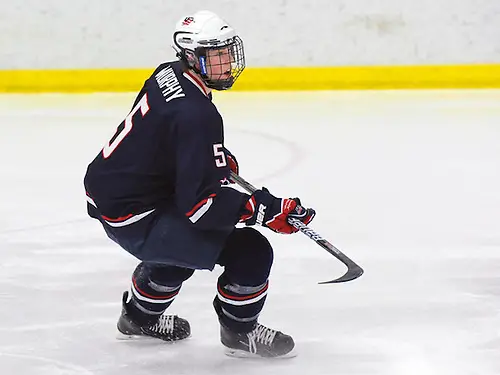 ST. PAUL, Minn. — Waiting has become something that Connor Murphy has grown accustomed to.
The Miami freshman-to-be has done plenty of waiting for the last two seasons. Injuries have sidelined the blueliner in each season.
On Friday night, he had yet another wait, this time to see if any club would select him in the opening round of the 2011 NHL Entry Draft. After two and a half hours, the Phoenix Coyotes ended his wait, selecting him with the 20th overall pick.
"It wasn't that bad," said Murphy, playing down the agony of sitting in the stands hoping to hear his name called. "It went by pretty fast."
Murphy was a part of a select group on Friday, one of only four players with college ties selected in the opening round, the lowest total of the last decade.
Now Murphy can set his sights on his future. He intends to head down the road from his hometown of Dublin, Ohio, to attend Miami in September. That's where he hopes that he's able to further his development, something that has been on hold in the last two years as he sidestepped injury.
"I think it's a great opportunity at Miami to be able to develop as a player and be able to use all the practice time and time in the weight room to develop and become a bigger, stronger player," said Murphy, whose father, Gord, had a long, successful career in the NHL. "It's good to be able to work on the skills and be able to practice every day."
Murphy said that he had to convince the Coyotes that he has fully recovered from his injuries. He had plenty of opportunities to do that, meeting with the club four times in the past year. He put up good numbers at the NHL scouting combine, and that was enough to sway Coyotes general manager Don Maloney, who felt like getting Murphy with the 20th pick was good fortune for his club.
"He had a little back issue that's now 100 percent," Maloney said. "In our minds, that's the only reason he slid to 20.
"He's got great bloodlines and great hockey IQ. He's a big, rangy player. So we're excited to have him."
While Friday was a day of elation, the past couple of years were not for Murphy. Suffering injuries, he played a total of just 11 games in the past two seasons. Murphy said that it's been difficult to not get frustrated over that time, but also noted that staying positive is the reason that he's been able to come back and was in a good position to be a first-round selection on Friday.
"With injuries, you can't think about them too much," Murphy said. "They just happen and you can't control when it happens. When it does, it's all just mental and making sure you stay positive and stay on top of [the injury]. Most of the time you can come back quickly if you have a good mind-set."
Murphy — and the Coyotes — are well aware that there is still a significant amount of work he'll need to do over the next season or two in order to have his game in shape to play at the professional level. Besides needing to fill out physically to fit his 6-foot-3 frame, he needs to become a better skater and ensure that his first two strides are quick enough to keep up in the lightning-fast pace of the NHL.
"The two big things for me are strength and quickness," Murphy said. "I need to work, and those come with off-ice training. I need to have a stronger stick and be stronger on the boards. With quickness, my first few steps need to be a lot faster if I'm going to be good at the next level."
When Murphy will be ready isn't the only question that the 18-year-old will face in the short term. He'll also have to determine exactly where he'll be playing his hockey next season. While he's committed to Miami, Phoenix may try to convince him to play major junior, something that would get him significant playing time that he's been missing for the last two seasons.
On Friday, Murphy admitted that if the Coyotes asked him to play major junior, he'd have to consider it.
"I trust in everyone's opinion in Phoenix and I would do what they want," Murphy said.
For now, though, that is hardly the focus for the young defenseman. Now is a time to bask in the glory of being a first-round NHL draft pick, knowing that the wait is definitely over.