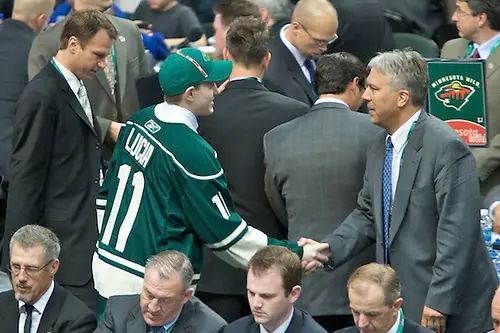 ST. PAUL, Minn. — In 2007, college hockey had a banner year at the NHL Entry Draft with a record 11 collegians selected in the opening round.
If that was college hockey's shining moment, this weekend might be considered college hockey's draft disaster.
In Friday's opening round, only four college or college-bound players heard their names called, tied for the least in any year in the last decade. Saturday's second round was not much better as only six more collegians were selected. The two-round total of 10 is one shy of 2007's record opening-round mark of 11.
Though disappointing, for sure, this isn't much of a surprise to those who follow the draft closely. Most knew coming into this weekend that this is a down year for talented college players with early-round potential. Still, many figured that Saturday's second round would quickly make up for Friday's deficiency.
For those collegians who did hear their name called early Saturday morning, there certainly was a sense of relief.
"That was a lot shorter than yesterday," said North Dakota incoming freshman Rocco Grimaldi, the first collegian selected on Saturday. Grimaldi was grabbed quickly by Florida with the third pick in the second round, just three minutes after proceedings began on the day.
Grimaldi admitted not being selected on Friday was difficult for him. He and his family sat in the stands for nearly four hours, only to realize he had to come back on Saturday and do it all over again.
"It wasn't too bad," Grimaldi said about his ability to get sleep on Friday night, knowing there was still plenty of anticipation heading into Saturday. "It's so overwhelming. When it was done and I wasn't picked, I just started looking forward to today, knowing I was going to be picked at some time.
"I'm just glad it was early so I didn't have to wait too long."
Grimaldi was followed immediately to the draft floor by Denver recruit Scott Mayfield, who was selected with the fourth pick of the round by the New York Islanders. Current Boston University blueliner Adam Clendening heard his name two picks later when Chicago tabbed him.
"It hasn't really hit me yet," said Clendening, who was the first defenseman picked by the Blackhawks in this year's draft. "It's a great organization. They have a great core of young guys and I think it's going to be an exciting time."
Clendening's teammate, Matt Nieto, also was a second-round selection. The San Jose Sharks traded up to the 47th overall slot to grab the crafty forward and California native.
"I've been living away from home on the east coast since I was 14, so to try to pursue my career back in my home state is a special feeling," Nieto said.
Nieto wasn't the only player with hometown ties to the club that selected him. The Minnesota Wild executed a trade late in the second round to select Mario Lucia, son of Minnesota Golden Gophers coach Don Lucia.
"I couldn't have written a better story than this," Mario Lucia said. "Growing up in Minnesota, being drafted by the hometown team and having the draft here. It's a fun time for my family and myself, too."
Lucia hasn't committed to a college yet, though it is anticipated that he will eventually play U.S. college hockey.
Goaltender John Gibson, ranked first among North American goaltenders, rounded out collegians picked in the second round. Though many anticipated that the Michigan recruit would be a first-round pick, Gibson slipped to 39th, where Anaheim grabbed him.
Eight players with collegiate ties were selected in the third round, two of whom have already played college hockey. Notre Dame's T.J. Tynan was tabbed 66th overall by Columbus, while Denver's Nick Shore was selected 82nd overall by the Los Angeles Kings.
In total, 61 collegians became property of NHL clubs throughout the draft weekend.