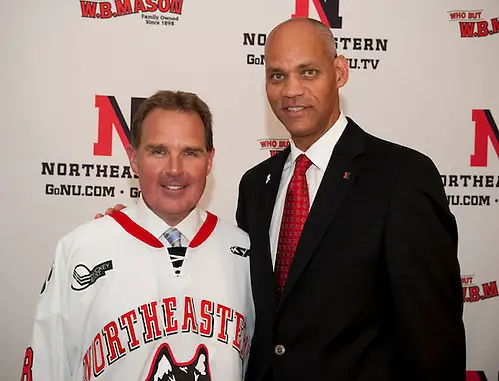 BOSTON — Northeastern named its 10th coach in program history on Tuesday amid a backdrop of history, feet from the ice surface of North America's oldest ice rink, Matthews Arena.
On the university's news release, it touted new head coach Jim Madigan's own history: Three Beanpots (very worthy of note for a school that has won only a total of four Beanpots) and a Stanley Cup ring (earned as a scout for the Pittsburgh Penguins).
What they failed to mention is what Madigan lacks, and that is head coaching experience.
Trends, though, show that Northeastern athletic director Peter Roby should feel comfortable with his decision. Madigan isn't the only guy who hasn't spent considerable time leading a college program. Also Tuesday, Western Michigan turned to longtime NHL coach Andy Murray as its bench boss. And lest we forget that Michigan State pulled Tom Anastos from the CCHA commissioner position months ago to lead the Spartans onto the ice.
Truth be told, Madigan might just be the perfect person to lead an up-and-coming Huskies team.
If 10 years ago anyone told me that a college would hire a guy who didn't have a lick of head coaching experience as its new head coach, and that said head coach wasn't taking a promotion from some school's top assistant position, I'd have laughed.
Simply put, 10 to 15 years ago, head coaches came from either longtime positions (e.g., Boston College's Jerry York) or they were top-tier assistant coaches who finally elevated themselves to the top spot.
Jim Madigan is neither.
All credit due, Madigan served as an assistant at Northeastern, but that ended in 1993. Since that time, Madigan has worked in the game as an NHL scout while maintaining a position with the university. From 1993 through 1999, he was assistant director of physical plant services. After that, Madigan was the director of athletic development from 1999 through 2004 and then the associate dean and director of development for NU's College of Business Administration.
This isn't the typical resume for a Division I college hockey coach.
That, though, is where things change for Northeastern.
The Huskies didn't search for the next great X's and O's man. They didn't look for college hockey's great motivator.
Instead, Roby and his crew that led the national coaching search instead opted for what is becoming the trendy option: the money.
Madigan will bring money to Northeastern's athletic program. In his role in development, Madigan raised an average of $5.7 million per year, including $13 million in the 2010-11 academic year.
Northeastern isn't entirely dissimilar to Michigan State. Rick Comley, who led a once-second-tier Northern Michigan program to the national title in 1991 and then re-elevated the Michigan State program, leading an improbable Spartans team to the national title in 2007, rebuilt a solid Spartans brand before being replaced this spring by Tom Anastos.
Anastos had little head coaching experience. But with a strong brand built in Michigan State hockey, Anastos will be charged as much with developing a team as he will be with using his business skills to fill the coffers for the school.
No doubt, Madigan will find a similar charge.
Greg Cronin was an X's and O's guy who used on-ice success to build the Northeastern hockey brand. Madigan will be the man who now has to financially fund the program to ensure that brand continues to succeed.
When asked if Madigan's history of development for the school mattered, Roby was clear.
"If you are successful in any endeavor, it speaks to your capabilities to learn, your leadership capabilities and how you build relationships," Roby said. "When you think about what Jim has done over the last number of years in development, you can't get someone to make a donation if they don't believe in what you're selling. It's not really different than recruiting. You're selling the institution. You're selling the value of the institution."
Quite possibly, then, Madigan's job will be as much salesperson as proving he's not a salesperson to the college hockey world.
It should be noted that as he accepted his new role on Tuesday, Madigan was gracious and humble in acknowledging that there will be a learning curve. Though his experience — four years as a player at Northeastern, seven years as an assistant coach and more than a decade and a half as an NHL scout — will provide him a solid foundation, Madigan knows he can't just walk into a league with greats like York and Jack Parker and outcoach those who have led college hockey teams for as long as he could skate.
"I have too much respect for the coaching fraternity to know that there is going to be a ramp-up period," Madigan said of the challenges of his new role. "It's something we're going to do as a staff. But I've been surrounded by some very smart hockey people. I've been exposed to [Pittsburgh head coach] Danny Bylsma, I've been exposed to some of the coaches with the Pittsburgh Penguins and the New York Islanders. When you're in their presence, you learn all the time. You look at things a little bit differently.
"There won't be a long time to ramp up. We won't be able to afford that. But working with the staff that we have and the staff we will attract will lead to a quick ascension."
The most important thing Madigan brings to the table, though, is passion. He talked Tuesday about being the intersection of two of the most important things in his life: hockey and Northeastern. He also said that if the number of alums who committed via email and text messages to buying season tickets since the news of his hiring leaked a day ago becomes reality, Matthews Arena will be packed every night.
That, there, might be what Northeastern needs the most.
It isn't a secret in Hockey East that Northeastern's alums are vocal. Former coaches Ben Smith and Bruce Crowder both got plenty an earful from boosters with advice that may or may not have been welcome. If Cronin wasn't a winner, no doubt he would've met the same vocal "advice."
Madigan, though, is as much an insider as anyone and while he may get plenty of advice from friends, he will know how best to handle things. Such was apparent on Tuesday as numerous alums lined the Matthews Arena lobby.
But even being an insider might not help if Madigan can't accomplish such noble tasks as he did in the past, like winning a Beanpot or a Hockey East title.
That will likely be Madigan's measuring points, benchmarks many could consider unfair.
But this is Northeastern hockey. This is a school with plenty of hockey pride that wants to return to the days of glory.
That will be Madigan's task. That will be what will help Madigan write a new chapter in Northeastern hockey history.