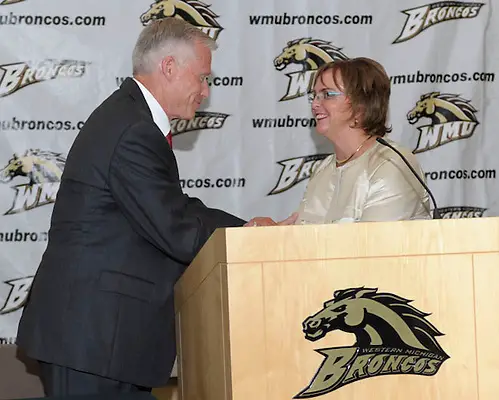 It isn't often that coaches from the NHL make the jump to the NCAA. Some people might consider such a move a step down and Western Michigan's hiring of Andy Murray — a man with nearly a decade of head coaching experience in North America's highest professional league — a bit of a coup.
Some people might, but Murray himself has a much different opinion.
"I'm just so proud and happy to have this job," Murray said soon after WMU announced his hiring Tuesday. "It's so tough to get a D-I college coaching job. There are so many great people out there, including some Western Michigan alumni who wanted this job. When I accepted this job, I thought, 'Holy smokes. I won't take that for granted.'"
Murray said that landing in Kalamazoo to coach in the NCAA is something he can cross off his bucket list. In 2006, Murray was close to replacing Dan Fridgen at Rensselaer but went to the St. Louis Blues instead. It was a move, he said, that allowed him to see his three children play college hockey.
"I actually never did accept [the job]," Murray said. "I was offered the job, and it was at a point when I had a great [campus] visit. I remember walking around with the president of the university, who took me past the architecture and biomedical engineering buildings and asking, 'Does the hockey coach have to be smarter than his players? You may have the wrong guy here.'
"I really looked at that job because I've always been interested in coaching in college hockey. But in the NHL, I did have the possibility to catch the odd game, fly back on the redeye and catch a game."
By the time Rensselaer made an offer, Murray's oldest son, Brady, had left North Dakota for professional hockey, but his daughter, Sarah, was just about to begin her freshman year with Minnesota-Duluth, where she won two national titles in four years. Murray's youngest son, Jordy, headed to Wisconsin for three years (2008-11) shortly thereafter.
"What it came down to was family priorities," Murray said, "and if I stayed in the NHL I could catch some games. So I've had three children that have all played on successful D-I teams. Last season I spent about eight days a month in Switzerland as a consultant and a lot of time in Wisconsin. I got to watch Mike [Eaves] work and watched every practice and game."
Watching Jordy play for the Badgers fueled Murray's desire to coach in the NCAA.
"This is the first job in my coaching career that I've sent a resume out," Murray said. I did send out a resume to [athletic director] Kathy Beauregard because I don't think many people, if they didn't know me, would think I would be interested in a college hockey job.
"Jamal Mayers, who played for me [in St. Louis] and went to Western, contacted me when the job was open and thought I would make a great fit. It kind of came together."
It came together fast, too. Murray was offered the position July 21, and like many new coaches, hasn't had much time to adjust to his new position. He knew immediately, however, that he'd be keeping assistants Rob Facca and Pat Ferschweiler.
"I met with them and do my homework and met with a lot of people," Murray said. "Their reputation is great. To me, when you've got good people, you've got to keep them. I think the continuity with the assistant coaches was very, very important."
That continuity will extend to the philosophy behind Broncos hockey, said Murray, who thinks that he and the man he replaces, Jeff Blashill, have a lot in terms of coaching philosophy.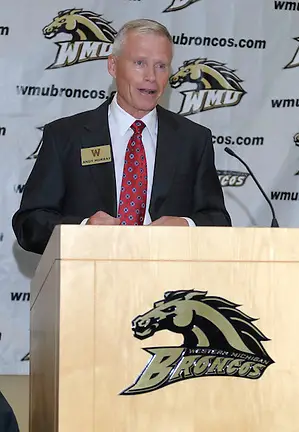 "He did a tremendous job," Murray said. "The assistant coaches — who I think deserve a lot of credit as well — gave me a copy of their play book, their structure book if you will, rules not just of how they want to play but for how the players and coaches should conduct themselves as well. There's not going to be a new need for a new message at Western Michigan.
"I can't speak [about] the players. I watched a couple of games on the computer before I came here. The only thing I know is that this team was well structured, had great leadership from the top, and there's a group of players that hadn't had the feeling of success before and have to build on it. I think I'm in a good situation following a guy like him."
While new to the college game, Murray has some definite ideas about the shuffling that's been going on in recent months. What it comes down to with Murray is good hockey citizenship.
"There's a place for everybody," Murray said. "The big guys have got to take care of the small guys as well. That's what makes this game great … and to me, it's been a little bit self-serving. Who am I to say this on my first day, right? But there's got to be a place for everyone."
When it comes to possible relocation for WMU, Murray said that he'll be instrumental in the discussion. "I hope that we have the mind-set to do what's best here," he said.
In the meantime, though, Murray's focusing on the 2011-12 season.
"The only thing I'm worried about right now is that we've got a game against the University of Toronto in about two months, and I want to win that game," he said. "As far as I'm concerned, we're playing in the CCHA for the next two years.
"I get to match wits with some of the great coaches of hockey — not just college hockey — and I'm sure they want to kick my butt, too."
Murray signed a five-year deal with Western Michigan, and on his first official day on the job, he sounded like a man who had found a new home.
"I've always wanted to coach my country — which I had many opportunities to do in Canada — and wanted to coach in the NHL, as tough as that is, and I had that opportunity, but I've always admired college coaches and the lifestyle and I'm a big college fan. I'm into it and I'm really appreciative of the opportunity.
"It's something else I've fulfilled on my bucket list. I'm not here as an old NHL coach looking for a few years. I'm an energized new college coach."