In the wake of the most tumultuous summer in college hockey history, even insular ECAC Hockey has a few changes to adjust to.
Gone is George Roll, fired by Clarkson and now coaching at new Division III program Nazareth in Rochester, N.Y. Gone is Guy Gadowsky, who hopes to replicate his Princeton successes with Penn State in the much tougher Big Ten. Gone is Nate Leaman, who ducked out of Union mid-contract to take on a new rebuilding challenge at Providence. Gone, too, after their junior seasons, are Rensselaer's Allen York and Clarkson's Mark Borowiecki. Sophomore Keith Kinkaid jumped ship at Union just before Leaman's departure.
Replacing the coaches are Clarkson's Casey Jones, an assistant under Mike Schafer at Cornell last year; Princeton's Bob Prier, who worked for St. Lawrence and Joe Marsh for the past nine years; and Union's Rick Bennett, who was promoted from assistantship. That's the easy part.
The hard part is figuring out who will replace the prematurely departed trio, not to mention the dozens who compose the newest class of ECAC Hockey alumni. Flag-bearing Yale lost a half-dozen top-flight players to graduation. Rensselaer, Princeton, Dartmouth and Union each lost nearly as many, and the programs that appear to be starting this season with the greatest continuity may also have the most to prove. Quinnipiac, Brown, Colgate and Harvard may have bid adieu to the fewest significant contributors, but following mediocre (at best) campaigns in 2010-11, will the loss of any production be too much to overcome?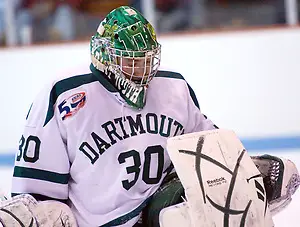 As Harvard coach Ted Donato pointed out during the league's preseason conference call, this is also a bit of an odd year in the ECAC for another reason. In a conference that traditionally boasts strong defense and elite goaltending, at least five of last year's top 10 goalies are out the door: York and Kinkaid signed early; Cornell's Mike Garman graduated in three years and left Ithaca with a year of eligibility remaining; and Ryan Rondeau (Yale), Ryan Carroll and Kyle Richter (Harvard) each picked up their sheepskins following four years of service.
It's just another year in ECAC Hockey, where trying to make predictions feels like finding the image inside a 3D picture is another 3D picture. Where will the dominos fall this year? We don't know, but we'll give it a shot. (Note: Sullivan made the predictions, so spare Boyd your acid while he acclimates to the new territory.)
Click a team's name for its preview.
1. Yale
Some football pundits once mused that Matt Cassel might have been the second-best quarterback in the nation during his collegiate career at USC, but since he played behind Carson Palmer and Matt Leinart, he never saw the light of day. Yale may very well have a stable full of Cassels, who can finally see some ice now that Broc Little, Denny Kearney, Chris Cahill, Jimmy Martin, Mike Matczak and Rondeau have moved on.
2. Dartmouth
The Big Green lost some important cogs, but goalie James Mello returns after a tremendous junior year with arguably as much talent in front of him as he's ever seen. The degree of improvement necessary for Dartmouth to claim another first-round bye looks minimal.
3. Cornell
If they could earn a bye with the team they had last year, I see no reason why they can't improve to third this year. This is now firmly goaltender Andy Iles' team; it'll be up to his buddies to find the goal support. It's an axiom of ECAC punditry: You don't pick against Mike Schafer.
4. Union
This was a tough position to pick — well, at least as tough as any of them — because I have doubts about all of last year's remaining "good" teams, and optimism about the "not-so-good" ones. To me, a top-four finish to kick off the Bennett era will have to be considered a success. The team knows how to win, but adjusting to life under Bennett — and without Kinkaid in the net — likely will take some time.
5. Quinnipiac
The Bobcats are a great unknown at the moment. They lost very little, but whether they will improve enough individually and capitalize on their cohesion is the big question mark. Another strong season by junior goalie Eric Hartzell — or an equitable rise by senior Dan Clarke — will go a long way toward securing a top-half finish.
6. Princeton
Losing Gadowsky, Mike Kramer, Kevin Lohry, Taylor Fedun, Matt Arhontas and Cam Ritchie is bad. League coaching veteran Prier being welcomed by returning snipers Andrew Ammon, Rob Kleebaum, Andrew Calof, Derrick Pallis and Eric Meland is good. As is the two-headed goaltending monster of Sean Bonar and Mike Condon.
7. St. Lawrence
Having legendary bench boss Joe Marsh out of commission raises serious concerns in the early going, but the Saints return a number of tenacious and talented players who already understand Marsh's systems and know what it takes to get the job done. Enjoy sophomore Greg Carey while you can, because if he can put up numbers anywhere close to last year's 23-17–40 totals, he'll be pitched some pieces of paper with big numbers separated by lots of commas by late April.
8. Harvard
A strong finish last spring demonstrated an ability to win; the beginning of this year will quickly indicate how strong the Crimson's desire is to make winning habitual. Donato's immediate concern will be on goaltending, as both of last year's starters are out the door, but another, less tangible issue has been Harvard's annual fancy for a first-semester slide. The Crimson have cratered at one point or another in each of the last five falls.
9. Rensselaer
Boy, oh boy, did the Engineers get whacked on graduation day — plus that York fella taking off for greener ($$) pastures. This year's roster doesn't feature a single player who has scored at least 10 goals in an NCAA campaign, nor a goalie who has played more than 420 minutes of college hockey in a season. All that said, there is ample potential in the 'Tute locker room, and — as the buttons proclaim — I believe in Seth Appert. Avoiding a first-round road trip should be considered a small accomplishment at this point.
10. Colgate
A team that was pegged for big things last year accomplished just that: a program-record 14-game winless void (0-13-1), followed by a truly baffling 8-4-1 rebound that carried it all the way to Atlantic City. The Raiders lost two major scorers in Brian Day and Francois Brisebois, but seem to have perfectly able replacements in the wings (no pun intended) by way of Austin Smith, Robbie Bourdon, Kurtis Bartliff and Chris Wagner. Day 1 should be considered the first day of their redemption march.
11. Brown
Harry Zolnierczyk wasn't universally beloved, but you couldn't deny him the respect he deserved for his pure scoring ability. Jack Maclellan will need someone, or a few someones, to step up and fill the gap in production that Zolnierczyk left behind. Bruno could certainly achieve well more than a second-to-last finish this season, but inconsistency has been the name of the game in Providence ever since Yann Danis left the Hill. And with all due respect to senior goalie Mike Clemente, he's no Yann Danis.
12. Clarkson
Losing the top defensive pairing of Bryan Rufenach (graduated) and Mark Borowiecki (signed with the Ottawa Senators) will be a big early-season blow to a team that hasn't had a whole lot of success recently. Nearly a third of last year's goals have graduated, a new coach needs time to implement and habituate new systems, and this is not an easy league in which to learn defense on the fly. It'll be interesting to see how 'Tech looks in the opening weeks, compared to how it'll look in March.