It's easy to pick out strengths and flaws, looking at the leftovers of all the WCHA rosters from last season going into 2011-12.
Colorado College and Denver both have the personnel up front to light up the scoreboard on a nightly basis. North Dakota, meanwhile, lost a ton of offensive production in the offseason. So did Minnesota-Duluth, and it will be interesting to see how much Jack Connolly produces without Mike Connolly and Justin Fontaine on his line.
And by the time you scan the last roster, if you've been counting, you come up with 11. That's the number of teams that return starting goaltenders.
"There's no question that when you look at some of the top goaltenders in the league coming back from last year, certainly with their experience it's going to make things extremely difficult for opposing shooters," said Denver coach George Gwozdecky.
Wisconsin is the only WCHA team that won't return its starter.
The defending WCHA champion Fighting Sioux have the best depth and the most exposure of any WCHA team in goal.
"With Brad Eidsness, Aaron Dell and even Tate Maris, we have a really good goaltending team back there," said North Dakota coach Dave Hakstol. "We have the depth at goal but it's up to them to go out and prove it."
Dell, a junior, is coming off an All-WCHA season in which he compiled a .924 save percentage and a goals against average of 1.79.
"I had chances pretty early and I did pretty well," Dell said. "By then, I was starting to gain confidence and the guys were pretty confident in my abilities as well."
Eidsness, Dell's backup, is a proven goalie who would be a reliable fill-in for Dell. Eidsness lost the starting job he held for two years when he got off to a terrible start to the 2010-11 season.
"Brad is a really supportive guy and he really worked his [tail] off and pushed me to be better," Dell said. "I push him to be better as well and that gives us the situation that we have here."
Eidsness (.812 save percentage, 4.09 GAA in 2010-11) split time with Dell until Dell took over for good around Thanksgiving.
"Aaron Dell's performance dictated that he play the majority of the games for us last season," Hakstol said. "He comes in as the No. 1 but his performance still has to dictate that he remains our No. 1 guy."
Where there is solidity between the pipes in Grand Forks, there is uncertainty in Denver.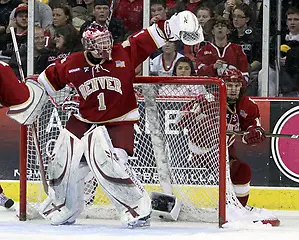 The Pioneers hope Sam Brittain, who made the All-WCHA rookie team, will continue his emergence as one of the league's top netminders, but Gwozdecky and Co. might have to wait until January to see Brittain in net. Brittain underwent knee surgery in June and, according to Gwozdecky, requires a 6 1/2-month healing and rehab period.
"I don't think anybody knew what our goaltending situation was going to be like at this time last year," Gwozdecky said. "Due to a couple of situations with injury and things like that, Sam had an opportunity to really get some consistent playing time and really shine in those opportunities and played extremely well and really won the job last year."
Adam Murray will be the interim starter. He played in 11 games as a sophomore for the Pioneers and posted an .879 save percentage and a 3.46 goals against average. Those numbers are dragged down by his performance against Boston College when he allowed six goals on 34 shots.
Gwozdecky went out and snatched Finnish goalie Juho Olkinuora right after he learned of Brittain's situation. Olkinuora had a .900 save percentage and 2.70 GAA for Sioux Falls of the USHL last season.
In Minnesota, Kent Patterson stepped up and shined amid what looked to be a very dim outlook, at first, for Gophers goaltending. Alex Kangas — Minnesota's record holder for goals against average (1.98) and save percentage (.930), both set in his rookie season — ended his college career after he tore his labrum and underwent surgery.
Patterson started every game after Dec. 4 and went on to earn second-team All-WCHA honors as a junior, stopping 92 percent of the shots he faced and allowing 2.49 goals per game.
"For us, it starts in goal with Kent Patterson coming back off an all-league year," said Minnesota coach Don Lucia. "He's looked sharp in practice so far and we all know how important his position is."
John Faulkner was the guy the last two seasons in goal for Nebraska-Omaha, and the Mavericks are counting on him to be a wall in his senior season. Faulkner is a solid goalie but can be hot and cold from night to night.
He allowed six goals Nov. 19 against North Dakota and shut out the Sioux the following night. A few weeks later, Colorado College scored five times on Faulkner on 20 shots. Faulkner followed that performance with a shutout the next night.
"What John has to do is be more consistent," said Nebraska-Omaha coach Dean Blais. "When we have teams down we need to finish them off. He logged a lot of minutes for us last year and hopefully we can have other guys step in and give him a break."
CC has an inexperienced blue line outside of Gabe Guentzel, Joe Marciano and Eamonn McDermott , which will make life tougher for Tigers junior goalie Joe Howe. After a so-so 2010-11 season (.903 save percentage, 2.94 GAA) Howe must improve for CC to go far, despite the firepower up front.
Defense is again a question mark at St. Cloud State, with only two upperclassmen on the blue line. Nick Jensen and Kevin Gravel made strides as their freshman seasons progressed but the Huskies need to find a way to provide goalie Mike Lee (.910, 2.75) with more help in the defensive zone.
"Mike was kind of victimized last year," said Huskies coach Bob Motzko. "The players in front of Mike let him down."
UMD returns Kenny Reiter (.914, 2.30) and Aaron Crandall (.894, 2.70) in goal from last season's national title team. Reiter started twice as many games as than Crandall last year and will get the nod to start this season. He was a key to the Bulldogs' title run, allowing no more than three goals throughout the postseason, with a save percentage of .927 in seven playoff games.
Rob Gunderson (.898, 2.75 ) and Chris Kamal (.895, 2.62) will battle for the top spot for Alaska-Anchorage. Same at Minnesota State, where Phil Cook (.903, 3.01) and Austin Lee (.911, 2.59) both have two seasons of experience.
Dan Bakala (.919, 2.47), probably the most underrated goaltender in the WCHA, was solid in net last season for Bemidji State and will be the star for the Beavers this season. Kevin Genoe (.883, 4.02) and Josh Robinson (.884, 4.56) split time in net for Michigan Tech last season.
Here are our picks for the league finish. Click a team's name for its preview:
Tyler's picks
1. Colorado College
2. Nebraska-Omaha
3. Denver
4. North Dakota
5. Minnesota
6. Minnesota-Duluth
7. St. Cloud State
8. Wisconsin
9. Bemidji State
10. Minnesota State
11. Alaska-Anchorage
12. Michigan Tech
Brian's picks
1. Colorado College
2. Denver
3. North Dakota
4. Minnesota
5. Minnesota-Duluth
6. Nebraska-Omaha
7. Alaska-Anchorage
8. St. Cloud State
9. Wisconsin
10. Bemidji State
11. Michigan Tech
12. Minnesota State