While two name-brand schools were battling in South Bend, Ind., and Western Michigan was proving itself against a ranked opponent 750 miles to the east, the CCHA's two teams in Michigan's Upper Peninsula were busy last weekend making statements of their own, each handling things at home.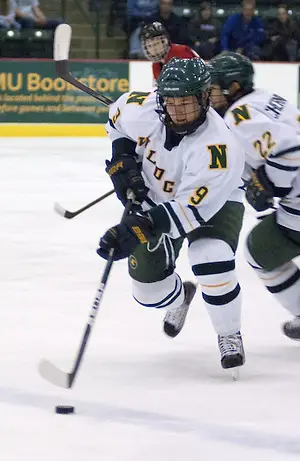 Lake Superior State became the first CCHA team of the season to sweep a conference opponent with 5-4 and 3-2 wins over Michigan State. Northern Michigan posted its first sweep of the season against WCHA foe St. Cloud State, winning 5-2 and 3-2.
Coaches of both teams said they were a little on the lucky side. "I think we caught them at the right time," said LSSU's Jim Roque. "They'll be a different team in January."
"St. Cloud's good," said NMU's Walt Kyle. "They've got some good talent and a good goaltender and they're well coached, and over this weekend [there] wasn't much different between the teams."
Lake Superior
Every year, the Lakers seem to find themselves in the same predicament: looking for a few players who can score. Last year, senior Rick Schofield had 17 goals for LSSU, more than any player since Nathan Perkovich in 2007-08 — and Schofield was one of just two players who scored 10 or more goals last year.
While the season is a mere four games old, the Lakers may have some indication of who will be providing some of that scoring this year. Sophomore Kyle Jean has four goals after netting one in 38 games last year. His classmate, Colin Campbell, has two — half of his total in 37 games last season. Junior Nick McParland has three goals; he scored nine in 64 games in his first two seasons.
"It's good to see the sophomores to get off to a good start," said Roque, sounding a little relieved. "Nick McParland is off to a good start as a junior, finally.
"I thought we pursued the puck really good all weekend. We were on the puck hard all the time and had four lines rolling. We had some really good bounces. We were fortunate."
Roque said that one reason the Lakers may be in for more success up front this campaign is because of the success they see in net. After being named to the 2010-11 CCHA all-rookie team last year, sophomore Kevin Kapalka (2.26 GAA, .912 save percentage) appears poised to follow through with another good season.
"With Kevin in net, our guys have a lot of confidence in him," said Roque. "If they make a mistake, they know he's back there to catch them."
The home sweep over the Spartans represents one-quarter of LSSU's home CCHA wins of a season ago, a statistic that Roque said must be improved if the Lakers are going to be more competitive this year.
"We talked about it last year," said Roque. "We've just got to find a way to do a better job at home to get points. In this league, if you have a good home record, you're going to finish up in the standings. It doesn't really matter who you are."
This weekend, the Lakers host two games against Bowling Green, a team that gave LSSU some trouble last season. The teams went 1-1-2-2 in four contests, with the Lakers taking shootout points in back-to-back ties at home in early December.
"They weren't a good matchup for us last year," said Roque. "Andrew Hammond is for real." Hammond earned goaltender honors from the CCHA this week with BGSU's sweep of Alabama-Huntsville.
Heading into the series, Roque said the Lakers need to improve in a number of ways. "We need to get better in our own zone," he said. "We have a freshman on every line. Plus we have some guys playing more than they did last year. Our defensive zone play has got to get a little better. I'd like to see us shoot the puck more, especially against Hammond."
Northern Michigan
In Marquette, Kyle sounded a little like his U.P. counterpart after a good — but early — home weekend.
"There were times you loved your team and times you hated your team," said Kyle. "Times we played really well and times we made mistakes."
Eight different Wildcats players accounted for the team's eight-goal output in the series. Particularly encouraging were the contributions from semi-newcomers Ryan Kesti, Reed Seckel and Matt Thurber. Kesti and Seckel redshirted last season after being injured in the early going, and Thurber is a transfer from Wisconsin. "They were with us last year, so they got to practice and develop but they had to wait to play," said Kyle.
Against SCSU, Seckel had a goal and assist in the two games — after netting the overtime winner against Wisconsin on the road the week before — and Thurber chipped in two more assists, bringing his total for the season to four. "Seckel's off to a great start for us," said Kyle, "and Kesti is just a big forward playing defenseman."
And just as the Lakers are playing more confidently up front because of solid netminding, so are the Wildcats more comfortable because of the starts of senior Reid Ellingson (1.92, .931) and sophomore Jared Coreau (2.53, .909). Last year was challenging for each of them, Kyle said. "Reid had never been a starter at this level and Coreau was a young freshman," he said.
Kyle is cautiously optimistic about this year's Wildcats after a disappointing 2010-11 season — "We weren't a very good team last year for a lot of reasons," said Kyle — but most of all he said he sees this team as a "really, really coachable group."
"I really like the makeup of the team," said Kyle, who pointed out that his squad has five seniors. "If the team is young, this is the kind of team you want, a young, hungry team, and you want a team that is willing to listen, to grow. I like it. There's some really good chemistry."
The Wildcats will be tested in the upcoming weeks with consecutive series against ranked foes Michigan, Western Michigan and Notre Dame. Miami's in that first-half mix, too — and this schedule looks all too familiar to Kyle, whose team tends to have a tougher first half than second.
"Who makes this schedule anyway?" joked Kyle. "I guess these are the teams with pull. They want to get up here before the snows come."
A big week for the CCHA
The league that no one wanted did very well against the rest of the country last weekend, with a 10-1-2 record in nonconference play. The lone loss was in Miami's split on the road against Colgate; the two ties were WMU's road games against ranked Union.
I got a kick out of how my USCHO colleagues Brian Halverson and Tyler Buckentine — our WCHA writers — laid claim to the glory of the "WCHA-to-be" teams of Alaska, Lake Superior State and Northern Michigan, since all three of these teams were undefeated last weekend.
News flash, gents: The Nanooks, Lakers and Wildcats are CCHA teams for two more seasons, and — as I saw it — two of those teams were undefeated against current WCHA teams, including one that jumped the CCHA ship two years ago, making Alaska's 4-1 win over Nebraska-Omaha all the sweeter.
In fact, the CCHA has had an excellent start in terms of nonconference play, especially against the WCHA, a league against which the CCHA struggles perennially. Through three weeks of play, the CCHA — the league that no one wanted — is 26-7-3 against non-league foes.
Sure, that includes six wins over league-less Alabama-Huntsville, but it also includes a winning record against every conference except for Hockey East — and the league's record against HEA consists of one game, a 5-2 Boston College win over Michigan State.
I do think that eight CCHA teams counted among the top 20 may be a little high, but it sure is nice to see the Lakers and Ferris State recognized with their 4-0-0 records.
Don't think there are no hard feelings
While I want to focus on the college hockey season at hand, the glorious run teams in the CCHA are capable of making in 2011-12, there's no ignoring the fallout from the summer's realignment. In fact, it's positively dishy.
Congratulations! You beat the Big Ten!
That was some of what arrived in my inbox this week after the Lakers swept the Spartans. There was a sense of, "Take that, Big Ten!" from some fans who wrote. While it's always nice for fans of a so-called "little" school to beat the big name that comes to town, the more important thing to come from this is that LSSU took six points in CCHA play.
Congratulations! You passed the quiz!
Fans were eager to share their answers to last week's reading comprehension quiz involving Conference Fabulous and Team Quite the Catch. The consensus was that Conference Fabulous felt dumped and was reacting as such.
That was, in fact, the correct answer.
"To deflate Team Quite the Catch's bubble," said one reader who dubbed the new allegedly national conference "ConFab," which has an air of accuracy on many levels.
"We don't want you anyway, so there!" was another perfectly acceptable answer.
And this reader's answer seemed to sum it all: "Conference Fabulous is afraid the bright light of fame shining on Team Quite the Catch will cast a shadow and steal the view."
Congratulations! You're in the middle!
"What's great about it is that we're an outpost in the CCHA, but geographically we're dead center in the new WCHA." So said Kyle when I asked him about the realignment.
OK, so that's not hard feelings; in fact, that's Kyle seeing how well the future WCHA will work for the Wildcats.
Kyle did say what a lot of us have discussed — that everything went down fast (maybe too fast), that the big, new, allegedly national conference was perhaps a big reactionary, that it's sad to see the CCHA come to an eventual end. But Kyle's also optimistic about NMU's chances in the reconfigured WCHA, especially since the Wildcats will no longer have to be competing with some giant programs with giant resources for recruits and attention.
And with Northern Michigan, Lake Superior and Michigan Tech all to be competing in the same league in 2013-14, "It's perfect for hockey in the U.P.," said Kyle.
Congratulations, indeed.
Players of the week
Now for some real kudos. This week's list includes a couple of not-so-usual suspects.
Rookie of the week
Ohio State's Max McCormick, who had a goal and two assists in the Buckeyes' 4-3 road win over Notre Dame Saturday.
Offensive player of the week
Miami's Reilly Smith, who had four goals in the RedHawks' road split with Colgate, including his second career hat trick in Friday's 4-3 win.
Defenseman of the week
Lake Superior's Andrew Perrault, who had three assists and five blocked shots in the Lakers' home sweep of the Spartans.
Goaltender of the week
Bowling Green's Hammond, who had an insane .980 save percentage in the Falcons' road sweep of Alabama-Huntsville.
First timers
Ferris State freshman goaltender C.J. Motte earned his first collegiate shutout with a 2-0 win over Rensselaer last Saturday.
Lakers sophomore Kyle Jean had his first career hat trick in the 5-4 win over Michigan State on Friday.
Miami freshman Austin Czarnik scored his first collegiate goal in the 4-3 win over Colgate Friday.
Notre Dame freshman Austin Wuthrich scored his first collegiate goal in ND's 5-2 win over OSU Friday.
Western Michigan senior Greg Squires had his first collegiate two-goal game when the Broncos tied Union on the road 2-2 Friday night. Squires' second goal tied the game at 12:47 in the third, unassisted. Couldn't happen to a more deserving kid.
My ballot
This changed quite a bit this week. It always does for me in the early part of the season when the puzzle rearranges itself nearly weekly.
1. Boston College
2. Colorado College
3. Michigan
4. Denver
5. North Dakota
6. Notre Dame
7. Miami
8. Boston University
9. Western Michigan
10. Minnesota-Duluth
11. Minnesota
12. Union
13. Alaska
14. Ferris State
15. Merrimack
16. Alaska-Anchorage
17. Michigan Tech
18. Colgate
19. Quinnipiac
20. Ohio State
And here's your quiz for this week, CCHA fans: Who puts a team that hasn't played a single game in the top spot of a national poll — for two weeks running? It's a mystery that I hope you can solve, each in your own creative way.