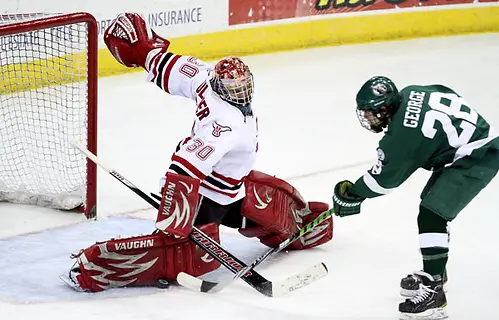 Nebraska-Omaha (5-5-0, 4-2-0 WCHA) at Bemidji State (4-6-0, 2-4-0 WCHA)
Tyler: Andrew Walsh is having a decent freshman season, splitting time with Dan Bakala in goal for BSU, but in this matchup, Tom Serratore has to start Bakala. Bakala was the x-factor in the Beavers' domination of UNO last season. He saw 226 shots in six games against the Mavericks and only nine pucks got by. That's a 96-percent save rate. That was last season, but UNO's offense, not bad by any means, didn't improve in the offseason but you still have to think UNO's will change. Split
Brian: UNO is coming off a split at home with CC after which Tigers coach Scott Owens called the Mavericks underrated. BSU returns home after a split at No. 11 Lake Superior State in which the Beavers were outshot 18-1 in the first period of Saturday's 2-1 loss. The overall series is relatively even in favor of BSU at 6-5-1 but the Beavers have dominated the last eight meetings going 6-1-1 including 5-0-1 last season. UNO has scored two goals or fewer in six straight meetings with BSU but only one time in the last eight games between the two has either team scored more than three goals.
Bemidji State scores a higher percentage if its overall goals at even strength (74%) than Nebraska-Omaha (67%) so winning the special teams battle will be crucial to UNO's chances. Inconsistency has been a hallmark of both teams this season and I don't see a change yet. Split
St. Cloud State (4-4-2, 2-1-1 WCHA) at Minnesota State (2-6-0, 1-3-0 WCHA)

Tyler: No matter the advantages either way on paper, this one always seems to even out once the puck drops. The Huskies are the second-most penalized team (16.9 penalty minutes per game) in the WCHA but Minnesota State's power play is awful (9.5 percent). The Huskies persevered after losing goaltender and captain Mike Lee to a lower-body injury (2-1-1 since). On its way to a third win in four games, the Huskies melted down, lost a two-goal third-period lead and tied Wisconsin after another captain, Drew LeBlanc broke two bones in his left leg at the end of the second period. The Mavericks had their share of early-season injuries, too, but are getting healthy. This one is a split.
Brian: Despite Saturday's offensive explosion in its 6-3 road win over Michigan Tech, Minnesota State still sits at the bottom of the WCHA in overall scoring with 1.88 goals per game and last in scoring defense at 3.75.  SCSU, on the other hand, ranks at or above the middle of the pack in each category. But the Mavericks maintain a 4-3-3 edge over the Huskies in the past 10 meetings between the long-time, multi-sport rivals. Drew LeBlanc's absence will hurt, but Ben Hanowski and Jared Festler continue to be threats while David Eddy and Andrew Prochno are emerging scorers. Minnesota State needs goaltender Austin Lee to closely replicate last week's performance (82 saves in 86 shots) for the Mavericks to earn a second straight series split. I'm going to say he does just that.
Alaska-Anchorage (3-4-1, 0-4-0 WCHA) at No. 10 Minnesota-Duluth (5-3-2, 3-2-1 WCHA)

Tyler: UMD goalie Kenny Reiter has the hot hand and UAA can't put the puck in the net (three goals in four games). UMD sweep.
Brian: The Seawolves have celebrated goals just three times since a six-goal outburst on Oct. 15 against Mercyhurst in the Alaska Goal Rush tournament in Fairbanks. Two weeks after Minnesota' Kent Patterson allowed them just one goal in two games, Alaska Anchorage has the misfortune of coming off a bye week to face the WCHA's reigning defensive player of the week in goaltender Kenny Reiter. Combine that with the fact that UMD has outscored its opponents 21-9 and has killed off 24 of 25 opposing power-play attempts in its current six-game unbeaten streak and it adds up to a long weekend at Amsoil Arena for UAA. Bulldogs sweep.
No. 1 Minnesota (9-1-0, 6-0-0 WCHA) at Wisconsin (4-5-1, 3-4-0 WCHA)
Tyler: With arguably the best power play in the country, Minnesota (28.3 percent) takes on one of the worst penalty kills in the nation, Wisconsin (69 percent). The Gophers also have a tremendous goaltender in Kent Patterson. Minnesota passes another test and will leave Kohl Center with a sweep and remain No. 1 come Monday.
Brian: The Badgers have shined at times this season, but Minnesota will simply prove to be too much for them this weekend despite the comforts of the Kohl Center. Too much offense, too much special teams, too much Kent Patterson, and plenty of defense will be too much to overcome for Wisconsin despite Mike Eaves' decision to shift goaltender Joel Rumpel to, at least, Friday night from his customary Saturday night start. Minnesota wingers must constantly be aware of Justin Schultz's ever-dangerous presence but the Gophers will ultimately sweep.
No. 3 Colorado College (5-1-0, 3-1-0 WCHA) at No. 12 Denver (3-3-2, 2-2-2 WCHA)
Tyler: The Jason Zucker/Drew Shore/Luke Salazar line went scoreless in both games against Minnesota-Duluth last weekend but that's a group that won't stay cold for long. The sooner Beau Bennett returns to the Pioneers, the better. He's missed the last four games because his wrist caught a teammate's skate blade in practice, according to Mike Chambers of the Denver Post. This is just a single game and CC wins an entertaining high-scoring game because their firepower overmatches Denver's.
Brian: The Tigers and Pioneers were nearly consensus picks to finish one and two in the conference with their placements interchangeable depending upon personal preference. A month and a half into the season, Denver and Colorado College are indeed neck and neck in the WCHA standings only they are tied for sixth place with six points each. Saturday's single game marks the resumption of the season-series competition between the two schools for the Gold Pan Trophy and its coveted bragging rights currently held by Denver. Although Colorado College lost twice in Denver last season, the Tigers are 14-8-4 all time in Magness Arena. But Denver is 4-3-3 in its last 10 overall meetings with CC. Current records don't matter here and neither does DU's four-game winless streak. My bold prediction? Tie