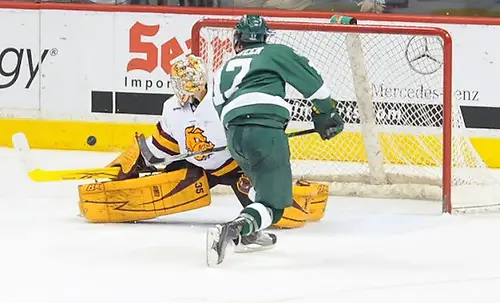 No. 4 Minnesota-Duluth (9-3-2, 7-2-1 WCHA) at No. 20 Michigan Tech (8-5-1, 5-4-1 WCHA)

Tyler: Michigan Tech has been on the run the last couple weeks and Minnesota-Duluth spent last weekend resting. Kenny Reiter has been as hot of goaltender as anyone the last month and he's out to prove the week off won't affect his hot streak. I don't expect to  UMD to slow down but this could be a bump in the road for the Bulldogs, with how well the Huskies have played defensively this season. Split
Brian: The Huskies play at home for the first time since Nov. 5 while the Bulldogs have jumped four spots in the rankings (No. 8 to No. 4) since they last played two weeks ago against Minnesota State. The teams have allowed an identical 2.36 goals per game overall and their starting goalies each boast .926 saves percentages in conference games. Although UMD's road scoring average is half a goal below its season average, the Bulldogs are giving up roughly the same amount less away from home than they are overall. Unbeaten in 10 games (8-0-2) and chomping at the bit after a week off, I don't see a bumpy road quite yet for UMD and they sweep.
Nebraska-Omaha (7-6-3, 6-3-3 WCHA) at Alabama-Huntsville (0-14-1)

Tyler: UNO put up 59 shots on the Chargers last season, and lost 2-1 in overtime. That loss left an awful taste in the Mavericks collective mouth and they won't let that happen again. UNO sweeps the neutral-site series.
Brian: As much as I hate to kick a team when it's down, this could get ugly for UAH. The Mavericks sweep this series handily. Is there anyone who can tell me why anyone in Nashville would care about this series in the least? It should be quite an atmosphere at Bridgestone Arena.
Minnesota State (3-10-1, 2-7-1 WCHA) at No. 5 Minnesota (11-4-1, 8-2-0 WCHA)

Tyler:  The Mavericks haven't lost at Mariucci Arena since Nov. 2007 but these programs have gone in completely different directions since then. Minnesota's offense will overpower Minnesota State's crumbed wall in front of the net this weekend. No surprises here. Minnesota sweep.
Brian: Although the Mavericks rank just behind Minnesota in scoring average, no one gives up more goals per game than Minnesota State (4.50) while the Gophers' defense is the WCHA's stingiest (1.90). The teams are virtually even in penalty minutes per game but it's what happens next that is the key. Minnesota's PP and PK are tops in the league while MSU's are near the bottom. Gophers sweep.
No. 10 Denver (6-4-3, 4-2-3 WCHA) at No. 8 Colorado College (7-4-0, 5-4-0 WCHA)

Tyler:  Saturday's 4-3 loss to UND was the second time CC has scored less than four goals in a game this season, going back to the season opener against Bemidji State. Rylan Schwartz recorded two hat tricks last weekend, and although he can be a streaky scorer, the Tigers have plenty of back-up, offensively. Whether Denver starts Adam Murray or Juho Olkinuora, I like CC in this one.
Brian: The Tigers will be looking to put last weekend's sweep at North Dakota behind them and, after falling to DU 5-4 in Denver on Nov. 12, will not want to fall two games behind in the battle for the coveted Gold Pan trophy over which the two schools battle. Neither team has received what could be considered consistent goaltending but I think CC finds a way to win this one at home as Denver sees its first action on an Olympic-sized sheet.
Bemidji State (5-8-1, 3-6-1 WCHA) at St. Cloud State (6-7-3, 4-4-2 WCHA)
Tyler:  Radoslav Illo's return to the lineup could give the BSU offense a boost. The Beavers have scored just four goals in the three games he's missed. The Anaheim draft pick has underachieved in his time with the Beavers and this would be a good time for him, and the Beavers alike, to bust out of the slump. Still, the Huskies are still unbeaten at home and I expect them to stay that way after the weekend. BSU's inability to score will be more exposed than Ryan Faragher's youth. SCSU sweep
Brian: After a week off, the Beavers should be eager to return to game action following their shutout of North Dakota two weeks ago. The Beavers have the special teams edge, especially when BSU heads to the box. Bemidji State's penalty kill ranks second only to Minnesota's while SCSU's power play ranks dead last at just 11.76 percent. Although the Huskies are tough at home I'm expecting the Beavers scratch out a couple of points and leave with a split.
North Dakota (6-7-1, 4-6-0 WCHA) at Alaska Anchorage (5-7-2, 2-7-1 WCHA)
Tyler: Dave Hakstol said before the season that his team wasn't the second-best team in the WCHA, contrary to the preseason WCHA rankings. He said is team had a long way to go before it reaches that point. After a home sweep of Colorado College, the Sioux made a case that they have arrived. UND's power play has struggled all season but it went 4-for-11 last weekend and the Sioux faces UAA's lackluster penalty kill (76.7 percent). UND will win one game this weekend with a good power-play performance but Anchorage is always a tough place to leave with a sweep. Split
Brian: Although sweeping CC last weekend was impressive, I haven't completely bought into the team I can refer to as the Sioux for just 29 more days. Call it a guess, a gut feeling, or simply a hunch but, while I believe the annual Sioux second-half surge is inevitable, we're not quite there yet. It looks like a split to me.