Getting noticed isn't difficult for a hockey defenseman. Fall down or get your pocket picked when you're the last skater back, or cross-check someone into next week, and they'll notice you all right.
Positive recognition proves a little tougher to attract. In the 14 years that the Patty Kazmaier Award has been tendered, defensemen have been named top three finalists six times, none since Angela Ruggiero won in 2004, the only defenseman to do so. Six of 43 finalists — there were four in 2000 —  seems a bit low, considering a third of the players on the ice at any time are defensemen.
Joel Johnson coached two finalists, Courtney Kennedy in 2001 and Ronda Curtin in 2002, during his first stint as a Minnesota assistant. Now, he is the position coach for perhaps the best group of defenders in Minnesota history.
"The thing that I've noticed this year is that we're willing to all lean into the same challenges together," Johnson said. "Where one person might fail, another member of our defensive corps seems to pick them up, and that's really been exciting. It's on the ice, and it's more importantly off the ice. I think we really are staying together."
Johnson has previously demonstrated the ability to bring together a unit. Minnesota won its first NCAA title in 2004 with only five defensemen, four sophomores and a rookie, that stood 5 feet 4 inches, 5 feet 4 inches, 5 feet 5 inches, 5 feet 6 inches and 5 feet 8 inches tall. In comparison, this season's defensemen measure 5 feet 6 inches, 5 feet 9 inches, 5 feet 10 inches, 5 feet 11 inches, and two are 6 feet tall.
"They're good — when you've got [Anne] Schleper and [Kelly] Seeler and [Megan] Bozek," said coach Eric Means of WCHA rival Minnesota State. "I think the biggest thing is just the way they snap the puck around. Those passes are coming hard, and they always seem to make that first pass. They control the pace of the game a lot back there."
According to Seeler, who hails from Eden Prairie, Minn., the ability to handle the puck is one of the foundations of Minnesota's system.
"It all starts in our defensive zone, making that first pass," the senior said. "If you don't have a good first pass, it puts the second pass at a disadvantage, and the third and the fourth. If we break out as a unit defensively, move that puck up quick and make that crisp, solid pass, I think that's been successful for us and will keep our team winning games."
Another key to the team's 17-3 start, fashioned in part by holding opponents to an average of 20 shots, is preventing them from entering the offensive zone with possession of the puck.
"Our forwards have been doing a great job in the neutral zone, especially of backchecking," Seeler said. "When they backcheck, it allows us to step up in the neutral zone. We've been working on getting our gap up and keeping that up so we're able to step up before that blue line in our defensive zone."
Her classmate Schleper, from St. Cloud, Minn., was named a First-team All American and WCHA Defensive Player of the Year in 2010, despite battling wrist injuries for much of the last couple of seasons.
"I took the summer off of basically hockey and a lot of heavy lifting just to kind of heal up," Schleper said. "I have a lot more confidence in my passing and my shooting. I'm not dropping my stick half as much. It's definitely good to be on the healthy track now."
Schleper has competed with international teams throughout her career, and earned a gold medal last April at the World Championships, and both she and Bozek were named to the United States holiday camp roster. Schleper said USA Hockey supported the decision to have surgery to repair her wrist.
"They kind of gave me a heads up that I do need that time off to heal, so that when I'm there, I can be healthy and be 100 percent and not just 80 percent," she said. "I'm really looking forward to that camp, just to kind of prove to myself that I am healthy and what I can do when I'm healthy."
Her 99 career points rank third all time for Minnesota defensemen, behind only Winny Brodt (134) and Kennedy (112).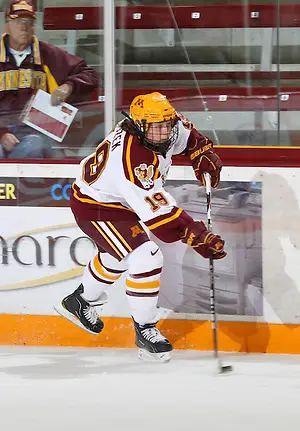 No matter where Schleper winds up on the list, she'll likely be passed eventually by Bozek, who has 24 points this season on nine goals and 15 assists, and leads the nation's defensemen in all three categories.
"I think she's moving the puck appropriately, getting it up to the forwards, and then the times that she does need to rush the puck, she's having a huge impact," Johnson said of Bozek. "I think even more so in the offensive zone, when she's hanging onto the puck, she's making really good decisions and that's sometimes something that's very difficult to do."
Earlier in her career, Bozek proved she was perfectly capable of weaving through the entire opposing team en route to the net, but more often than not, had lost all of her teammates along the way. Now, she's more inclined to let the puck do the work.
"I've learned that the puck definitely moves faster than you can skate," said the junior from Buffalo Grove, Ill.
Once possession is established in the offensive zone, opposing coaches are learning that they have to be aware of the threat presented by the Gophers' blue line contingent.
"They're so good at coming off the line," New Hampshire coach Brian McCloskey said. "The two things that impressed us most about their blue line were they're so quick laterally to get into lanes and get shots, and then they really leave the line quick when they see a seam. There's no announcement, 'I'm coming down!'"
The decision to join the rush or go to the net is easier when one is confident. Mira Jalosuo, a junior from Lieksa, Finland, acknowledges that she is playing with more confidence on the attack, but said that there are factors beyond her own development.
"The reason is that we have a great team and our forecheck is a little bit different than last year," she said. "We are much more aggressive in the offensive zone, so that's probably one of the reasons."
Johnson points to improvements made by Jalosuo as well.
"Mira has certainly got size and reach, and you see it in different aspects of the game, whether it's killing a three-on-five penalty or playing a one-on-one out of the corner," he said. "Her skating is continuing to improve. But just the smarts she has and how she uses her stick position has gotten better and better over the last couple of years. And I think she's sneaky good on the offense, too. She's able to shoot the puck, and when she does get into an open space, she's one of the few players that can take a one-time slap shot and really be accurate with it."
The defensive corps is not only talented, experienced, and tall, but deep as well. The Gophers have been getting strong play from all six regulars, including Kyle, Sask., product Baylee Gillanders.
"Last year I told her every game, 'You're a gifted hockey player and you're going to be a great defenseman in this league,'" Johnson said. "It's always hard as a freshman to believe in that, especially with some of the other talented players that we have, but in practice and in games, she's proven that she belongs. And that's both with the puck and without the puck. I think her greatest strides last year came without the puck, learning how to play defense, and this year she's really starting to play well with the puck and making break-out passes and getting involved appropriately with the offense."
This season brings another rookie with a tremendous upside in Rachel Ramsey, of Chanhassen, Minn.
"With the puck, you notice her the most, because she does have some skills that are tough to teach," Johnson said. "She's got soft hands and can stickhandle her way inside of a phone booth, and that gets her out of a lot of trouble, and sometimes gets her into a little trouble. The best part is she knows it. She comes off the ice and she knows the mistakes she's making and is a very humble kid. She's going to be a tremendous player, and as she learns how to play without the puck defensively, she's going to have a huge impact for us."
Schlepper said she often hears the comparisons between Ramsey and herself at that age.
"She's kind of been transitioning into the college game, which is tough, and I definitely know that, so I'm trying to take her under my wing a little bit and just develop her game, because she has a lot of potential yet to come here," Schleper said. "She'll be a great player."
As talented a group as the 'D' contingent is, they still see areas where they must improve.
"Give a simple pass and not stickhandle as much as we have been doing in our own zone," Jalosuo said. "Now, Noora [Räty] has been great and she has saved a lot of goals for us, but keep it simple; I think that's the key."
Playing in front of a goaltender like Räty, the team realizes how vital she is to their aspirations.
"If the other team wants to get rough in front of the net, it's our job and our priority to step in there and make sure our goalie doesn't get hurt," Bozek said. "If there needs to be a few elbows thrown, then so be it."
Seeler admits that is a part of her job that she relishes.
"I'd say that's an accurate statement," she said laughingly. "That's something that I was taught growing up, just like the cardinal rules, and one is protecting your goaltender, and I strongly believe that is something you should do."
While Seeler seems to be formed from a different mold than her counterparts, she's no less effective.
"Kelly does have our highest battle level in my opinion," Johnson said. "She's got a lot of little things that she does to make up for any lack of size that she has. She's one of our best forechecking defensemen, she competes and battles in front of the net, and to be honest, might be our best net-front 'D' as well. Even though she doesn't have the size, she makes up for it."
The defensive corps and team in general is trying to manage the fine line between playing a physical game and undisciplined play that leads to penalties. To date they've succeeded, reducing their penalty minutes per game to 8.8 from last year's 12.5 minute average.
"Just realizing that if we take penalties, good power plays are going to capitalize on their chances," Bozek said. "We've been stressing a lot this year just staying out of the box, playing five-on-five hockey, because when Minnesota plays five-on-five hockey, then we're one of the best teams in the country."