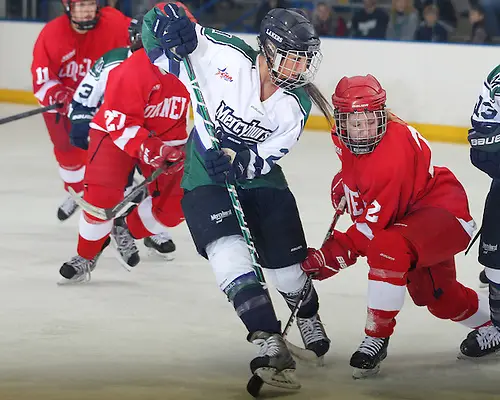 In college hockey, we are accustomed to some amount of roster turnover each season. Over the past couple of seasons, the CHA has taken that flux to a new level as teams, not just players, are coming and going.
The Niagara Purple Eagles followed the path of the Wayne State Warriors a season before and dropped their women's hockey program. This year, at least, the CHA still managed a move in a positive direction as that loss was offset by the addition of two new Division I programs. The Penn State Nittany Lions and the Rochester Institute of Technology Tigers, NCAA Division III champions in 2012, join the league's ranks. Also, the Lindenwood Lions, after essentially playing a CHA schedule in their first season of NCAA competition, are now an official league member.
Such is the state of the conference that a team like Syracuse, with four years of D-I competition in the books, qualifies as part of the old guard. Unlike many, Robert Morris coach Paul Colontino expects the competition to be fairly even.
"I think at this level, everybody has a pretty quick learning curve," Colontino said. "RIT has already got two games under their belt; they're learning about themselves. I think every team will. It is obviously different, having three brand-new teams, but what's nice is Lindenwood played a D-I schedule last year, Penn State got a lot in, and RIT was a national champion, so you know it's there with each program. It's just a matter of time before everybody else sees it. There is an adjustment period, no doubt, but all our teams have the ability to win on any given day."
Mercyhurst Lakers
Projected Finish: 1st
CHA Coaches Poll: 1st
Previous Season: 1st, 8-1-3, 19 points
Key Departures: Bailey Bram, Kelly Steadman, Hillary Pattenden, Jess Jones, Jill Szandzik, Pamela Zgoda
Arrivals: Jaclyn Arbour, Hannah Bale, Kaleigh Chippy, Jenna Dingeldein, Julia DiTondo, Kathy Donohue, Jenna Hendrikx, Emily Janiga, Lauren Kilroy, J'nai Mahadeo, Maggie Rothgery, Kelsey Welch
Key Players: Christine Bestland (24-34-58), Molly Byrne (6-28-34), Jenna Hendrikx (9-10-19, at Niagara)
Mercyhurst bears little resemblance to its offensive machine of two years ago when it featured players such as Meghan Agosta, Vicki Bendus, and Jesse Scanzano.
"We have only four players back from our quarterfinal game against BU 18 months ago, so there's been quite a bit of turnaround," coach Mike Sisti said. "We're excited to see this young team play and see how they progress through the season."
Thanks to transfers the Lakers adopted from Wayne State and Niagara after those programs folded, Mercyhurst has as many players that once belonged to conference rivals. In all, a dozen new faces debut in Erie, Pa., this season.
While at this point they are largely unproven, the Lakers remain my choice to claim the CHA title. Why? Because Sisti has managed to accomplish that in each of the previous 10 years.
"I think over the years, to be honest, we probably didn't get the credit that we deserved for having that type of streak, because we had to take on the best punches of all the best teams in our league, and that's obviously not an easy task at all," he says. "It's a credit to our players and their pride to find ways to win year after year."
Mercyhurst also has a streak of eight straight NCAA tournament appearances, having not failed to qualify once the field expanded to eight teams. The challenge to do so again without a conference automatic bid mounts this season, because while the Lakers will likely fare well in the 12 games versus new CHA members, those contests will not gain them much ground with the NCAA selection committee, putting additional pressure on the rest of their schedule.
"We realize that in order to get to the NCAA, we can't afford to lose many games at any time, regardless of in conference or out, so I think that's the key right there," Sisti said. "In order to get there, we can only lose maybe four to eight games. Over the course of a season, that's obviously a pretty daunting challenge."
Daunting to be sure, but not quite as bleak as the situation Kaleigh Chippy, Jenna Hendrikx, and Kelsey Welch faced at Niagara, where the program suddenly dissolved around them.
"It's an awful situation for them to be thrown into; they're nice kids," Sisti said. "The timing worked good for us that fortunately we were able to have room for them, bring them in here, and have them continue their college education and finish up their careers."
At the same time, the former Purple Eagles are able to strengthen their new squad.
"Having a young team, getting those players that have college experience is going to help us both on and off the ice," Sisti said. "As far as newcomers, it is too early to tell, but Emily Janiga led the PW league in scoring and certainly looks to be able to come in here, and hopefully, if she can continue her productive ways, that would be a huge help for us."
Mercyhurst always seems to be able to find someone that can help, and one way or another, they will do so again.
Robert Morris Colonials
Projected Finish: 2nd
CHA Coaches Poll: 2nd
Previous Season: 2nd, 6-3-3, 15 points
Key Departures: Brianna Delaney, Kathryn Stack, Paige Pietrangelo
Arrivals: Delayne Brian, Leah Carlson, Megan Eady, Anissa Gamble, Kelsey Gunn, Kristen Richards, Ashley Vesci
Key Players: Rebecca Vint (22-22-44), Thea Imbrogno (16-20-36), Kristen DiCiocco (1.97 goals-against average, .928 save percentage)
In Paul Colontino's first season at Robert Morris, he guided the Colonials to a program-record 19 wins, had his team in contention for the CHA regular season down to the final series versus Mercyhurst, and then coached them to the league's tournament championship.
What goals has he set for year two?
"Obviously, we want to win every game; that's every team's goal," Colontino said. "Truthfully, we kind of just take things one day at a time and basically try to put ourselves in a position to be extremely competitive for each match. I think your larger goals can be taken care of in a sense by your smaller ones. It's just to do well and increase our talent level and get better each and every day."
The talent level has been reinforced by a trio of transfers: goaltender Delayne Brian from Wayne State and former Niagara players Kelsey Gunn on defense and forward Kristen Richards, plus four rookies.
Colontino remains diplomatic when addressing which of his freshmen has the potential to burst onto the scene and make an impact in the manner of Rebecca Vint, last season's CHA Rookie of the Year.
"We'd like to believe all of them," Colontino said. "I think the year that Rebecca had was obviously really good; the timing was right, and she did a number of things obviously very, very well. I think the most important thing was we didn't put too much pressure on her early on saying, 'Hey, we expect you to do this or we expect you to do that.' With our freshmen that came in, we do have high expectations for them all. We want to push them, we want them to compete, but they've got to take it on a daily basis just as we do as coaches. We're going to work with them, push them hard, and hopefully, there's one in there that can have a season like Rebecca did."
The freshmen bring diverse skills to Robert Morris.
"We've got a girl from Alaska, [Leah Carlson], that's pretty much brand new to girls hockey, only played on a couple girls travel teams over the summer, but played boys high school," Colontino said. "We've got another D that's just a steady, solid D, Megan Eady. Then we've got Anissa Gamble and Ashley Vesci up front; those two are both steady, and they have the ability to have great success, but I think like anything, you've got to give it some time. You've got a pretty well-rounded class that can do a little bit of everything, both offensively and defensively."
So for our prediction, we'll give the Colonials some time as well, and let them draft behind Mercyhurst a little longer.
Syracuse Orange
Projected Finish: 3rd
CHA Coaches Poll: 3rd
Previous Season: 4th, 1-8-3, 5 points
Key Departures: Taylor Metcalfe, Lisa Mullan, Megan Skelly
Arrivals: Emily Auerbacher, Julie Bengis, Danielle Leslie, Melissa Piacentini, Nicole Renault, assistant coach Brendon Knight
Key Players: Holly Carrie-Mattimoe (14-11-25), Margot Scharfe (13-12-25), Kallie Billadeau (3.40 GAA, .897 save percentage)
Syracuse is coming off a disappointing league campaign that saw it win only once. The Orange had some other respectable results, with ties against Mercyhurst and Robert Morris and narrow defeats to each plus a road win at Quinnipiac, but the team's overall wins decreased by four for the second consecutive season.
Players leaving Syracuse early remains a concern, as four non-seniors are no longer on the team. The departed quartet had just 33 points between them, so it isn't as damaging as the loss of leading scorer Isabel Menard a year earlier, but such defections complicate building a program.
Goals scored and allowed each made a double-digit move in the wrong direction from the prior season, so there is nothing to suggest that the Orange are on the verge of challenging for the title. However, with the influx of new programs into the league, Syracuse should be able to claim some victories and build confidence.
For that reason, the Orange look to be able to finish in the top half of the league in 2013, but they'll need to improve for that to continue in future seasons.
Rochester Institute of Technology Tigers
Projected Finish: 4th
CHA Coaches Poll: 4th
Previous Season: RIT competes in the CHA for the first time, 28-1-1 versus D-III opponents
Key Departures: Ali Hills, Megan Kobar, Jamie Parhar
Arrivals: Katie Hubert, Kristina Klishko, Casidhe Kunichika, Jess Paton, Carly Payerl
Key Players: Kourtney Kunichika (20-25-45), Kolbee McCrea (24-14-38), Laura Chamberlain (1.09 GAA, .951 save percentage)
All of the new programs in the CHA are riding a wave of optimism, but none more so than the Tigers of RIT.
"The excitement around our program is huge right now," said coach Scott McDonald. "Our program has never been better, it's never been stronger, and we're so excited to move to the CHA and letting us right into the league without having to do an independent year, making us eligible for playoffs right away."
The Tigers know the importance of qualifying for playoffs, as they earned the tournament crowns of the ECAC West and the NCAA in their final season in D-III, and the team retains much of the strength that yielded such success.
"I think the timing couldn't have come at a better time for us," McDonald said. "All three captains are back from last year. The core group of your girls that are the leading scorers or your top defensemen, they're all back. We have a lot of experience, even though it's Division-III. We've been in national championship games, we've been in the playoffs, we've been under some pressure of learning how to win close games."
Beyond the normal recruiting class, RIT has not made large-scale changes to its roster for the move.
"We've had players on the team that I think should be playing Division-I or could be playing Division-I and now they are and we have something to prove," McDonald said. "We're going to compete here and we belong here. I think early on, it will be a good test for us, but once we get a couple games under our belt, I'm hopeful that we will surprise some teams and exceed our expectations."
At the same time, McDonald has very realistic expectations on what the 2012-13 season may bring.
"If we're the blowout game now on the other end, then that's what it's going to be," he said. "We're not going to cry about it; we're not going to complain about it. That just is going to force us to get better. Being on the other end of that for a couple of years, being the dominant team, you don't learn anything from those games. That's not competition. It's hockey, but it's not. We want real hockey. We're excited about the step up in competition. We're going to take our licks. I know we are. But we'll take it and get better from it and learn from it."
Lindenwood Lions
Projected Finish: 5th
CHA Coaches Poll: 5th
Previous Season: Lindenwood plays its first official season in the CHA
Key Departures: Kendra Ganchar, Mara Post
Arrivals: Nicole Hensley, Lyndsay Kirkham, Brooke Peden, Jocelyn Slattery, Rachel Weich, Chloe Williams, Chelsea Witwicke, assistant coach Cory Whitaker
Key Players: Alison Wickenheiser (19-17-36), Alyssa West (8-16-24), Taylor Fairchild (6.60 GAA, .865 save percentage)
Lindenwood played enough of a schedule versus D-I opponents to know all about being on the wrong end of a blowout. Eight of its losses were by more than seven goals, including five by double digits.
For their first full-time season in D-I, the Lions add five freshmen and two transfers, sophomore Jocelyn Slattery from Connecticut and junior Chelsea Witwicke from Niagara.
"We are very excited about Jocelyn," said coach Vince O'Mara. "She will come in as one of our top forwards and her experience is a big plus. We look for her to be a leader on the ice and in the gym. She is a smart, hard-working player with a scoring touch."
Having played 55 games while a Purple Eagle, defenseman Witwicke becomes the most seasoned player on the Lindenwood roster.
"We are also very excited about this signing," said O'Mara. "Her skill and experience will have an instant impact on our team."
Of the freshmen, the addition of Nicole Hensley may be the most key, because a team that is likely to give up 50 or more shots in a game, as the Lions often did to D-I opponents, can never have too many goaltenders. She joins the rotation with sophomores Taylor Fairchild and Briar Bache.
If Lindenwood was able to take positives from their frequent shellackings last year, then it should be ahead of Penn State on the learning curve. Expect the Lions to finish closer to sixth place than to fourth.
Penn State Nittany Lions
Projected Finish: 6th
CHA Coaches Poll: 6th
Previous Season: Penn State competes at the NCAA level for the first time
Key Departures: N/A
Arrivals: everyone
Key Players: Nicole Paniccia (2.56 GAA, .926 save percentage), Jenna Welch (2-0-2), Taylor Gross (1-1-2); all three are juniors transferring from Connecticut.
For Penn State, this will be the first season not only in the CHA, but also of varsity competition.
"With our first games just around the corner, there is tremendous excitement and anticipation," said coach Josh Brandwene. "We have a schedule that will provide great challenge, and our goal is to work hard and improve every day in order to be playing our best hockey of the season at league playoff time."
The 20-game slate of CHA games means the Nittany Lions will have eight meetings with Mercyhurst and Robert Morris combined, and those contests would appear to be a mismatch. However, a series at St. Lawrence in December is the only time they will have to battle an NCAA tournament team outside of those encounters with the Lakers.
In facing a D-I schedule for the first time, Penn State has a number of advantages over the Lindenwood team that met the same obstacles a season ago. While Lindenwood had no varsity experience on its roster, Penn State has three transfers from Connecticut, two forwards and a goaltender.
"We are very fortunate to have D-I experience on our roster in Taylor [Gross], Jenna [Welch], and Nicole [Paniccia]," Brandwene said. "They are terrific mentors to our younger players."
Assistant coach Gina Kearns can relate to the challenges facing her roster, because she played at Boston University when the Terriers program was just starting out.
"Gina Kearns' playing experience and success in a then-new program is a tremendous asset for us," Brandwene said. "She is a great teacher of the game and a perfect fit on staff here."
Beyond the hockey program, Penn State has an established athletic department at the NCAA level, while all sports at Lindenwood are transitioning to the NCAA.
"Additionally, the support Penn State Athletics provides its student-athletes and coaches is outstanding and a great resource for our program," Brandwene said.
Although Penn State should be able to compete with the league's other Lions and perhaps the Tigers as well, I look for enough growing pains to prevent an escape from the basement in year one.