Left wing Matt Lane is never going to wow anybody with his shot or bowl over a big defenseman while charging to the net.
Nor is he likely to find his name at the top of the Boston University scoring list during the next four years.
But if you're looking for someone who excels at the myriad of hockey minutiae that makes all the difference between success and failure, winning and losing, then Lane is your man.
What the estimable Jack Parker already knew about the incoming Terriers freshman is something that NHL talent evaluators would like to know as they prepare for next summer's NHL Entry Draft.
That's one reason why Lane was among the 40 U.S.-born players given the chance to strut their stuff before the hockey world — or at least an important slice of it — during last Saturday's inaugural CCM/USA Hockey All-American Prospects Game at the First Niagara Center.
And while the 200-plus NHL scouts and executives — as well as the 5,519 paying customers — already had the book on the likes of eye-popping defenseman Seth Jones and scintillating forward J.T. Compher, Lane, who hails from nearby Rochester, N.Y., made the most of his opportunity to shine.
Lane and his Team McClanahan mates rolled over Team Housley 5-2 in a game that Lane said he tried to tackle as he would any other — be it the Mississauga Reps for whom he skated as a 15-year-old, or against archrival Boston College in a Beanpot final.
"I approached it like any other game," said Lane, who garnered an assist for the McClanahans. "You warm up [the same]. Play to your strengths just like any other game. I thought I played OK. It took me a little bit to get my legs going. But it was my first game and obviously there were a lot of people watching, so you want to play hard and you want to play smart. You've got to show them what you've got.
"I took it pretty seriously."
No less serious is the task that lies immediately ahead for Lane, who will be one of 10 Terriers freshmen this year.
Lane, who has yet to fully fill out his 5-foot-10, 170-pound frame, earned his place at BU after strong stints the past two years with the U.S. Under-17 and U-18 teams.
He said he hopes that his Prospects Game experience will give him plenty of lift as he heads back to BU.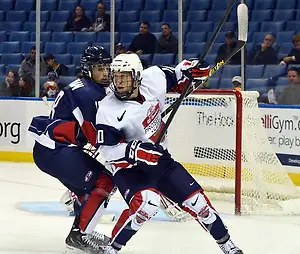 "Hopefully it helps my legs going," he said. "No matter who you're playing for or what the coaches are, you want to show them what you've got."
Lane said he is looking forward to facing the pressure of high-level college hockey.
"I can't wait to get in there," he said. "I chose BU [because] I thought it was the right place for me [and] I love it so far. We're a national championship contender every year. So that's where we want to be. We want to make the [NCAA] tournament."
As for expectations, Lane said that with such a young squad, there should be plenty of opportunities to play meaningful minutes, and that he aims to earn as much as he can.
"We should be young," he said, "but we'll be ready to go. We haven't been given any indication of playing time or anything like that. But hopefully I'll be in the lineup a lot and get a lot of ice time."