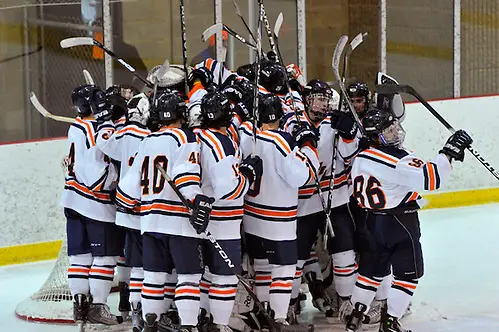 The ECAC West will have a slightly new look this season. The conference still doesn't have an automatic bid to the NCAA Division III Tournament, but it has a sixth school again in nascent program Nazareth. It's the first time the league will be at at a half-dozen teams since Lebanon Valley College downgraded to club status in 2010.
Manhattanville has its third head coach in three years in former Valiants skater Arlen Marshall, while Nazareth make its inaugural foray into NCAA hockey under former Clarkson University head coach George Roll. Utica will look to build on its 32 wins combined the past two seasons, while 2008-09 NCAA Division III champion Neumann will be seeking its eighth straight winning campaign.
Elmira will be looking to get back to the national tournament for a sixth straight season, after a second straight trip to the NCAA Quarterfinals and a top-10 final national ranking. Hobart College won an ECAC West Tournament last season that was rife with upsets, ultimately blanking Neumann, 5-0, in the title tilt. The questions now are, can the Statesmen repeat as league champs? And can the league again get back to the NCAAs, and go even further?
Hobart College Statesmen
2012-13 Coaches Poll: 1st
2012-13 USCHO Predicted Finish: 1st
2011-12 Overall Record: 16-10-1
2011-12 ECAC West Record: 5-6-1
2011-12 ECAC West Finish: 3rd
Key Departures: Greg Ciciola (15 goals, 9 assists)
Arrivals: Lino Chimienti, Alex Feighan, Ben Gamache, Mac Olson, Alex Quinn, Bo Webster
Key Players: Frank Salituro (11 goals, 15 assists), Brad Richard (11 goals, 11 assists), Tommaso Traversa (10 goals, 10 assists), Martin Ausserhofer (10-5-1, 2.34 goals-against average)
The Statesmen finished one conference game under .500 in the regular season, then defeated both Manhattanville and Neumann to claim the ECAC West tournament crown. Mark Taylor is back for his 14thyear at the Hobart helm, having gone 177-116-30 overall with four NCAA tournament appearances entering this season.
He'll have nine of his top 10 scorers back from a year ago, as the Statesmen attempt to not only repeat, but get back to the NCAA tournament for the first time since 2008-09. Hobart, which also had the top power play (23.2 percent) and penalty kill (86.9 percent) in the ECAC West in conference games last year, also returns top goaltender Martin Ausserhofer for his final campaign.
Utica College Pioneers
2012-13 Coaches Poll: 3rd
2012-13 USCHO Predicted Finish: 2nd
2011-12 Overall Record: 15-9-2
2011-12 ECAC West Record: 4-6-2
2011-12 ECAC West Finish: 4th
Key Departures: Tim Coffman (11 goals, 22 assists)
Arrivals: Gordon Ceasar, Nick Miglio, Donny Olivieri, Joel Wetmore
Key Players: Evan Chlanda (16 goals, 18 assists), Trever Hertz (12 goals, 18 assists), Jon Gaffney (13 goals, 10 assists), Evan Smith (9-6-2, 2.43), Nick Therrien (6-3-0, 2.92 GAA)
Utica will be looking to rise above last year's fourth-place finish that ended with a 4-3 overtime loss to Neumann in the ECAC West tournament.
"We're returning 22 guys, and have our goalies and our leading scorer back," said coach Gary Heenan, now in his 13thyear at Utica. "I like this group. It's probably the oldest we've had since 2005."
Top goaltender Evan Smith is indeed back, as is 2011-12 leading scorer Evan Chlanda, who paced the Pioneers in both goals and points. Eight of the Pioneers' other top 10 point-producers from last winter also return, as does netminder Nick Therrien, who appeared in 15 contests a year ago.
"It'll be a fight every single night, and Nazareth will add to that," added Heenan of the ECAC West. "I like our group. I like our leadership, and it's about just being prepared every game."
Neumann University Knights
2012-13 Coaches Poll: 2nd
2012-13 USCHO Predicted Finish: 3rd
2011-12 Overall Record: 15-8-3
2011-12 ECAC West Record: 3-6-3
2011-12 ECAC West Finish: 5th
Key Departures: Marlon Gardner (11 goals, 15 assists), Cory Park (13 goals, 10 assists), Ross MacKinnon (9-4-3, 2.94), Matt Tendler (6-4-0, 2.98 GAA)
Arrivals: N/A
Key Players: Jordan Zalba (10 goals, 13 assists), Mike Rey (4 goals, 19 assists), Andrew Love (10 goals, 8 assists)
"We are excited about the coming year," said fifth-year Neumann coach Dominic Dawes. "We have a mix of experience and youth (10 seniors and 8 freshmen)."
The Knights lost their top two scorers, and three of their top five; but still return six skaters who attained double digits in points. Five defensemen who played last year are also back, although Neumann graduated its top two netminders.
"We're looking for some of our more experienced players to take the next step, and for us to be successful, we will need some of our young guys to make an immediate impact," added Dawes. "The league as always will be one of the toughest and most competitive in the nation."
Elmira College Soaring Eagles
2012-13 Coaches Poll: 4th
2012-13 USCHO Predicted Finish: 4th
2011-12 Overall Record: 15-9-3
2011-12 ECAC West Record: 8-2-2
2011-12 ECAC West Finish: 1st
Key Departures: Kevin Willer (12 goals, 21 assists), Darcy Vaillancourt (8 goals, 21 assists), Brendan Sanders (13 goals, 12 assists)
Arrivals: Nick Angelo, Liam Burtt, Steve Carlette, Michael Collins, Brian Depp, Erick Eriksson, Taylor Love, Jordan Robertson, Carter Shinkaruk, Rob Simpson, Tommy Sumi, Jarryd ten Vaanholt, Greg Whittle
Key Players: Darren McDonald (11-8-2, 3.11), Jesper Strale (9 goals, 10 assists), D'Arcy Oakes (7 goals, 6 assists), Wes Consorti (8 goals, 4 assists)
The Soaring Eagles, fresh off their fifth straight appearance in the NCAA Tournament, will have to do without their top three scorers from a year ago, and five of their top six point producers in all. Elmira lost nine skaters from last year's roster, and fifth-year head coach Aaron Saul will welcome no less than 13 freshmen for 2012-13.
All three goaltenders are back at Murray Athletic Center this year, led by Darren McDonald, who has played in 49 career games entering this fall. Elmira will also look to maintain its prowess on special teams, as the Soaring Eagles led the ECAC West in goals per conference game on both offense (4.23) and defense (2.92) in 2011-12.
Manhattanville College Valiants
2012-13 Coaches Poll: 5th
2012-13 USCHO Predicted Finish: 5th
2011-12 Overall Record: 13-9-3
2011-12 ECAC West Record: 6-6-0
2011-12 ECAC West Finish: 2nd
Key Departures: Pierre-Olivier Lemieux (13-8-3, 2.98), Evan Michalchuk (5 goals, 18 assists), Dillon O'Hara (1 goal, 13 assists), Marcus Von Sydow (6 goals, 7 assists)
Arrivals: Paul Allan, Matt Coleman, Aaron Enns, Nick Giuffrida, Phil Lux, Mitch Snider, Kurt Williams
Key Players: Scott Hudson (14 goals, 16 assists), Brendan Turner (11 goals, 16 assists), Luc Van Natter (10 goals, 11 assists), Brett Skalski (10 goals, 10 assists), Mark Rivera (10 goals, 10 assists)
Former Manhattanville captain, 100-point scorer, and assistant coach Arlen Marshall takes the reins in Purchase, N.Y. after Eric Lang resigned in June following one year at the helm.
"I was very fortunate with the timing, and I'm excited to get started," said Marshall, who was promoted in August and is just the third men's hockey head coach in school history.
The biggest concern is replacing workhorse netminder Pierre-Olivier Lemieux, who played in 68 games over the past three seasons and posted 41 victories. The Valiants still return seven of their top 10 scorers from last season, including leading scorer Scott Hudson.
"Our goal is to get better every day, and that's what we preach to them," said Marshall. "Every conference game is like a mini-war, and it will probably be even stronger with Nazareth . It's going to be a strong conference again, and it should be fun."
Nazareth College Golden Flyers
2012-13 Coaches Poll: 6th
2012-13 USCHO Predicted Finish: 6th
2011-12 Overall Record: First Season
2011-12 ECAC West Record: First Season
2011-12 ECAC West Finish: First Season
Key Departures: First Season
Arrivals: First Season
Key Players: Andrew Francis, Tom Seravalli, Ben Waldman, Reed Smith, Jordan Ciccarello
"We feel there will be some growing pains being a member of the ECAC West, arguably the best league in D-III top to bottom," said inaugural Nazareth head coach and former Clarkson mentor George Roll. "We are pleased to date with our team, and feel we have the capability to compete night in and night out."
The Golden Flyers will feature a roster with more than 25 freshmen, but also five players who skated at the NCAA level last season.
"We will be a hard-working team that will need to manufacture goals by working hard and getting to the net," said Roll. "We have very good leadership with Ben Waldman (formerly of Fredonia), Jordan Ciccarello (from Sacred Heart) and Scott Dawson serving as captains.
"We will need contributions for all four lines, and will need scoring by committee," added Roll. "We feel we have strong goaltending with both Ed Zdolshek and Joe Gladnick."