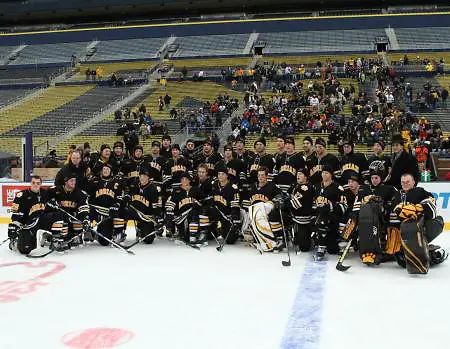 There are a few shared themes throughout the MCHA when looking at the 2012-13 season: Youth, change, and excitement can be felt collectively throughout the conference.
The always-successful Adrian Bulldogs have 18 underclassmen on their roster. They will look to pull on the experience of the 14-member sophomore class as they strive to take back the Harris Cup and continue to be a dominant force in the conference.
Concordia has added 21 freshmen to its roster and hired a new head coach, Jasen Wise last spring. It will be a rebuilding year for the program, but an exciting time to see where Wise can take the 2011-12 last place team.
Marian University will look to improve on the 2011-12 season with the hiring of A.J. Aitken, who comes from the defending national championship St. Norbert coaching staff.
While talking with a few of the coaches and doing some research on the MCHA, the excitement for this season can be felt. Although I expect Adrian and MSOE to be fighting it out for the Harris Cup again this year, I wouldn't be surprised to see lower-ranked teams, such as Lawrence, contend and battle it out in the playoffs.
Adrian College Bulldogs
Coach: Ron Fogarty, sixth season overall and at Adrian (122-18-3)
2011-12 overall record: 20-6-1
2011-12 MCHA record: 17-2-1
2011-12 MCHA finish: First
2012-13 predicted finish: First
Key Departures:  Chris Stansik (5-26-31), Jordan Watts (13-12-25).
Arrivals: Pat George , Chris Leone, Shaquille Merasty
Key Players: Senior forward Zach Graham (15-27-42), junior forward Josh Cousineau (11-20-31), sophomore forward Shelby Gray (13-16-29), sophomore goalies Scott Shackell (13-3-2, 2.07 goals-aainst average, .931 save percentage) and James Hamby (7-3-3, 2.80 goals-aainst average, .904 save percentage)
Adrian has long been a dominant force in the MCHA, as they earned the regular season championship title for the fifth year in a row. The Bulldogs lost to MSOE in the Harris Cup championship last spring, losing a spot in the NCAA tournament.
"The biggest challenge this season will be the task at hand each and every game," coach Ryan Fogarty said of the upcoming season. "We want to take back the Harris Cup this year, and make it to the tournament, but to be successful we need to focus on the game in front of us."
It comes as no surprise that Adrian was picked to place first in the Coach's Preseason Poll.
"We'd rather be ranked number one in the postseason poll." Fogarty said. "That's the one that counts and is more important. Being ranked in preseason is nice, but doesn't mean much."
Milwaukee School of Engineering (MSOE) Raiders
Coach: Mark Ostapina, 18th season overall (235-204-20) and 12th with MSOE (172-120-12)
2011-12 overall record: 22-7-1
2011-12 MCHA record: 16-3-1
2011-12 MCHA finish: Second
2012-13 predicted finish: Second
Key Departures:  Senior forward Todd Krupa (15-16-31), senior goaltender (3926, 1.98, 22-7-1)
Arrivals: Mike Wilkins, Derek Tykla, Evan Wilson, Cody Ganchar, Nick LaRue, Sean Van Eysden, Casey Moneer, Zach Polak, Nick Kohn
Key Players: Junior forward Jordan Keizer (23-22-45), sophomore forward Josh Keizer (15-16-31), sophomore forward Cole Gibson (13-14-27)
Last season, the Raiders made it to the NCAA tournament for the first time in program history, and fell to Gustavus Adolphus, 3-1, in the first round. Coach Mark Ostapina believes that the loss was bitter, but hopeful.
"The boys got themselves in a situation where as soon as they lost, they refocused and dedicated themselves to get back there," Ostapina said.
MSOE was voted to finish second this season, but Ostapina doesn't let polls weigh heavy on the team's mind.
"There is always something to prove; we play one shift, one period at a time," Ostapina said. "There will be a lot of parity in the league this year, and the season will be difficult.
"(The biggest challenge of the season) Being able to compete day-in and day out. Hockey is becoming stronger and stronger in the West, and on any given weekend if you aren't 100 percent prepared, you'll find yourself in the loss column."
Lawrence University Vikings
Coach: Mike Szodzinski, seventh season overall and at Lawrence (76-79-13)
2011-12 overall record: 13-11-4
2011-12 MCHA record: 11-6-3
2011-12 MCHA finish: Fourth
2012-13 predicted finish: Third
Key Departures: Senior forward Matt Hughes (15-12-27)
Arrivals: Steve Hughes, Logan Lemirande, Rudi Pino, Renato Engler, Brandon Boelter, Ryan Rumble, Matt Moore, Luke Bjorklund
Key Players: Senior forward Brad Scurfield (13-19-32), senior forward Phil Bushbacher (13-12-25), junior defenseman William Thoren (3-16-19), sophomore goaltender Peter Emery (12-9-3, 2.37 goals-against average, .924 save percentage)
Lawrence was chosen to finish third in the coach's poll this season, but that won't weigh heavy on the mind of the team as coach Mike Szodzinski doesn't let the rankings dictate locker room.
"It is nice to be recognized by your peers, but the rankings do not determine who wins and who loses," Szodzinski said. "We focus on our game plan and execution. We are more concerned about our on-ice play than the rankings."
As a common thread through many of the top teams of the MCHA, youth will be a factor for the Vikings.
"We are definitely a young team, having just eight upperclassmen on our roster; we will need to find new leaders and guys who do things the right way all of the time," Szodzinski said. "Any successful team needs solid leadership, and we are watching to see who can fill the roles of our graduated seniors from last year."
This Vikings roster has one of the more veteran scorers coming from their junior and senior class.
"Every night will be a battle in our league; we will not be able to take any days off if we expect to be in the hunt come February," Szodzinski said. "All of the teams in this league have improved tremendously over the past few years. We simply need to be fully prepared each and every night if we want to reach our goals."
Marian Sabres
Coach: A.J. Aitken, first season overall and at Marian (0-0-0)
2011-12 overall record: 13-9-4
2011-12 MCHA record: 12-5-3
2011-12 MCHA finish: Third
2012-13 predicted finish: Fourth
Key Departures: none
Arrivals: Pontus Stromsten, Cody Sokolik, Brett Capbell, Joey McEwan, Jake Bruhn, Lucas Merta, Daniel Norling, Warren Carter
Key Players: Senior forward Dakota Dubetz (14-20-34), sophomore forward Brian Berger (17-10-27), senior forward Brendan Roberts (11-12-23)
New head coach A.J. Aitken is coming to Marian with a championship mindset. Last season,  Aitken was associate head coach at St. Norbert as they won their second consecutive NCAA Division III national title and third in the last five years.
With no key seniors leaving the Sabres squad, Aitken will have an experienced group moving into the season. Marian was third in the MCHA and first in the North Division, which leaves this veteran team hungry for success.
The goaltending could be a high point of the team. With junior Josh Baker and sophomore Randy Willis each having time in net last season, they averaged a combined 2.99 goals-against average last season.
Concordia University Falcons
Coach: Jasen Wise, first season at Concordia; holds a 119-88-14 record in a nine-season career
2011-12 overall record: 2-20-3
2011-12 MCHA record: 2-16-2
2011-12 MCHA finish: Eighth
2012-13 predicted finish: Fifth
Key Departures: none
Arrivals: There are 21 freshmen on the Falcons roster
Key Players: Junior forward Russell Johnson (13-6-19)
"We are excited about the season; the thing about having a bunch of freshmen is that everyone is excited all the time," coach Jasen Wise said of his inaugural season. "I think that will translate in the games and it should be a fun process to be a part of."
With 21 freshmen, the team will have no shortage of challenges this season; the squad will lack the seniority and some tradition. However, Wise has distinct expectations for his roster.
"Expect to see a team that will work really hard," Wise said. "We specifically targeted kids that come to the rink everyday ready to bust their tail."
Concordia began its schedule facing defending NCAA Division III champion St. Norbert. The Falcons fell, 4-0. One positive from the nonconference game was freshman goaltender Jake Hebda, who made 31 saves in the tilt.
Lake Forest College Foresters
Coach: Ryan McKelvie, second season overall and at Lake Forest (5-22-0)
2011-12 overall record: 5-22-0
2011-12 MCHA record: 4-16-0
2011-12 MCHA finish: Seventh
2012-13 predicted finish: Sixth
Key Departures:  none
Arrivals: Austin Severson, Keil Zornow, Ian Pichel, Alec DAngelo, Will Seeber, Robert Wiener, Cody Blom, Leo Podolsky
Key Players:  Sophomore forward Jason McAloon (11-9-20), senior forward Tom Bark (4-14-18), senior goalie Brendan Sullivan (4-5-1, 3.48 goals-against average, .906 save percentage)
With one season under his belt, coach Ryan McKelvie will be looking for his 13 sophomores to have an impact this season. The leading scorer from last season, Jason McAloon (11-9-20) will be looked to have another stellar season for the Foresters.
Already having a 5-0 nonconference loss against Wisconsin-Stevens Point, the Foresters will need to find discipline to see success this season. The Foresters were only able to get nine shots on goal in the tilt.
There are three goaltenders on the Lake Forest roster, with senior Brendan Sullivan between the pipes for 10 games last season. Rookie duo Leo Podolsky and Austin Severson will also be called upon to share goaltending duties with Sullivan.
Finlandia University Lions
Coach: John McCabe, third season overall and at Finlandia (10-39-1)
2011-12 overall record: 7-18-1
2011-12 MCHA record: 7-13-0
2011-12 MCHA finish: Fifth
2012-13 predicted finish: Seventh
Key Departures: none
Arrivals: Albert Boyamyan, Shigenobu Kakudate, Richard Young, Scott Vargas, Andrew Huckleby, Ryan Daavettila, Dino Burggrabe, Colin Minardi
Key Players: Junior forward Collin Saint-Onge (10-14-24), junior forward Sean Burke (9-14-23).
The sophomore duo of Collin Saint-Onge and Sean Burke will all be returning after being the Lions two top scorers last season. Saint-Onge led the pack with 24 points from 10 goals and 14 assists followed closely by Burke who tallied nine goals and 14
assists.
It is to be expected that sophomore goalie Cedriik LaFrance will be starting in net for the Lions; he split time with senior Mike Wuthrich last season. Sophomores Dainis Vasilievs and Jordan Marr will both be looking for time to prove themselves between the pipes, as will junior Troy Chandler.
Goaltending could be a struggle for Finlandia, with a combined 4.12 goals-against average last season.
Northland College Lumberjacks
Coach: Steve Fabiilli, eighth season with Northland (28-150-8) and ninth overall (42-157-1)
2011-12 overall record: 6-16-3
2011-12 MCHA record: 5-13-2
2011-12 MCHA finish: Sixth
2012-13 predicted finish: Eighth
Key Departures:  Senior forward Colin McIntosh (16-20-36), junior forward David Little (9-13-22)
Arrivals: Mason Riley, Chris Palm, Mike Kucil, Ryan Palm, Reed Armstrong, Mike Mikulan, Thomas Greene, Brandon Fehd, Nicholas Noto, Matthew Schwartz, Jesse DiLillo
Key Players: Senior forward Kraig Wright (11-26-37), junior forward Chad Liley (9-13-22)
Senior forward Kraig Wright currently holds Northland's individual season points record with his 11 goals and 26 assists last season. The Lumberjacks will be looking at his scoring ability for an equally impressive point production this season as their next two top scorers, Colin McIntosh and David Little, aren't returning to the roster.
Goaltending will be a question mark for the squad this year, as their starting goalie last season, Ian Perrier, is no longer on the roster. Perrier played 21 games for Northland, totalling a 5-13-3 record. The options between the pipes this season are senior Shane Buckley, who played in two games last season, sophomore Vincent DeCarlo, and freshmen Jesse DiLillo and Mason Riley.