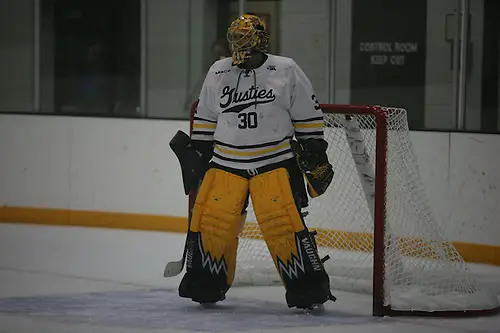 It wasn't as if the 2-1 win amounted to a major upset, though, as the Gusties were ranked No. 5 in the country. The thing coach Brett Petersen wants people to remember however, is that although his team got the win, it wasn't the better team on the ice that night.
"We got outplayed and everyone in the building saw that," Petersen said.  "Make no mistake, St. Norbert is a very good team and we were fortunate to get the win. The hockey gods smiled down on us that night and everything lined up right for us."
The Gusties were outshot, 40-19, in the win, but the bottom line is they did win and are now 3-1 on the season. They are the defending Minnesota Intercollegiate Athletic Conference tournament champions and they won a game in the NCAA tournament last season.
The thing that saved the Gusties against St. Norbert was goaltending. It is arguably their biggest strength. Three players have seen time in goal for Gustavus, including Patrick Sullivan, who racked up 39 saves in the win on Saturday in what was his first start of the year.
Tyler Venne has also played in a game and has given up one goal while tallying 28 saves. John McClean has appeared in two games and has come up with 48 saves. McClean has allowed three goals.
"Goaltending is very important and we have good depth at that position," Petersen said. "We hope can continue to get good goaltending for now and that it will buy our forwards some time to become more productive. When you have good goaltending, you aren't forced to score five or six goals to win, but we know there are going to be nights where we will need to score."
At the moment, the Gusties are still trying to figure out things offensively after losing Ross Ring-Jarvi (11 goals, 22 assists) to graduation.
Gustav Bengston has scored two goals to go along with three assists, while Zach May and Ryan Johnson have scored two goals each. A total of just eight players have scored goals for the Gusties this season.
"We are trying to rotate different guys in there; we've probably used almost everyone on our roster," Petersen said. "We won't settle into a lineup until we see some clarity with guys that can produce on a consistent basis. It's going to take some time to find it."
Health issues haven't helped either.
"We have some players banged up and we are using guys in different roles," Petersen said. "Injuries are always a concern, but if we can get healthy and be productive on offense, we feel like that maybe we will be able to make a push late in the year for a conference title and playoff berth."
Doing More With Less: Last season, St. Mary's managed to score only one short-handed goal during the season. In a 5-2 win over St. Scholastica on Saturday, the Cardinals punched in two short-handed goals to help secure the win.
The Cardinals currently have three short-handed goals and five power-play goals. Bobby Thompson and Bob Marx have come through with two power-play goals apiece to pave the way.
Solid Debut: St. John's goalie Mitch Thompson came up big in his first start for the Johnnies, tallying 27 saves in a 2-2 tie against Wisconsin-Stout on Friday night. Thompson is a junior transfer from the Wisconsin Badgers, and he had a save percentage of .931 in the victory.
Good effort: St. Olaf goalie Steve Papciak racked up 36 saves as the Oles edged St. Scholastica on Friday night. Papciak has appeared in two games this year, and has given up four goals while tallying 73 saves. The sophomore appeared in seven games last season, and finished with a goals against average of 2.72.
Big Win: Concordia won their first game of the season in style on Friday night, knocking off No. 9 St. Thomas, which entered the year as the favorite to win the conference championship.
The game didn't count in the conference standings.
The Cobbers nailed down the win when Jordie Bancroft scored the game-winner with 2:59 to go in the third period. Concordia has not lost in its last six meetings against the Tommies, fashioning a 5-0-1 record during the stretch. Bancroft has two goals and two assists on the year.