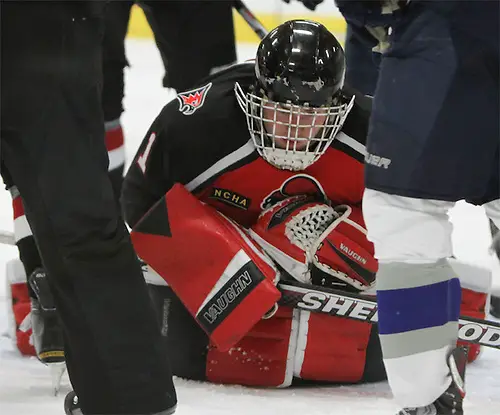 The Wisconsin-River Falls Falcons moved up three spots in the latest USCHO.com Division III poll on the strength of an impressive 4-0 start.
In the latest poll, released Monday, Wis.-River Falls climbed to No. 9, and is the second-highest ranked team in the Northern Collegiate Hockey Association, behind No. 3 St. Norbert.
Okay, you could look at whom the Falcons have played and say their fast start is a mirage. Wis.-River Falls hasn't played an NCHA opponent this season, but after sweeping Minnesota Intercollegiate Athletic Conference foes Bethel and Hamline last weekend, the Falcons enter NCHA play with a shot of confidence.
They'll need it.
On Friday, Wis.-River Falls heads to De Pere, Wis., for a weekend series with powerhouse St. Norbert. This will be a litmus test to see how good the Falcons really are. The Green Knights (4-1, 2-0 in the NCHA) are coming off their first loss of the season, a 2-1 setback to No. 5 Gustavus Adolphus on the road.
However, St. Norbert is nearly flawless at home. They almost never lose at the Cornerstone Community Center.
However, the Falcons have to feel better about their chances after going 2-0-1 against St. Norbert last season. They defeated and tied the Green Knights on their home ice and, for the first time in program history, left Cornerstone Community Center as winners, earning a hard-fought 4-3 victory in overtime.
I'm sure Falcons coach Steve Freeman watched game film from last season's three contests to determine exactly what his team did to knock off the "Mighty Green."
While it's still early, the Falcons have to be pleased with their defense and goaltending. After making an impact as a freshman, sophomore defenseman George Malliaras has raised his level of play. Through four games, Malliaras has seven assists.
As a unit, the Falcons' defense is 20-for-22 on the penalty kill (90.9 percent).
In goal, junior Scott Lewan has posted an outstanding 1.25 goals-against average, boasting a .948 save percentage. Lewan's played so well that Freeman hasn't let anyone else between the pipes.
Offensively, senior forward Adam Cardwell has stepped up for the Falcons. Cardwell has three goals and four assists (seven points) in four games.
One area the Falcons need to improve on is their power-play efficiency. Through four games, Wis.- River Falls is four-of-14 (28.6 percent) on power-play opportunities.
While the Falcons' solid defense and goaltending has suited them well, they will have to increase their power-play efficiency to really contend in the NCHA, perhaps the toughest conference in D-III.
After visiting St. Norbert, the Falcons have six straight games against NCHA competition, before facing Augsburg on Dec. 13. The Auggies aren't pushovers, having forced overtime before losing, 4-3, to St. Norbert last weekend.
Heading into this weekend's clash with the Green Knights, it's safe to say even one win in De Pere would likely propel Wis.-River Falls into the top five of the best teams in the country. Two wins would send shockwaves around D-III.