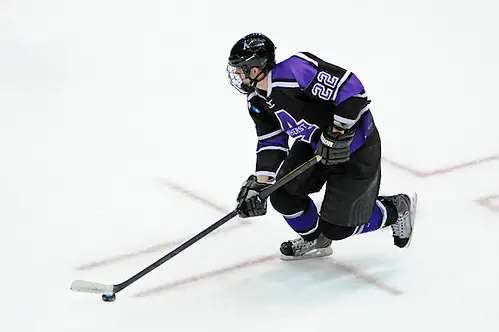 Always the last conference to kick off its regular season, the NESCAC comes together this year as maybe the most balanced conference in the nation. Last season saw two new coaches join the conference and add to its illustrious group of hockey minds.  This season sees the addition of former Mass.-Lowell coach Blaise MacDonald to the Colby helm adding his vast D-I experience to the league's coaching portfolio, which already includes Jack Arena, Bill Beaney, and Terry Meagher among its most successful members. While MacDonald's arrival in Waterville signifies good things for Colby, the remainder of the conference all has good reason to have high expectations and fight for those prized top eight playoff spots come the end of February. We have already seen a lot of equality among teams in other conferences, and it's about to get dialed up a notch or two with the NESCAC starting on Friday night.
Here's what I think may come to fruition come the end of February.
Bowdoin Polar Bears
2012-12 Conference Record: 12-3-3 (Second)
2011-12 Overall Record: 16-6-3
USCHO Predicted Finish:    First
Overview: Let's go through the checklist. Goalie? Check — Stevie Messina enters his junior year as the clear number one and has the experience and talent to keep Bowdoin in any game. Defense? Check — a mobile group of defensemen led by senior Tim McGarry is poised to take advantage of coach Meagher's 3-2 system. Forwards? Double check — the group up front is loaded. Daniel Weiniger, Harry Matheson, Colin Downey, and Robert "Toz" Toczylowski are among the upperclassmen who have had great success on the ice and want to make this season a memorable one. Williams and Middlebury come to Maine to open the season, followed by a quick turnaround on Tuesday night and a match-up with the University of New England. We'll see what the Polar Bears have early and that might be scary for the rest of the conference.
Amherst Lord Jeffs
2011-12 Conference Record: 17-1-0 (First)
2011-12 Overall Record: 24-4-1
USCHO Predicted Finish: Second
Overview: A Frozen Four appearance in 2011-12 is in the past, and this year's edition of the Lord Jeffs faces the graduation of record-setting goaltender Jonathan Larose head-on and with a lot of confidence based on what the defending NESCAC champs have returning. Nathan Corey is the heir apparent in goal and brings a career goals-against average of 1.65 and save percentage of .926 to the starting job for Amherst. Jamie Hawkrigg and Aaron Deutsch lead a solid group of defenders and bring some offensive punch to support a strong group of returning forwards which includes Mike Moher, Johnny Van Siclen, Nick Brunette, and sophomore Michael Cashman. This team has a strong track record of winning, and this year's team certainly has a serious chance to repeat as conference champions and maybe earn another appearance in the NCAA tournament.
Middlebury Panthers
2011-12 Conference Record: 11-6-1 (Third)
2011-12 Overall Record: 14-10-3
USCHO Predicted Finish: Third
Overview: This may be the biggest roster the Panthers have ever posted in Bill Beaney's career at Middlebury.  There is a lot of new incoming talent, and it will need to develop and gel early to overcome the loss of last year's three top scorers. Sophomore Dan Fullam returns in goal following an interesting freshman season where he inherited the starting job in the second half of the season. There are five goaltenders on this year's roster, so look for a lot of competition among all of the players to earn ice time. Veterans Mathieu Castonguay, Trevor Pollack, and Chris Steele will be expected to provide all-important leadership for a roster that includes 14 highly-touted freshmen. Quick development and a buy-in to the system that has brought so much success under coach Beaney will be key to the Panthers success.
Trinity Bantams
2011-12 Conference Record: 16-10-2 (Seventh)
2011-12 Overall Record:    9-13-2
USCHO Predicted Finish:    Fourth
Overview: Coach Matt Greason inherited a pretty good situation in his first year at Trinity. The alum now has a serious chance to compete for a NESCAC title with some of the returning talent found on this year's Bantams roster. The Menard brothers bring a lot of energy to both the defensive corps and the stable of forwards. Goaltender Ben Coulthard is experienced and talented and will be expected to bring his game to the next level in his third year in Hartford. The veterans have proven to be a resilient bunch, and a team that plays with great effort and determination every night. Opponents best be ready for 60 fast-paced minutes against this Trinity team, which should be able to compete at a championship level this season.
Wesleyan Cardinals
2011-12 Conference Record: 7-9-2 (Sixth)
2011-12 Overall Record:    12-11-2
USCHO Predicted Finish:    Fifth
Overview: The strength of this year's Cardinals team is from the goal line out, with the returning tandem of Matt Hadge and Glenn Stowell in goal. Both bring career save percentages in excess of .900, and have proven reliable over their first three seasons in Middletown. Forwards and co-captains Keith Buehler and Adam Kaiser, along with senior John Guay will be leading a new group of forwards that brings depth and balance to the Cardinals attack. Terence Durkin, Jay Matthews, and Alex Carlacci are but three of the newcomers that carry strong expectations for contributing to the offense, which lost leading scorer Nik Tasiopoulos, who transferred to Babson. The Cardinals are likely to be stingy on defense, but will need to make sure the offense is there enough to take wins, not ties. If the new pieces come together with the veterans, this team could be playing on home ice in the first round of the conference playoffs.
Tufts Jumbos
2011-12 Conference Record: 9-8-1 (Fourth)
2011-12 Overall Record:    12-11-2
USCHO Predicted Finish:    Sixth
Overview: No, the Jumbos do not have Scott Barchard to fall back on, but they certainly may have the biggest goaltending tandem in hockey between 6-foot-4-inch Greg Jenkins and 6-foot-6-inch Brian Phillips, who, along with freshman Derek Metcalfe, will try to fill the void in goal for Tufts. The top four scorers return from last year's team, including Tyler Voigt, Dylan Plimmer, Blake Edwards, and sniper Kyle Gallegos on a roster that is heavily-laden with experienced sophomores and juniors. The goaltending question is the biggest one that needs to be answered quickly for coach Brian Murphy. If they do get consistent performances in goal, this team, like many others, may surprise their NESCAC opponents and compete for another home-ice playoff berth.
Williams Ephs
2011-12 Conference Record: 8-8-2 (Fifth)
2011-12 Overall Record:    12-9-5
USCHO Predicted Finish:    Seventh
Overview: Replacing All-American Justin Troiani and goaltender Matthew Purdy will be key on the back end for coach Bill Kangas.  The Ephs have experience and talent up front, particularly in forwards John Wickman, Cody Skinner, Mark Lyons, and Eric Rubino, who will be counted on heavily to produce the needed offense and help the team to gel in all zones. Junior Sam Kurland returns in goal with the most experience, but will see competition from sophomore Sean Dougherty and freshman Noah Klag. The roster is thin with just 23 players, so staying healthy will be the key for Williams to compete all season in this very competitive conference.
Colby White Mules
2011-12 Conference Record: 4-13-1 (Tenth)
2011-12 Overall Record:    7-15-1
USCHO Predicted Finish:    Eighth
Overview: Coach Blaise MacDonald long has a history of getting the most of his players, no matter where he has coached. This year's edition of the Mules finds a balanced squad made up of equal parts sophomores, juniors, and seniors, with a dash of freshman new blood thrown in to change the dynamic. Scott Harff, Cory McGrath, and Nick Lanza are the three returning scorers from last year's team, which will also be looking for bigger things from Michael Smigelski and Nick Kondiles in their final seasons at Colby. Senior Matt Delaney returns in goal for Colby, with able back-ups Jordan Nathan and Sam Parker ready to play as needed. Stan Moore's interim year is behind the Mules, and MacDonald has to quickly establish some success for this core group that has seen good times and bad in its Colby careers. It's the beginning of a new era for Colby, and while many of the names haven't changed, the attitude for the new season from the new coach surely has them focused on being better.
Hamilton Continentals
2011-12 Conference Record: 4-12-2 (Eighth)
2011-12 Overall Record:    8-14-3
USCHO Predicted Finish:    Ninth
Overview: Coach Rob Haberbusch enters his second season behind the bench for the Continentals, and will be relying on several key returnees, including senior forward Michael DiMare, senior defenseman Andrew White, and goaltender Joe Quattrocchi. The continued development of forwards Pat Curtis and Patrick Sen, along with a half-dozen key freshmen, will be a big difference in where the Continentals land in the final standings. If it all comes together and Hamilton finds some consistency, this team has the tools to surprise others in the conference.
Connecticut College Camels
2011-12 Conference Record: 4-12-2 (Ninth)
2011-12 Overall Record:    6-15-3
USCHO Predicted Finish:    Tenth
Overview: The key to the Camels success this season will be found in the leap in performance for the 12 sophomores on the roster, many of whom saw significant playing time as freshmen last season. Junior Mike Petchonka returns in goal, and he, along with Brogan O'Connor and Marcus Calvanico, will be expected to give the offense a chance to create some goals and confidence each and every night. Juniors Mike Sinisgali and Keith Veronesi will be expected to help lead the young Camels. Their leadership will be important for coach Jim Ward's team as it looks to avoid a third straight season of not making the conference playoffs.  A battle with fellow Connecticut schools Trinity and Wesleyan opens the season, so points at home will go a long way to getting the season off to a good start.
The picks are always a challenge when writing these preview columns. The fact is that this conference is as evenly-balanced as it gets among the players and coaches who foster many different styles of play and always keep the game entertaining to watch, regardless who you may be rooting for each game night. There is a lot of history of excellence among the NESCAC schools, and this year may just see some new institutions come to the fore to claim their own acclaim.
These latecomers to the 2012-13 schedule are definitely worth the wait — drop the puck!