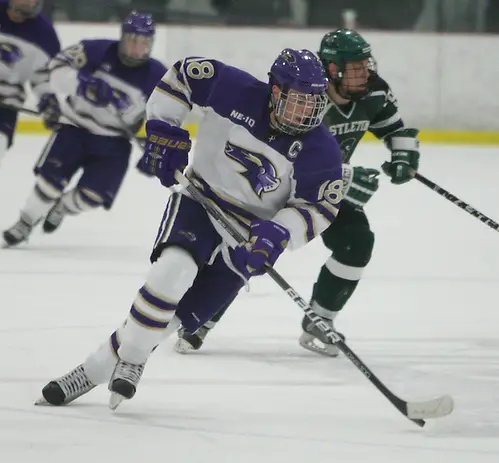 For some new head coaches, the road to working with their team is a bumpy ride that is full of twists and turns that are not the regular ups and downs of a season. For St. Michael's coach Damian DiGiulian, the pedigree of his years at the prep and college level with hall of fame coaches has helped him in his first year behind a college bench as the head guy.
"It has been a lot of fun," said DiGiulian. "I think that my experience at Rice [prep school] in starting the program has really been a good foundation for what I am doing today. Not everyone obviously can get the chance to start a program from scratch, but the things I learned in having to do everything really set a good base for my ongoing years in coaching. It is definitely different being the head coach of a hockey team over an assistant. I have been really fortunate to have had the opportunity to work with hall of fame caliber coaches like Mike Gilligan and Bill Beaney, as well as one of today's brightest hockey minds in Kevin Sneddon at Vermont. Not everyone gets an opportunity to receive that level of experience and learn from the very best about the craft of coaching. I get the chance to leverage all of this knowledge and experience here at St. Michael's, and it has been a good experience so far.
One thing that DiGiulian inherited from his predecessor in Winooski was a veteran roster with a lot of game experience in the difficult ECAC East conference; 14 seniors are on the Purple Knights' roster this season, and have been a big part of the team's buy-in and overall solid play this season despite the win-loss record.
"We don't look back here in terms of what happened in past seasons," noted DiGiulian. "I am really appreciative to Chris [Davidson] and his staff for recruiting the great kids that are here today. They are good hockey players, but more importantly great people, and that makes all the difference in coaching and bringing some new and different things to what they have been doing over the past two to three years. They have worked hard, and more importantly have been very open-minded and receptive to some of the differences in my systems and style of play from what they were expected to do in the past.
"Assistant Adam Berger has been great as well in working with the defense and getting them more involved with the offense, which is a change from what has been the style in the past. The seniors have been great and have provided terrific leadership in getting this team pointed in a positive direction. Overall, we have played a lot of good hockey, a lot of good periods. When we get the full three periods consistently and do all those little things you need to do to be successful, we will hopefully see more wins on the record. We had a couple of tough overtime losses so far this season, but have played very well against some very tough teams like Norwich, Castleton, and Skidmore. I just told the team today that we have seen the best of this conference once already, and all on the road, where we didn't necessarily get the result we wanted but played well. Losing by just a 1-0 score against a really strong Skidmore team says a lot about the direction we are going, and we have the benefit of playing a lot of home games against those teams and others in the second half."
After this weekend's game at Stonehill to close out the first semester, the Purple Knights open the second half with six straight at home, including two NE-10 games as part of the DoubleTree Ice Hockey Classic on the opening weekend of January. The final two home games in that six-game stretch see Norwich and nonconference foe Amherst come to Winooski, which will more than challenge the Purple Knights.
"Yeah, you finish playing the number one team in the country on Friday night and wake up in the morning to find Amherst knocking on the door," joked DiGiulian. "I really want to thank Chris for that scheduling — but seriously, we are thrilled to play not only good hockey programs but also excellent academic institutions as part of our schedule. We have already committed to play in the Middlebury Classic for next season, so we do look forward to playing those top tier teams. It is good for our program."
The match-ups with Southern New Hampshire and Assumption coming out of the break are doubly important games in that they also count in the NE-10 standings, as well as being part of the holiday tournament. While the coach admits he is still learning about the NE-10 and all of the complexities around the schedule and new opponents, his team has a clear focus on what they hope to garner as their end-of-year prize.
"The seniors have made a point of setting a goal to win the NE-10 title," noted DiGiulian. "It's the title we can compete for. so those games are very important in establishing our position for the playoffs. I just found out those games in our tournament count for points in the NE-10 standings, so that will add some meaning to the tournament to be sure. Our next three games are all NE-10 contests, and we know everyone will compete hard. We already saw what St. Anselm has, so we know what we need to do to compete if we want a chance to win the conference title at the end of the year. Some of these teams are very new to me, so I am learning from the experience as we go through the schedule and the individual match-ups."
With the seniors providing needed leadership, they have also shown their coach they can play at a very high level each night out. Forward Josh Geary leads the team in scoring, and has been great in helping the younger forwards play at a higher level.  Combined with junior Ryan Arsenault, their 10 goals this season represent 50 percent of the team's scoring to date.
"We just had some discussions with some guys about their level of consistency and doing more," said DiGiulian. "We certainly could use some better balance in our scoring to take some pressure off Josh and Ryan, and hopefully we will see that going into the second half."
Another area of strength has been the play of the Purple Knights' two senior netminders, Mike Dizgun and Eric McGuirk.
"Goaltending is the least of our problems," stated DiGiulian. "Both Mike and Eric have played well, and our two young guys have also got some playing time and done well. It has been a strength and something to feel good about in our game, like the power play. We are very pleased with the production of the power play, but conversely we have some concerns with our penalty kill. We definitely need to block more shots. We need to put ourselves in position to do it and then actually block the shots. This is something we will continue to work on and something we believe will definitely help to improve our penalty kill success rate."
The first half comes to an end after Saturday's game at Stonehill. It's a break that will be well-earned and well-deserved, according to the coach.
"There are just logical breaks in the season," noted DiGiulian. "Next week, the guys really need the break and time to focus on studying and preparing for finals and then enjoying the holidays. It's a good time for a break, and a chance to rest and prepare for the second half of the season. I like the direction we are going in, and the chance to get off to a good start in the second half in January."
Home cooking may have a double meaning for DiGiulian's team in enjoying the holidays and playing in the comfortable environs of their home rink for the majority of the month of January.