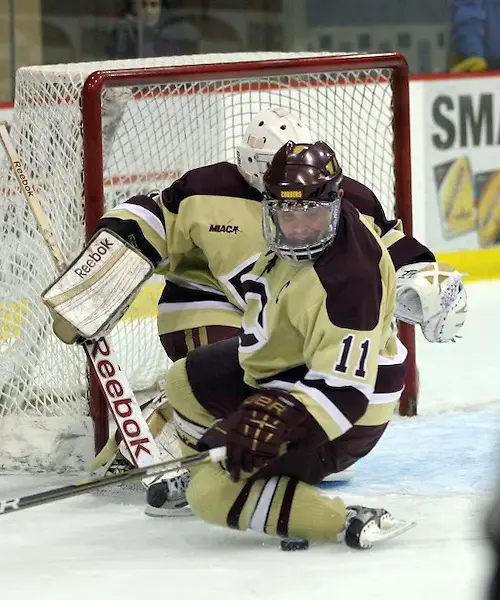 Even as Concordia prepared to play nationally-ranked St. Thomas for the second consecutive night, a 4-2 loss still on its mind, coach Chris Howe told his team it had reason to believe it could salvage a split in the Minnesota Intercollegiate Athletic Conference series over the weekend.
It's worth noting that the Cobbers have fared well against the Tommies recently, having gone 5-1-1 against them in the previous seven games, so it's not as if beating St. Thomas is a foreign concept.
On Saturday night, the Cobbers did it again. They scored the first three goals of the game and never looked back en route to a 4-1 victory.
"Winning that game on Saturday was huge," Howe said. "I told our players before the game that if we could win this game, we still had a chance to set the table for us to be in the mix for the conference title. Winning games at St. Thomas are very hard to come by. It was a big win over a very good team."
Concordia is 4-6-1 overall and 3-3 in the MIAC. The record doesn't surprise Howe. He knew his team would be tested early with a grueling schedule and that the loss of four-time all-conference defenseman Eric Galt would be difficult to overcome.
Slowly but surely, the Cobbers are pushing forward and making strides.
"We knew we were going to have a tough schedule to start the year and losing Eric, who was one of the best defensemen in the league, left us with a void," Howe said. "It was going to take time for this group to come together and play well. We are starting to see progress, and we continue to get better."
What has helped Concordia early on is an offense that doesn't rely on one or two players to pave the way.
Sure, freshman forward Jordie Bancroft has made quite an impression, scoring six goals and tallying four assists in 11 games, but others have stepped up as well.
Senior forward Ben Payne has dished out eight assists and has also scored a goal. Junior forward Dan Hrabowych has struck for three goals and five assists.
Senior forward Brian Kang (four goals, two assists), junior forward Chris Beede (four goals, one assist) and sophomore forward Andrew Deters (four goals, one assist) have all been steady contributors as well for an offense that has racked up 31 goals, including seven on the power play.
"We have really spread our scoring out," Howe said. "We have a lot of depth, and I tell our players that there will be times where one guy might go into a slump and someone else will have to step up. We have really focused on scoring by committee, and the players have bought into the concept of playing as a team."
The defense has shown signs of promise as well. Junior goalie Chris Neamontis has played in 10 games and has given up 17 goals while racking up 250 saves.
The defense in front of him has done its job as well, as the Cobbers have come a long way on that end of the ice after a rough start at the MIAC Showcase in October. Concordia lost, 5-1, to Gustavus and tied Hamline at 5-5.
"We knew we could teach good defense, and the players have taken a lot of pride in playing hard on defense," Howe said. "In our first two games, we gave up 10 goals. It took us three weeks to give up 10 more goals. In football, a team makes its biggest improvements from the first week to the second week. In hockey, teams usually make their biggest improvements over the next two weeks after their first games. I'm happy with our progression."
It remains to be seen if Concordia can be a contender for the MIAC championship. The next 12 games will tell the story. The Cobbers, picked to finish fifth in the league, will play eight of those games at home, and the stretch will feature six games against conference opponents.
"We have to be able to play well at home and take care of business there because playing on the road is always a challenge, no matter who you are playing against," Howe said. "I believe that if you play well and play hard, the results will take care of themselves."
Howe doesn't expect his team to be at its best right now, but he knows that every game it plays is an opportunity to build toward being a team that can click on all cylinders when it matters most.
"You don't want to play your best hockey at this point," Howe said. "You want to be playing your best at the end of the year. "We will continue to work hard and improve as a team. As long as we do that, we'll see good results."
#########
MIAC Notes
Royal Win
Bethel shook off a 1-0 deficit against Hamline and went on to earn a 6-2 win over the Pipers on Saturday to secure a share of first place in the conference.
The Royals are tied with St. Thomas atop the standings at 5-1 after completing a sweep of Hamline.
Garrett Windle and Matt Hughes scored two goals apiece in the victory on Saturday, while Matt Rowe racked up 16 saves. Hughes scored both of his goals on power plays. Bethel overcame 11 penalties to win the game. The Royals held a 25-18 advantage in shots.
Back on Track
St. Olaf snapped a three-game losing streak on Saturday with a 5-1 win over St. Mary's at home. The Oles got two goals from Dan Cecka and Jeff Harris came through a goal and two assists. Cecka also tallied two assists while Henrick Wood came through with 30 saves.
St. Olaf is 5-6-1 overall and 4-2 in the conference and won't return to action until 2013, when it plays at Wisconsin-Stevens Point on Jan. 4.
Thrilling Win
Gustavus Adolphus completed a sweep of Augsburg on Saturday with a 3-2 win in overtime. Jack Walsh scored off of a rebound with time winding down in the extra session as the Gusties nailed down their second league win of the year. Walsh has scored four goals this season.
It marks the first series sweep of the year for the Gusties, who improved to 6-5-1 overall and to 2-4 in the MIAC.
Patrick Sullivan turned in a strong performance in goal, racking up 37 saves, including two in the OT. He is 3-1 on the year and has tallied 131 saves while giving up only seven goals.
Gustavus won the opener of the series, 5-0, and has won its last three games.